10 of the Best Rides at Disneyland: The Ultimate Guide
You finally booked your trip to Disneyland! Maybe this is your first time to the famed park on the West Coast or perhaps you're a well-experienced guest of Mickey Mouse's California abode.
Either way, you'll be looking to maximize your time in the park by riding the best rides Disneyland has to offer. How do we decide which rides are the very best?
You may be looking for something action-packed while your spouse wants something a bit more subdued. Your daredevil tween might be dying for some speed while your youngest is hoping for something sweet rather than scary.
Below, we will talk about the best rides for thrill seekers and the best rides at Disneyland for those who want to take it slow.
---
Our List of the Best Rides at Disneyland
---
The Best Rides at Disneyland for Thrill Seekers and Older Children
Got an adrenaline junkie in your ranks? Here are our top picks for thrill seekers and older children looking for some high octane excitement.
---
Matterhorn Bobsleds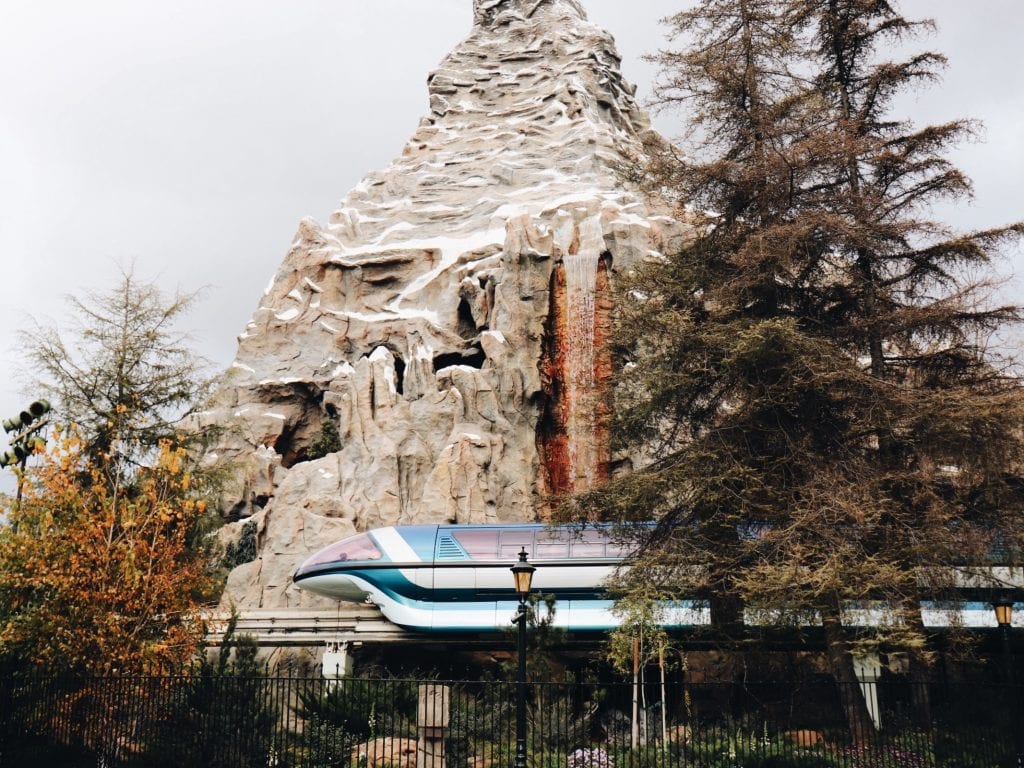 Since it was first introduced in 1959, the Matterhorn Bobsleds have been enthralling guests of all ages. The idea for the ride came from Walt Disney himself after he watched the movie Third Man on the Mountain.
Disney had a 20-foot mound covered in fake snow with the intention of adding a toboggan run. Eventually that little mound grew to a 147-foot mountain and Matterhorn Bobsleds was born.
Today, riders sit inside a 6-person bobsled and ascend 80 feet into the air into an icy cave before being whipped around chilly embankments, across bridges, and under waterfalls, splashing at Alpine Lake.
The ride went through a renovation in 2014 which resulted in eliminating the Crystal Grotto. However, they added an Abominable Snowman animatronic that provided another layer to the story of this attraction.
Another fun feature is that this ride has two routes – one on the Fantasyland side of the mountain and one on the Tomorrowland side. The biggest reason why you should ride the Matterhorn Bobsleds during your trip to Disneyland is because this particular ride only exists at Disneyland.
That's right, only Disneyland in Anaheim can claim they have found and currently house the Abominable Snowman.
---
Big Thunder Mountain Railroad
For me, this is the best coaster in any of the Disney parks. Hands down. Why?
Big Thunder Mountain Railroad walks the line between being just the right amount of "scary" while still being appropriate for children, or anyone who hates big drops and loopy-loops. The coaster itself is fun, fast, and with twists and turns to keep the most extreme roller coaster enthusiasts happy.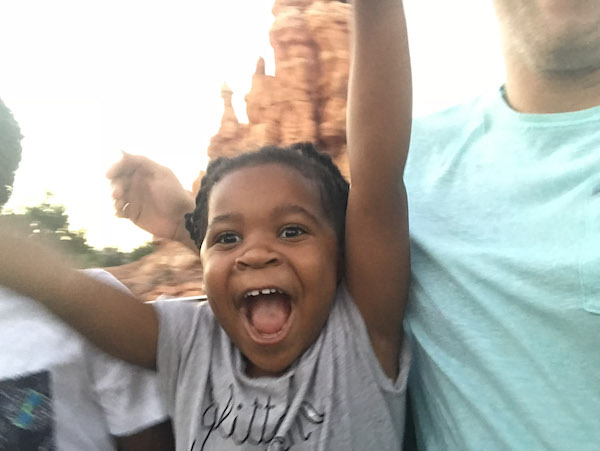 The theme of the ride makes you feel as though you're riding through a real mountain from the Old West, or at least that you've found yourself on the set of a very convincing old Hollywood Western.
The line for this ride can be a bit long, but the designers have taken great care in giving you interesting showpieces and expertly-crafted props to make the experience as immersive as possible.
Big Thunder Mountain is the kind of coaster that you can ride again and again while maintaining the same level of enjoyment but without losing your lunch in the process.
---
Space Mountain
Some call Space Mountain the best ride in Tomorrowland, others call it the best in the park. Once you have experienced it, it's easy to see why.
When you ride Space Mountain, you are strapped into a "spaceship" and then treated to a brilliant light display before being plunged into relative darkness. You'll feel as though you're racing through the cosmos on this futuristic ride.
Perhaps the best thing about this cool coaster is that you are unable to anticipate where the track will take you next which allows you to continually be surprised. For the same reason, this coaster may be a bit too scary for some children or anyone who is a coaster novice, so consider that before jumping on the line.
What do you think? Is Space Mountain one of the best rides at Disneyland?
---
Star Wars: Rise of the Resistance
Much like Disney, Star Wars has a loyal following of fans that has only grown with each passing decade.
Finally, Disneyland and Star Wars collide at Star Wars: Galaxy's Edge. Here you will be blown away by one of the park's newest rides, Star Wars: Rise of the Resistance. It is not so much of a ride as it is a total immersive experience.
For 18 minutes, you will be transported into the world of Star Wars, where the Resistance needs your help fighting against the First Order. You will encounter Stormtroopers, Kylo Ren, Rey, BB-8, and even Darth Vader on this one-of-kind ride that will make the Star Wars fan in your life beam with happiness.
Don't worry if you're not into Star Wars. This action-packed ride will impress you with its sheer size and use of 3D animation. You'll feel as though you're part of the Star Wars universe even if you've never seen the movies. This is a ride that just has to be experienced to fully understand its impact.
Don't believe me? "I find your lack of faith disturbing"
---
The Millennium Falcon: Smugglers Run
Star Wars fans in our family couldn't contain their excitement when we boarded the "Millennium Falcon: Smugglers Run." Taking control of the iconic Millennium Falcon, we embarked on a daring mission that required teamwork and skill. The interactive nature of the ride allowed us to truly feel like we were part of the Star Wars universe.
---
The Best Rides at Disneyland for Leisure and Younger Children
Need something a little more laid-back for the little ones? We've got you covered.
---
Finding Nemo Submarine Voyage
Now it's time to slow down and take it a little easier, and a trip under the sea is a good place to start!
The Finding Nemo Submarine Voyage takes you on a journey that follows the premise of the movie, where an adorable little clown fish has gone missing and it's up to you and the underwater crew to find him.
You will get on a yellow submarine which will then submerge into the water and your adventure begins. The slow-moving sub takes you past some of the characters from Finding Nemo such as Squirt, Marlin, Dory, and Nemo, of course! You'll also spot scuba divers and relics of lost civilization.
The porthole-style windows allow every passenger to have a great view of what's happening below the surface. This ride is an excellent choice for little children or for anyone who wants to try something off the beaten path.
---
Casey Jr.'s Circus Train
The train for Casey Jr.'s Circus Train ride is just adorable! You can't help but become completely enamored with this reimagined train from the classic Disney flick Dumbo.
Sit inside a gilded car while you take a gentle tour of a tiny countryside filled with themed lands from your favorite Disney movies. There will be plenty of time to take in the alpine village from Pinocchio, the well-tended London park from Peter Pan, and the royal city of Agrabah from Aladdin, just to name a few.
This ride is just the right size and speed for Disneyland's smallest visitors or adults who would like to ride rather than walk through Fantasyland.
---
Autopia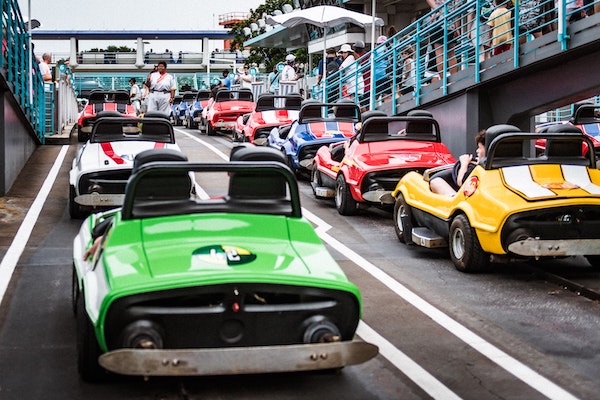 The idea of driving a car may not be so thrilling for those of us who drive in our daily lives, but Disneyland has a way of making even the most mundane things magical. At Autopia, you and the kids can pick out a classic car and drive at your own pace.
This ride is perfect for children who can't wait to get behind the wheel or for adults who want to take in the sights of the park from a different perspective. Each car features a working gas pedal, steering wheel, and two seats big enough for two adults or three small children.
Kick back and let your child take you for a drive for once.
---
Peter Pan's Flight
As the song from the Peter Pan movie says–
"When you leave the world behind 
And bid your cares goodbye,
You can fly! You can fly! You can fly!"
You will truly feel like you're flying when you step aboard Peter Pan's Flight. Set on an enchanted pirate ship, you will soar out of Wendy, Michael, and John's nursery, over cheery old London and into NeverLand, where mermaids, Lost Boys, and Captain Hook await your arrival.
While there are small drops and dark parts of this much beloved ride, it will not put off Disneyland's youngest visitors. The music accompanied by the dazzling sights are a prime example of perfectly crafted Disney magic.
---
Pirates of the Caribbean
A classic favorite among many Disneyland visitors, "Pirates of the Caribbean" took us on a swashbuckling adventure through a pirate-infested Caribbean world. The immersive sets, catchy tunes, and impressive animatronics brought this timeless attraction to life, captivating us with its rich storytelling.
---
Frequently Asked Questions about the Best Rides at Disneyland
What other rides can I add to my list that are appropriate for younger children?
What about rides for my teenager?
I heard it is difficult to get a spot on the Star Wars: Rise of the Resistance ride. How can I make sure I experience it?
You can be patient and stand in a traditional standby queue, or you can purchase individual Lighting Lane entry through the Disney app once you have entered the park premises. We highly recommend making use of the Lightning Lane for this attraction. It is very popular right now!
---
If you enjoyed reading our list of the best rides at Disneyland, you might also like:
DISNEYLAND GENIE PLUS RIDES: A COMPLETE LIST + HACKS TO HAVE THE BEST DAY!
50 [AMAZING] DISNEYLAND TIPS FROM A PRO – SAVE TIME & MONEY
DISNEYLAND DINING RESERVATIONS + HOW TO GET LAST MINUTE RESERVATIONS + 6 MUST KNOW THINGS!
DISNEYLAND HEIGHT REQUIREMENTS – EVERYTHING YOU NEED TO KNOW + PRO TIPS
---
Pin-It for later: Best Rides at Disneyland: The Ultimate Guide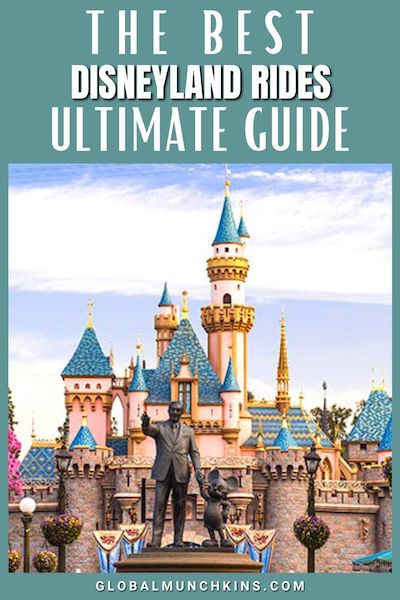 ---
Want a full list of ALL of the Best Rides at Disneyland ranked? Check out Disney Dad's video below!