11 of the best pools in Las Vegas!
Cool off in style in these fabulous pools in Las Vegas!
Las Vegas in summer is killer hot, so where better to spend a day than at one of these fabulous hotel pools that allow non-guests to take a dip?
Of course, you could also hit these cool spots for shopping in Vegas and some air-conditioned respite while your credit card takes the heat.
But this post spills the chlorine on some of the best Las Vegas pools that are open to the general public (for a fee, and one for free), plus their unique features and the amenities that come with them, and some helpful tips that'll make your day at the pool really fun.
*This post includes affiliate links. If you make a purchase I may make a commission at no extra cost to you.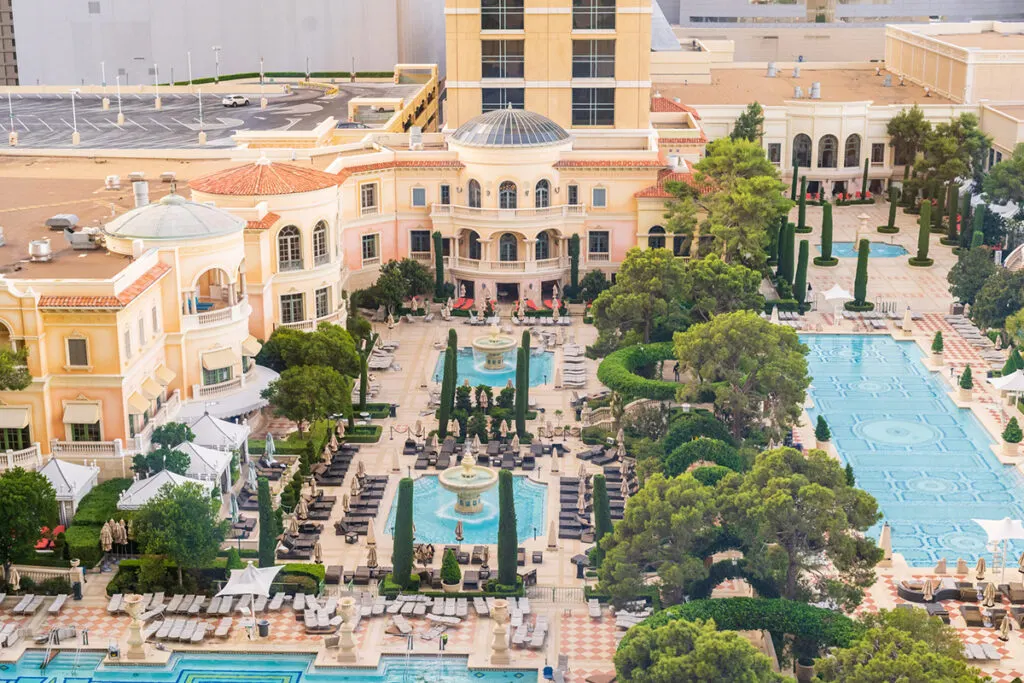 Cool Las Vegas pools open to the public
Las Vegas has some of the most beautiful pools I've ever seen, decorated in the best bodies I've ever seen – but do not fear, there's room enough for everyone in this list!
If you fancy spending a day in a poolside cabana or sprawled in the sun on a daybed enjoying food service, live entertainment and jumping in a lazy river when you need to cool off, then keep reading as we uncover the best pools that you might want to book.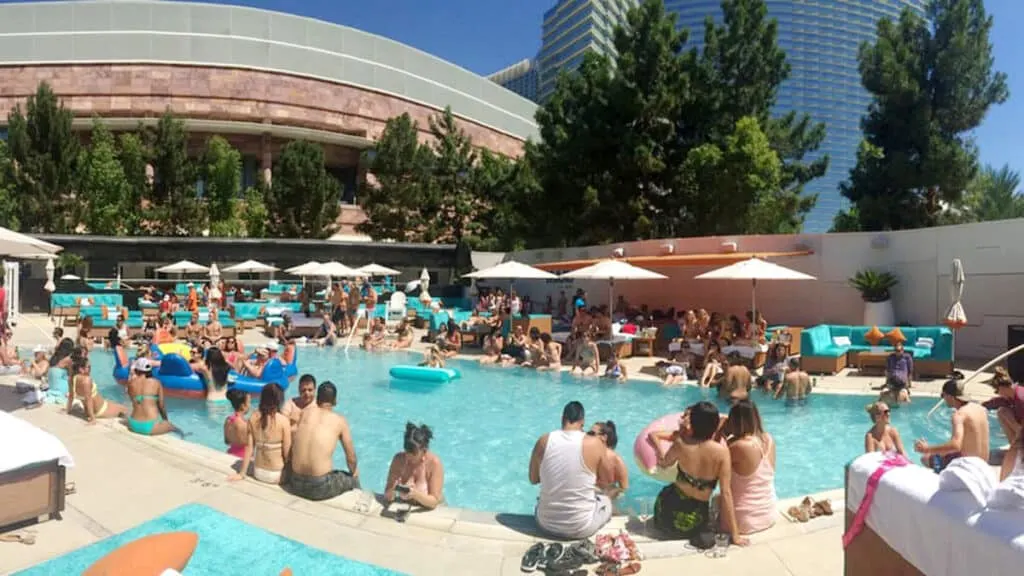 Liquid Pool Lounge at Aria
You're in for a luxurious treat when you visit Aria Resort & Casino's expansive pool area.
This resort features three stunning ellipse-shaped pools, perfect for relaxing and enjoying the hot desert sun with friends or sipping on your favorite drink from the pool bar.
Aria is well known for having family-friendly pools, as it offers heated main pools for the cooler days, and plenty of cabanas to chill. In addition to Liquid Pool Lounge—which caters more to adults—the resort boasts three other family-friendly pools, making it one of the most beautiful hotels in Las Vegas with jacuzzi suites.
Aria's 2023 pool season promises to be just as exciting and rejuvenating; if you're planning ahead, check out their complete guide available online which covers FAQs about pool options and opening dates for the year.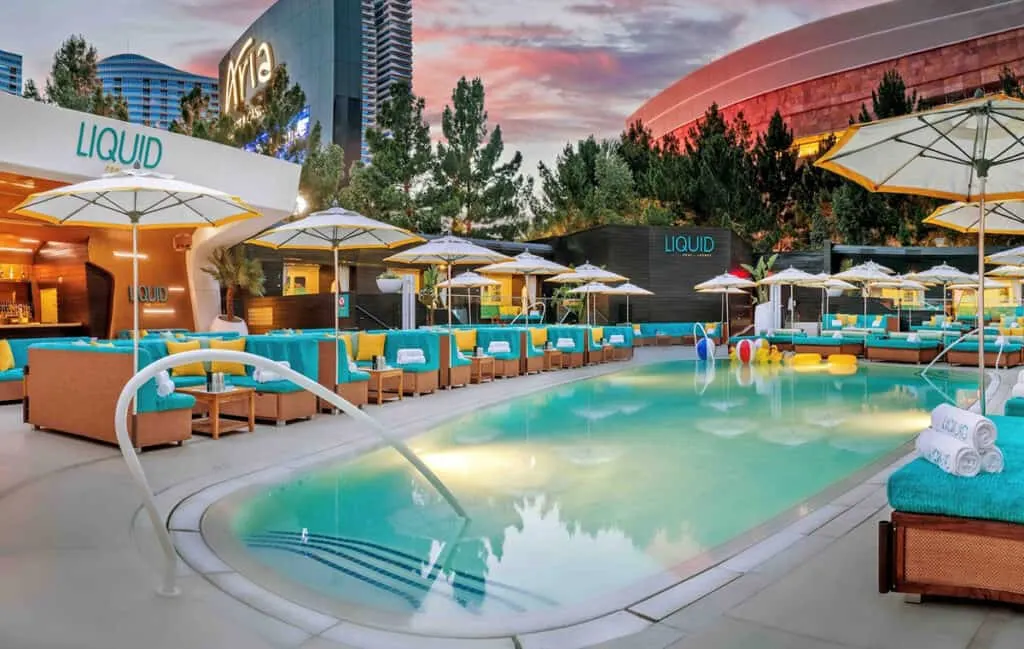 The Tank Pool at Golden Nugget
If you're looking for unique things to do in Downtown Las Vegas, you need to start at the Tank Pool at Golden Nugget Hotel and Casino, and bring your swimsuit!
This world-renowned pool is home to a 200,000-gallon shark aquarium and will impress visitors of all ages. There is also a transparent water slide tunnel right through the middle of the aquarium with sea life swimming around you.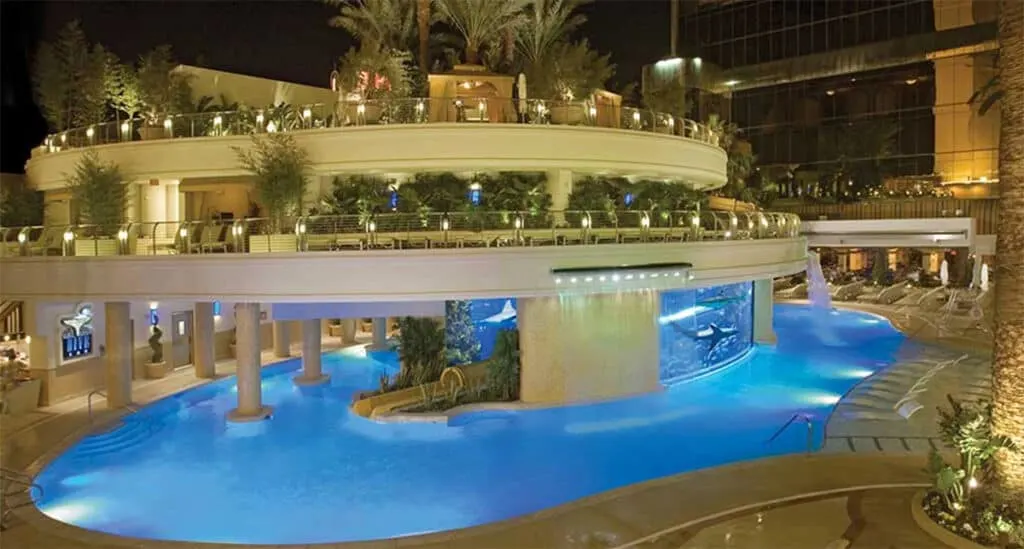 But The Tank isn't just about sharks – it's also part of a complex that includes a huge pool deck filled with cabanas, daybeds, lounge chairs, and an open-air bar/lounge. So come here to relax in the sun or party with friends.
And if you really want to make the most out of your visit, take advantage of their behind-the-scenes tour which will give you even more insight into this unique attraction.
Book a Tank Cabana for your group, or a lounge chair in the sun, online.
We stayed a night at the Golden Nugget when we were last in Las Vegas, as I really wanted to step out into the whole Fremont Experience. And oh my! What an experience – and all free too (well not the hotel!)
The Fremont Street Experience, along with nearby attractions like the Mob Museum and the Neon Museum, feature in my list of the coolest things to do in Las Vegas.
Check out room rates at The Golden Nugget on Booking.com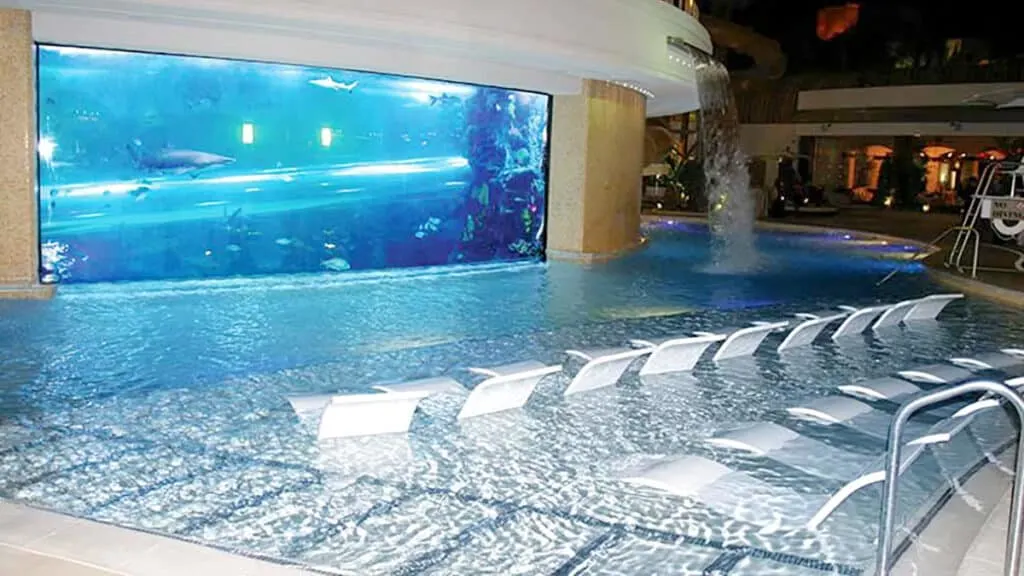 Pool at Bellagio
If your wallet won't quite stretch to a few nights at Bellagio, there's nothing to stop you from visiting their pool and hot tubs. The hotel itself is so fabulous, it's on my list of the best free things to do in Las Vegas, including their garden and chouili glass ceiling.
But the Bellagio pools are open year-round in Las Vegas, one of the few that are. Most close around October for winter. Book a cabana for the day, take your Kindle and soak in the vibe as well as the pools.
Bellagio has a heated lap pool for the cooler days and fabulous recreational pools, for a luxurious retreat for both hotel guests and non-guests alike.
Among the amenities at the Bellagio pool area are two lap pools (including one Olympic size) and three smaller leisurely dipping areas. This incredible oasis not only provides relaxation but also boasts an 84-degree temperature during winter months, making it perfect for swimming year round.
Check out room rates to treat yourself at Bellagio on Booking.com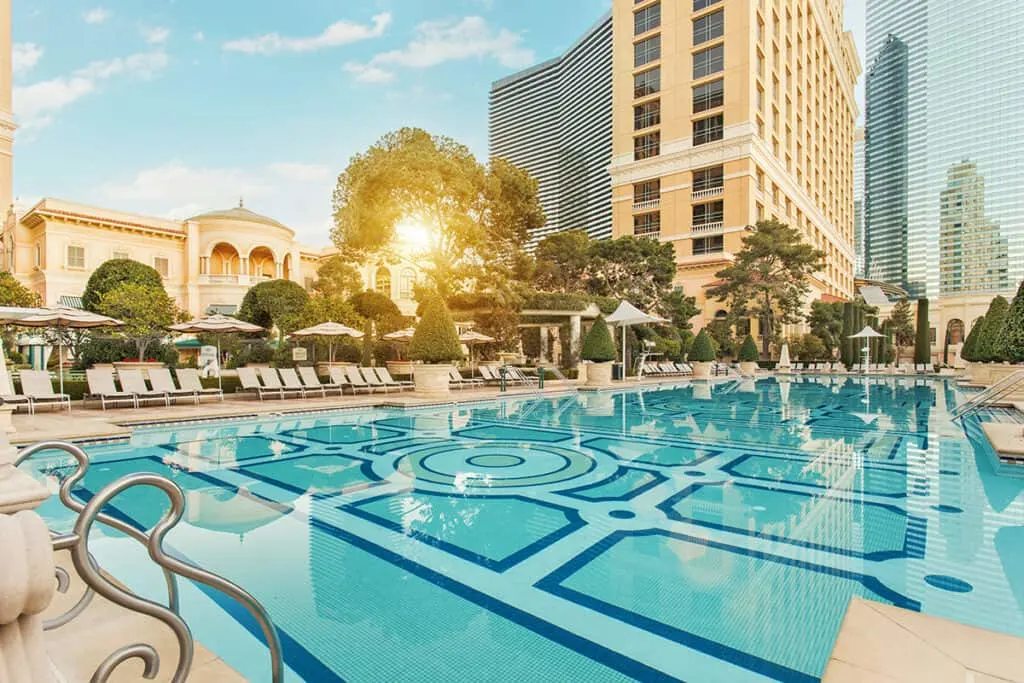 Caesars Palace
Caesars Palace is a must-visit location for anyone traveling to Las Vegas and looking to experience the best public pools in the city. With your clothes on, you'll want to visit the Forum Shops, which features in my post on the best places for shopping in Las Vegas.
The Garden of the Gods includes seven different pools, including the Jupiter Pool (the king of pools), five swim-up blackjack tables, 48 cabanas and 65 daybeds. These pools offer free access for hotel guests, and can be reserved by the public.
If you plan on visiting this legendary venue as a non-guest, you can make a reservation.
If you fancy staying, check out room rates for Caesar's Palace on Booking.com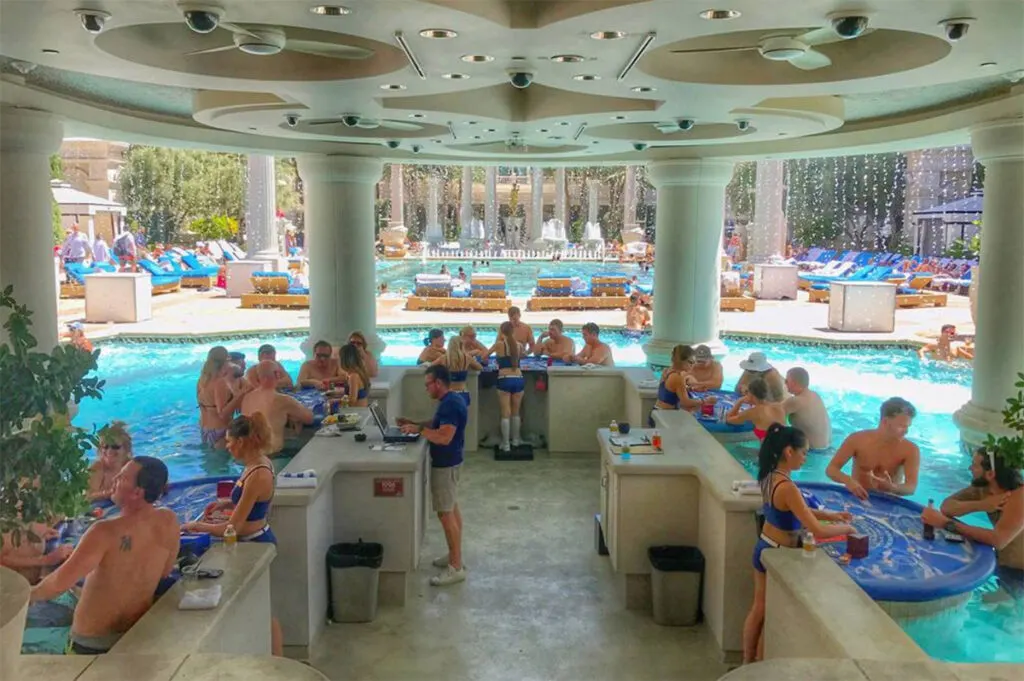 Marquee Dayclub at the Cosmopolitan
One of the best Las Vegas pools open to the public is The Cosmopolitan's Marquee Dayclub, which has staked its claim as one of Sin City's most popular spots for daytime revelry.
If you love partying in style with a diverse crowd and world-class entertainment, this dayclub should definitely be on your list. It features not only top-notch DJs but also an adult-only enclave complete with infinity-edge plunge pools.
For those looking for a more laid-back pool experience, The Chelsea Pool might be just what you need. Designed as an indulgent escape from the energy of the Strip, it offers chic cabanas and elegant sun loungers perfect for soaking up some much-needed relaxation time away from all the hustle and bustle.
Check out room rates for The Cosmopolitan on Expedia.com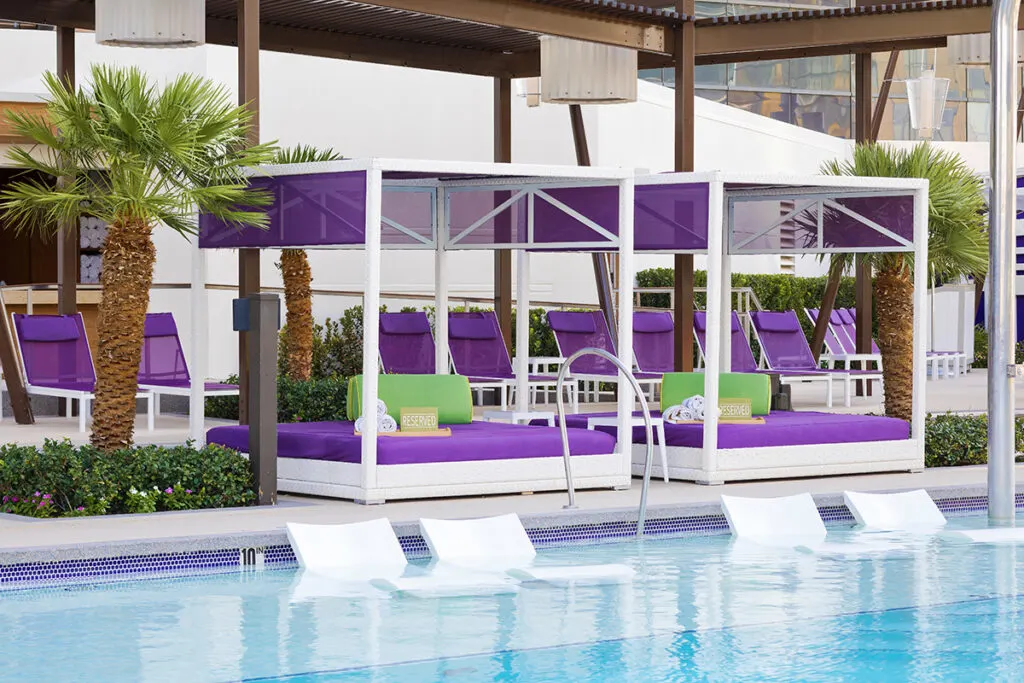 Wet Republic at MGM Grand
MGM Grand is a standout among Las Vegas pools. Known for its expansive 6.5-acre pool complex, Wet Republic at MGM boasts four separate swimming pools, three whirlpools, cascading waterfalls, and a lazy river.
It's easy to spend an entire day sunbathing on the lushly landscaped grounds or floating down the winding lazy river without a care in the world.
But MGM Grand isn't just about soaking up the sun; there are plenty of other amenities to delight visitors as well. Whether you're looking for a high-energy party atmosphere or seeking quiet relaxation with your significant other or friends, this Las Vegas pool has something for everyone to enjoy – from cabanas and daybeds to lively entertainment options such as DJs and live music performances throughout the summer season.
Book in advance as spots at Wet Republic sell out!
Check out room rates for MGM Grand on Booking.com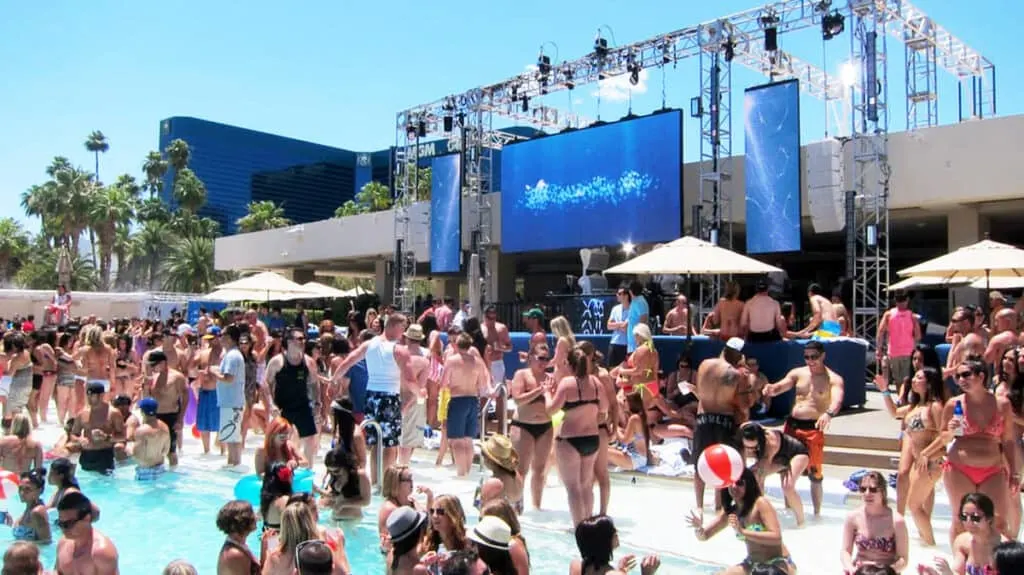 Mandalay Bay Beach
One of my favorite spots to enjoy some fun in the sun is Mandalay Bay Resort. This resort and casino boasts 11 acres of aquatic playground, including a massive beach-like wave pool and lazy river to float down in a hot pink inner tube.
This is a great place for a family or couple's stay when it comes to all day at the beach vibes.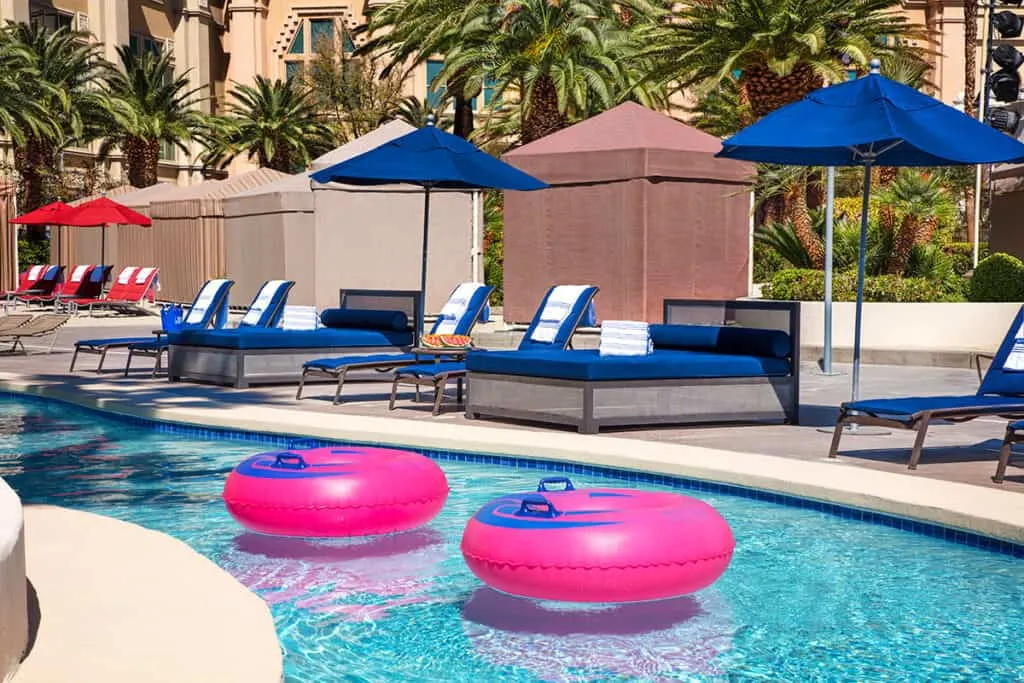 It's easy to spend hours here relaxing on a tube or catching some waves under the sun.
Another great thing about Mandalay Bay is that their pool is open to the public for a fee Monday-Thursday. So even if you're not staying at this luxurious resort, you can still soak up some sun and enjoy all the amenities they have to offer.
Check out room rates for Mandalay Bay on Booking.com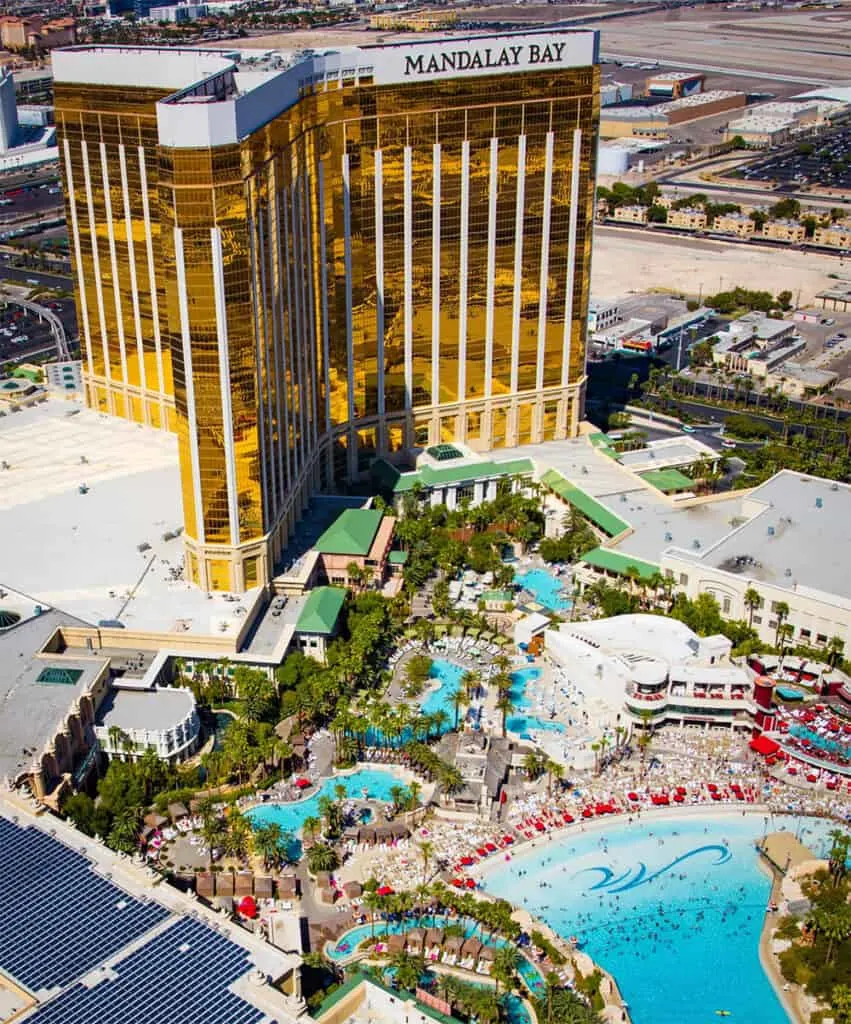 Beach Club Pool at Flamingo
Headed to Las Vegas and looking for a pool experience that caters to all ages? The Flamingo has got you covered with two stunning pools on its sprawling property.
While the upper GO Pool is exclusively reserved for guests aged 21+, the Beach Club Pool is open to everyone.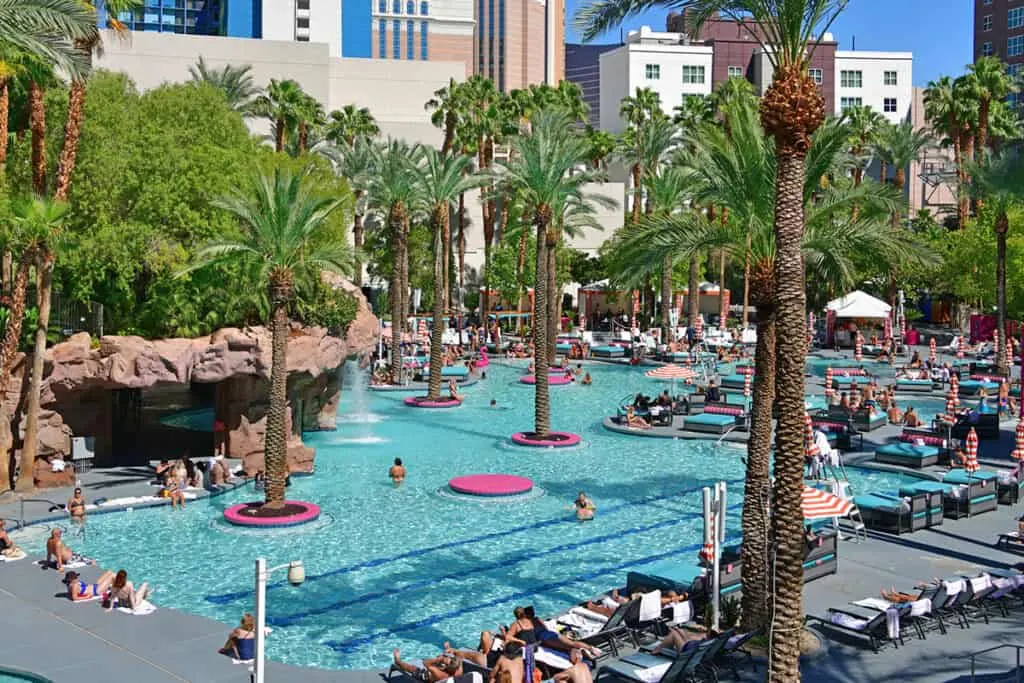 The family-oriented Beach Club Pool features playful elements like waterfalls, lagoons, and even a fun water slide.
It's worth noting that despite being open to non-guests, you'll need to pay an entry fee at the Flamingo's Beach Club Pool which starts at $25 per person on weekdays and goes up during weekends or holidays.
Check out room rates at The Flamingo for an affordable Las Vegas vacation on Booking.com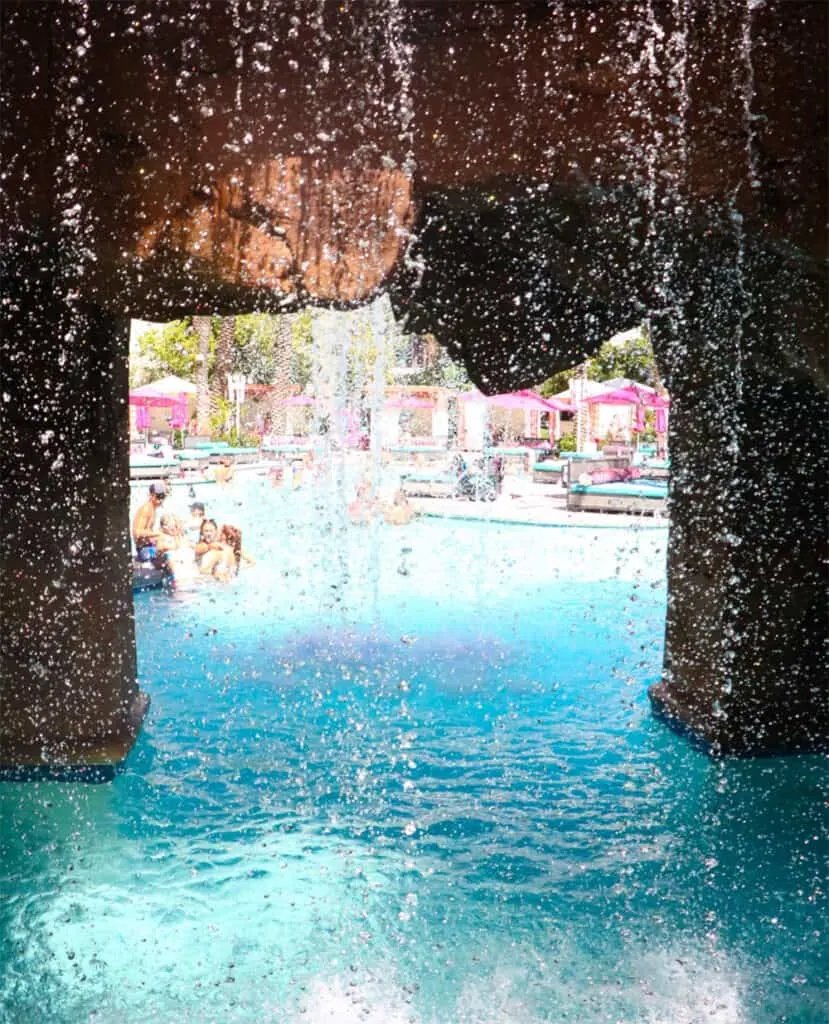 Influence Pool at the LINQ
Influence, the pool at the LINQ is a must-visit pool for anyone looking to party and enjoy the Las Vegas sun. It's one of the most popular pools on the Las Vegas Strip, with an energetic atmosphere, beer pong tables, life-sized games, and top-notch food and cocktails.
Book a cabana or a day-bed and enjoy live DJs every Friday, Saturday, Sunday.
If you're traveling to Las Vegas and want to experience some of the best that public pools have to offer, don't miss out on The LINQ Influence pool. Keep in mind that this is an adult-only venue reserved for guests aged 21 or older.
Check out rates at The LINQ Hotel + Experience on Expedia.com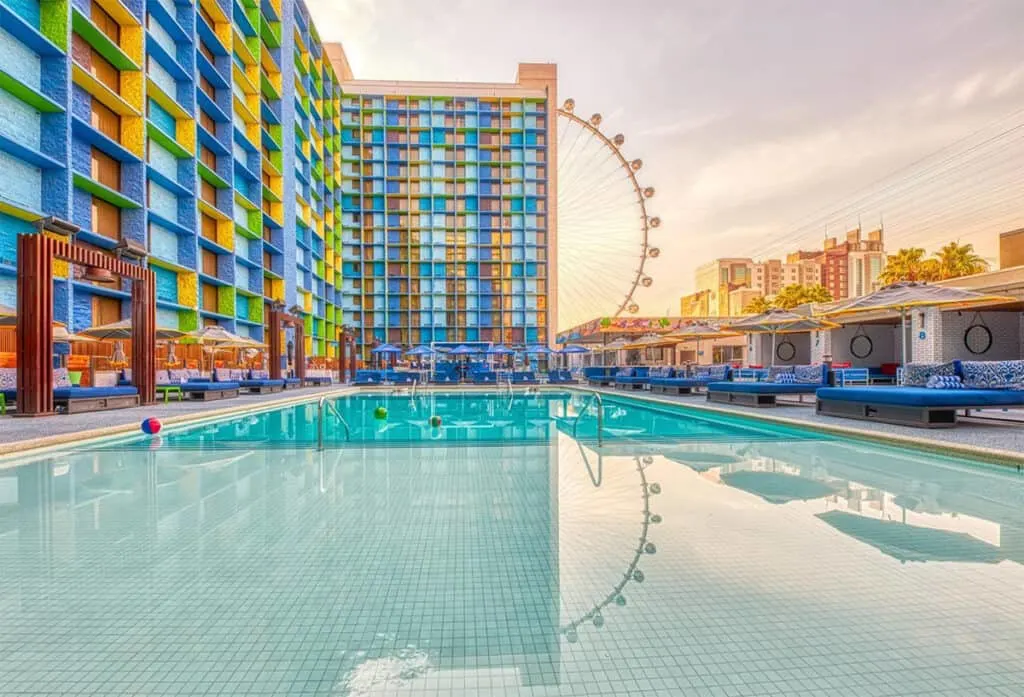 Stadium Swim at Circa
One of the top Las Vegas pools open to the public is Stadium Swim at Circa. It's an impressive sports bar meets pool club combo featuring six pools and a 40-foot HD screen that shows all the latest sports games.
This pool remains open every day of the year, with heated waters in winter for guests who want to enjoy breathtaking views even during colder months.
Stadium Swim® has a reputation as one of the best raging dayclubs in Las Vegas with great music, bikini-clad guests, 30 cabanas, and fantastic food and cocktail menu options available on-site.
You can relax by any pool while watching your favorite game or cheering on your favorite team from a VIP cabana while sipping on refreshing cocktails under sunny skies or star-filled nights.
Check out room rates at the adult's only Circa Resort on Expedia.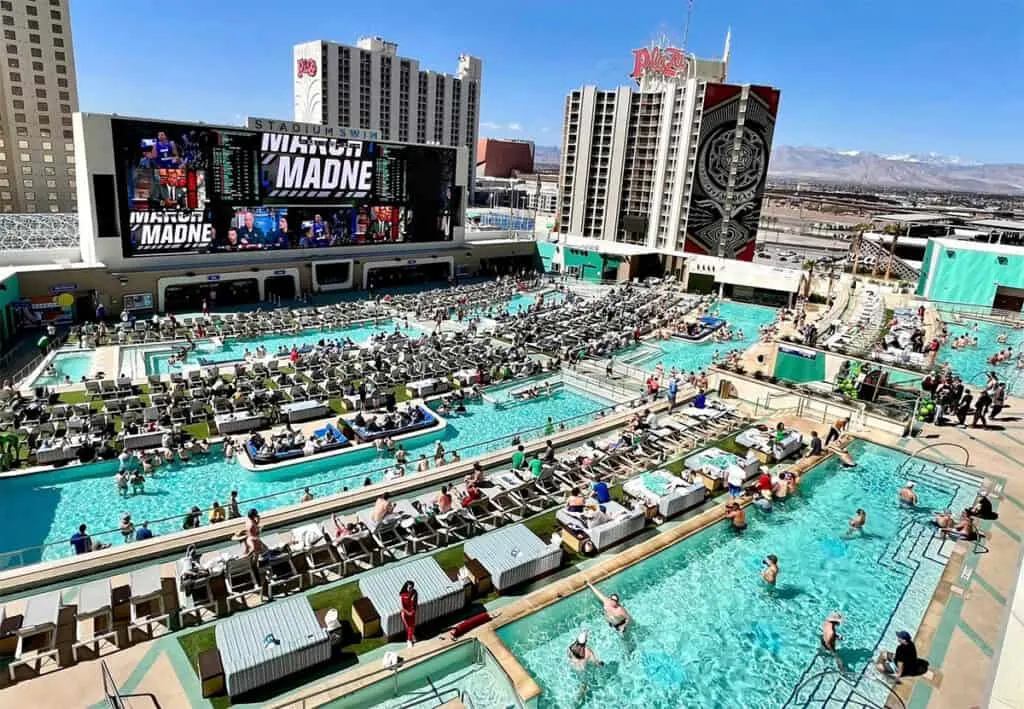 Citrus Rooftop Pool at the Downtown Grand
If you're looking for a top-notch pool experience in Las Vegas, look no further than the Citrus Rooftop Pool at the affordable Downtown Grand.
This rooftop oasis is located downtown, near Fremont Street, and situated on the third floor of the Casino Tower. It boasts over 35,000 square feet of entertainment and special event space.
The infinity pool sparkles in the sunshine while the surrounding deck offers semi-private cabanas, a restaurant and full bar, backyard games, and even a fire pit for those chilly dessert evenings.
Check out room rates at the Downtown Grand Las Vegas on Expedia.
Pool features and amenities
Las Vegas pools offer a range of features and amenities, including luxurious cabanas and daybeds for rent, poolside bars and restaurants, exciting waterfalls, water slides and lazy rivers to float down, as well as live performances by DJs and musicians.
Rent a Cabana or a Daybed
One of the best ways to enjoy a Las Vegas pool is by renting a cabana or daybed. Many pools offer them, and they come with personalized service and plenty of space to relax in the sun.
At Encore Beach Club, you can experience a lively pool party atmosphere while lounging in your own private cabana or daybed. And at Caesars Palace's Garden of Gods Oasis, you can rent elegantly furnished retreats with flat-screen TVs and misters to keep cool in the desert heat.
Keep in mind that renting a cabana or daybed usually comes with a minimum food and beverage spend.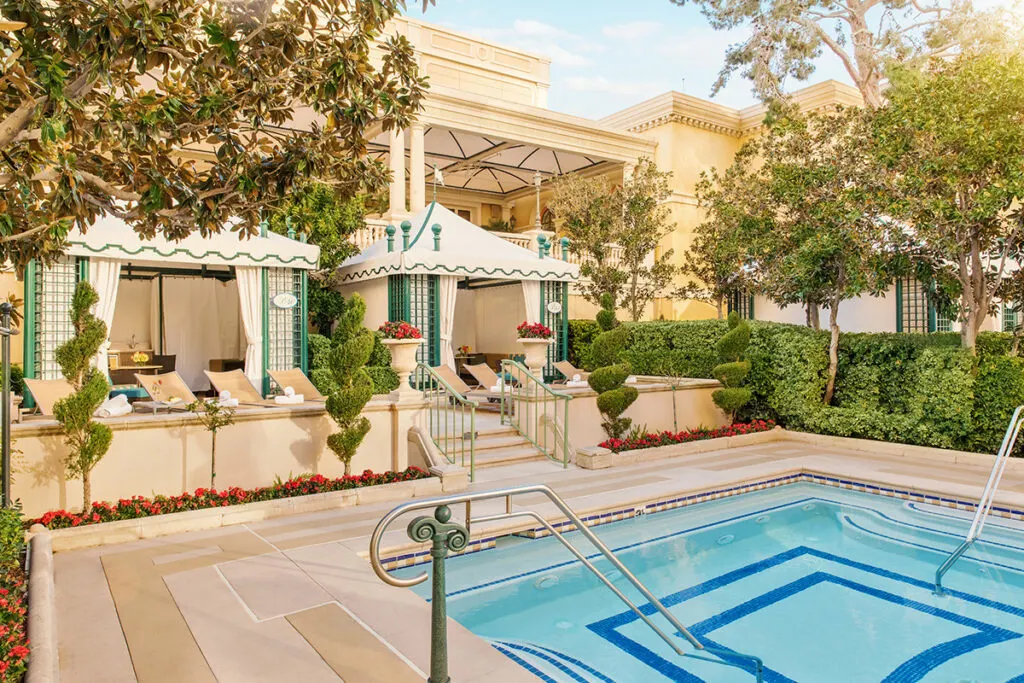 Poolside bars and restaurants
One of the most appealing things about the Las Vegas pools open to the public is the abundance of poolside bars and restaurants. From casual snack bars to upscale eateries, there are plenty of options for a drink or meal while basking in the sun.
At Mandalay Bay Beach, enjoy your drinks and snacks from one of three beachside bars, including a frozen cocktail bar. The Flamingo's Go Pool Day Club features a swim-up bar for sipping on cocktails while lounging in the water.
Other top Las Vegas pools open to non-guests also feature fantastic food and drinks too. If you're looking for some crazy Las Vegas pool parties, you can check those out – and the rules and some tips – in this post.
Las Vegas Waterfalls and Lazy Rivers
One of the best things about Las Vegas pools that are open to the public are the water features, including majestic waterfalls and winding lazy rivers.
The Mandalay Bay Beach is a perfect example with a 1.6 million gallon wave pool, four swimming pools, and even a jogging track in addition to its famed lazy river.
Some other notable spots with beautiful waterfall features include Caesars Palace's Garden of the Gods Pool Oasis and Aria's three distinctive pools each featuring their own cascading waterfalls.
Lazy rivers at places like the MGM Grand pool complex make it easy to enjoy cooling off without much effort as you drift along on tubes through scenic settings around lush gardens dotted with palm trees.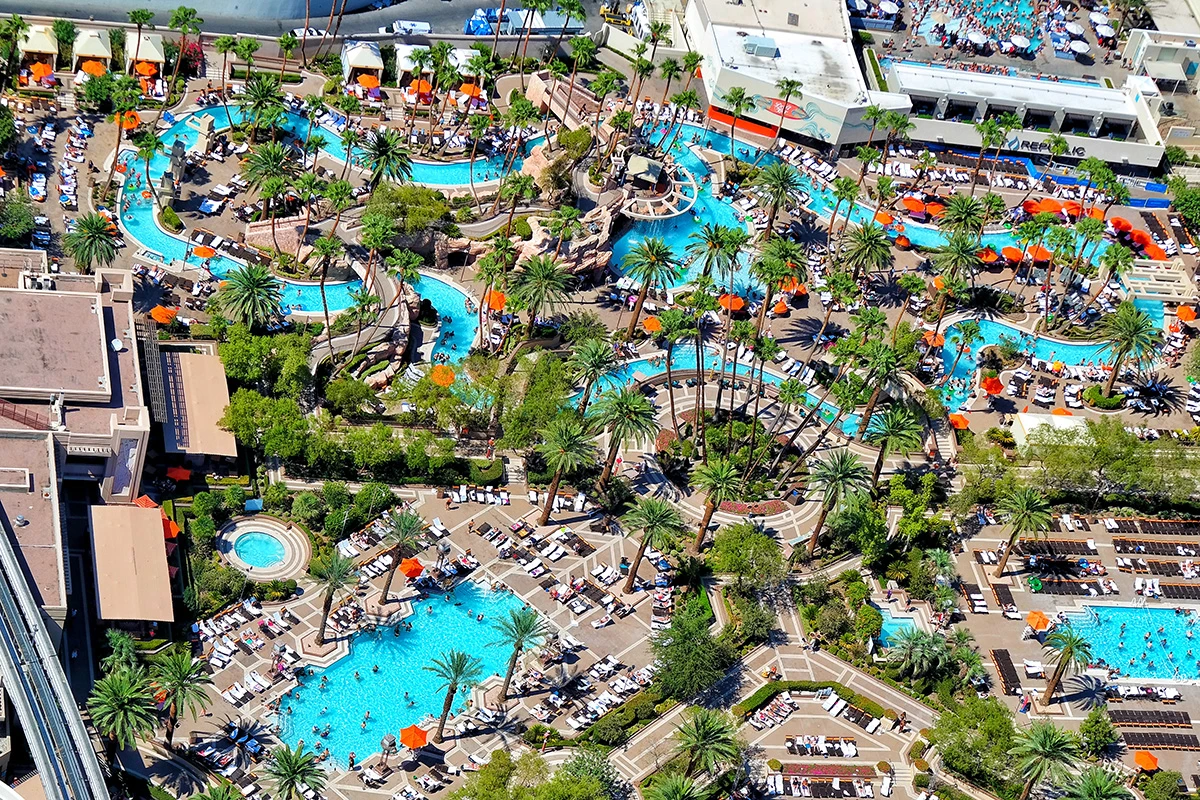 Poolside live entertainment
Las Vegas pools are not just about swimming and sunbathing; they offer all day – and even into the night – entertainment. There are movie screenings, live music, and live DJ performances at many Las Vegas pools.
Many pool complexes in Las Vegas offer activities like life-sized games such as giant chessboard or Jenga to keep you entertained on hot days while taking dips in between games.
Tips for visiting Las Vegas pools
Plan ahead and make reservations to ensure you can enjoy the pool of your choice. Follow pool rules for a safe and enjoyable experience. Stay hydrated under the sun with sunscreen and plenty of water, and learn how to make the most of cabanas, daybeds, and other amenities.
Book in advance
Booking in advance is crucial when planning a trip to Las Vegas, especially if you want to visit the best Vegas pools open to the public. Many popular pool areas require reservations for cabanas and daybeds.
Luckily, most resorts allow you to reserve online, so you don't have to worry about calling multiple times or navigating lengthy phone menus, and you'll have the peace of mind knowing that everything is planned out and taken care of beforehand.
Follow pool rules and etiquette
As with any public or hotel pool, there are rules and etiquette to follow while swimming in Las Vegas. First of all, always make sure to shower before entering the pool to keep it clean.
Do not bring glass containers or food into the pool area as this can be a safety hazard.
While it may be tempting to save chairs by placing personal items on them when you leave the area, many resorts have implemented policies against "reserving" chairs for extended periods of time.
Stay hydrated and protected from the sun
The summer heat can be intense, and it's easy to get dehydrated quickly. I always make sure to bring a reusable water bottle with me to refill throughout the day.
Sun protection is equally important; sunscreen with an SPF of 30 or higher should be applied every two hours or after swimming. A big hat and loose-fitting clothing will also help protect your skin from harmful UV rays.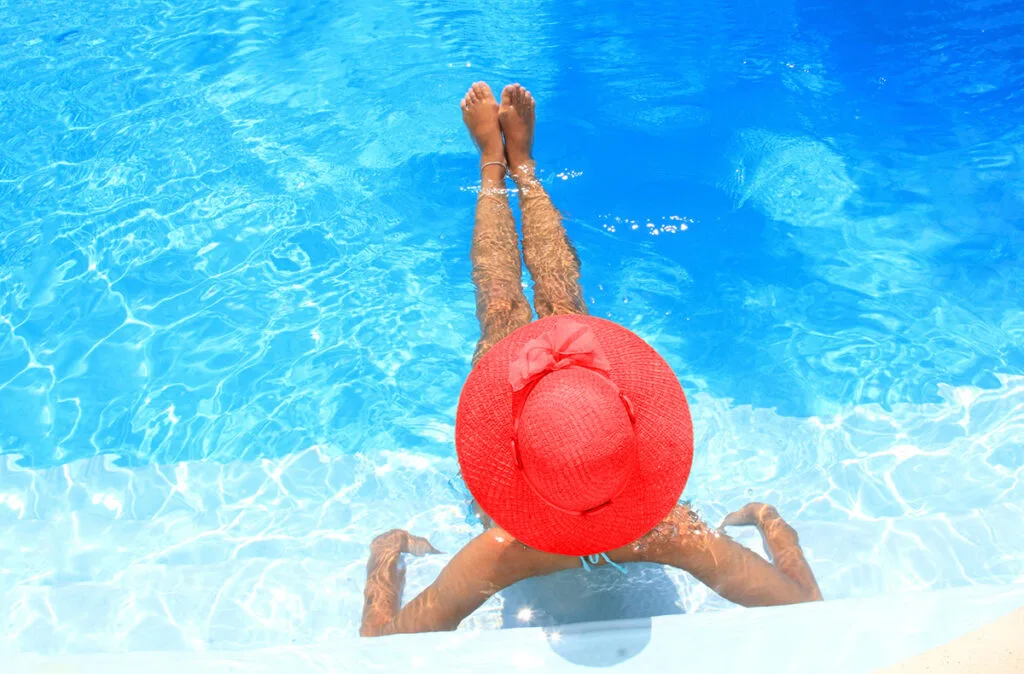 Some Las Vegas pools open to non-guests include
Aria's Day Club Liquid
Bellagio's Mediterranean-inspired pool complex
MGM Grand's expansive 6.5-acre pool complex with a lazy river and cascading waterfalls
The Cosmopolitan's Marquee Dayclub with world-class entertainment and infinity-edge plunge pools for adults only
Caesars Palace's iconic Temple Pool featuring a circular design with a central Caesar statue surrounded by six pools (one open to both guests and non-guests)
Mandalay Bay's beach-like wave pool and lazy river (open for a fee Monday-Thursday)
Flamingo's Beach Club Pool catering to families traveling with kids
Linq Influence Pool offering an energetic atmosphere complete with beer pong tables during select free hours (adults-only venue reserved for guests aged 21 or older)
The Tank Pool at Golden Nugget boasting unique shark aquariums that surround private cabanas accommodations perfect for visitors of all ages interested in fun or relaxation at this famous attraction spot
Stadium Swim® is one of the best raging dayclubs in Las Vegas located inside Circa Resort & Casino featuring great music options from DJs while bikini-clad guests enjoy stunning views on any six-pool deck.
Finally, Las Vegas pools opening dates vary between hotels but are open throughout summer. Most close during winter months, apart from heated pools such as Bellagio's lap/recreational pool.
Most public pools require entry fees or passes depending on availability so it is important to plan ahead if you want to visit your favorite spots. You can swim at TopGolf for free though. Find more free things to do in Las Vegas in this post.
Because 1 Vegas post is never enough!
You might like to delve into some of my other Las Vegas posts:
The Coolest things to do in Las Vegas, features things you won't want to miss.
My picks for the 24 best shows in Las Vegas covers everything from Donny Osmond (don't laugh!) to Magic Mike and a run down on all the Cirque du Soleil shows.
If you love shopping then you should read these 10 places for shopping in Vegas, including outlets.
And if you want to get married by Elvis or renew your vows, and need to know which lookylikey is the best, I've found him in this post on the time I crashed an Elvis wedding!
Las Vegas is also featured on my list of 20 great places for Spring Break with the family!
If you're visiting Las Vegas with kids, there is so much to do here for them too.