3 Packing Tips to Make Room for Souvenirs
Returning home with a suitcase full of souvenirs can be one of the highlights of a trip. You might travel specifically to buy clothes, such as some folks who head to Hoi An, Vietnam, which is known for its tailor-made clothing. Or you might come from Japan with a case of Kit Kats in bold flavors like red bean and Japanese sweet potato, plus other unique gifts for the folks back home.
Some travelers might have to limit the momentos they buy because of financial constraints. But others are bound simply by what fits in the suitcase for the flight home.
With these three packing tips, you'll not just avoid overpacking, but you'll make room for souvenirs, too.
1. Don't pack items you'd want a souvenir version of
You may have seen the somewhat cliche lists of things you likely never need to pack, like toiletries, towels or hair dryers (most hotels provide these things for you). But what about the items you do need — the ones that are perfectly logical to pack, like shirts, sunglasses and hats?
If you're the kind of person who's likely to buy souvenir versions of these items, then rethink how many of them you bring with you to begin with. If you pack one or two fewer shirts, for example, you can buy a couple at your destination, wear them while traveling, and bring them home as souvenirs.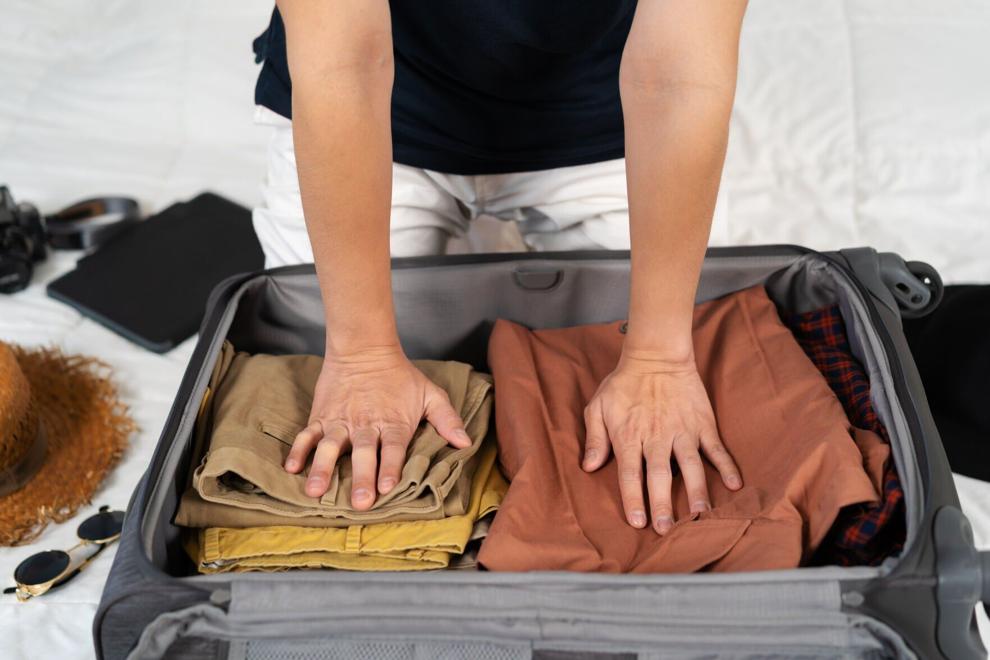 2. Rent clothes upon arrival
A new service has popped up in the travel industry, offering to deliver personally styled rental clothes to your hotel. Travelers wear these temporary duds throughout the trip and leave them behind at the hotel upon checkout.
Trvl Porter lets you pick items to rent at $65 each (with a two-item minimum) for up to two weeks and takes care of the shipping costs both ways.
Some major hotel and airline companies are getting in on the trend too.
In July 2023, Japan Airlines launched its "Any Wear, Anywhere" clothing-sharing service. Customers go online and input criteria like size, style and how many items they want (the minimum is three tops plus two bottoms per rental), which generates a bundle of clothes for them to rent.
And it's not too expensive either. The lowest-priced bundle costs 4,000 yen (about $27). For now, though, the service is only available to passengers on international, JAL-operated flights and is just a trial project, scheduled to end in August 2024, according to Japan Airlines.
Meanwhile, W Hotels Worldwide, a Marriott brand, has a partnership with Rent the Runway where clothing orders are delivered to travelers at the hotel (and returned to the hotel's front desk at checkout). This service lets customers pick any four items from a selection of Rent the Runway clothing for $69. Separately, Rent the Runway also offers one-time rentals that might be ideal if you're looking for something you'd wear only once during the trip (like a suit or formal gown), which would allow you to pack less.
3. Pack old clothes you want to part with
Bring apparel that you were about to donate or throw away anyway. Make your vacation the last time you wear it — and then leave anything too tattered to wear again in the trash. For clothes that are otherwise in good condition (perhaps you're ready to part with them because you want a closet refresh), look for local thrift stores to drop off donations. Local places of worship might also take quality second-hand clothing donations.
Why you should avoid overpacking
A heavy suitcase can be cumbersome to lug around, particularly if you're trying to roll it over cobblestone streets in Europe or sprint with it to catch a departing train.
Bringing more than what fits in carry-on means you'll likely pay airline checked bag fees (though that's avoidable with certain levels of airline elite status or by holding certain airline credit cards).
If you do check bags, you'll spend precious vacation time waiting at the baggage carousel. And there's still the risk that your stuff will get lost. Even protections like lost luggage insurance, which can refund the cost of what went missing, can feel like a poor consolation prize if you lose irreplaceable items like a camera (and the memory card or film inside), or tough-to-get items like the Japanese Kit Kats you flew across the ocean to collect.
By returning with very few of the same items you departed home with, you'll not only leave plenty of room for souvenirs, but you also might be able to make it all the way home with carry-on bags only.
Best beach towns in the US
Intro
#100. Vero Beach, Florida
#99. Destin, Florida
#98. Morehead City, North Carolina
#97. Atlantic Beach, North Carolina
#96. Laie, Hawaii
#95. New Smyrna Beach, Florida
#94. Pine Knoll Shores, North Carolina
#93. Kaunakakai, Hawaii
#92. Riviera Beach, Florida
#91. Deerfield Beach, Florida
#90. Wainiha, Hawaii
#89. Kahului, Hawaii
#88. Waialua, Hawaii
#87. St. Augustine Beach, Florida
#86. Nanakuli, Hawaii
#85. Malibu, California
#84. Orange Beach, Alabama
#83. Kalihiwai, Hawaii
#82. Marco Island, Florida
#81. Long Branch, New Jersey
#80. St. Augustine, Florida
#79. Kaanapali, Hawaii
#78. Manasota Key, Florida
#77. Pass Christian, Mississippi
#76. Fort Walton Beach, Florida
#75. Buxton, North Carolina
#74. Huntington Beach, California
#73. Sargent, Texas
#72. Pompano Beach, Florida
#71. Pupukea, Hawaii
#70. Venice, Florida
#69. Kitty Hawk, North Carolina
#68. Laurel, Florida
#67. Tampa, Florida
#66. Paia, Hawaii
#65. Salvo, North Carolina
#64. Sarasota, Florida
#63. Jupiter Island, Florida
#62. Myrtle Beach, South Carolina
#61. Hallandale Beach, Florida
#60. Miramar Beach, Florida
#59. Carolina Beach, North Carolina
#58. Norfolk, Virginia
#57. Kailua, Hawaii
#56. Quintana, Texas
#55. Biloxi, Mississippi
#54. Portland, Texas
#53. Wailea, Hawaii
#52. Long Beach, Mississippi
#51. Jacksonville, Florida
#50. Makaha, Hawaii
#49. Ormond-By-The-Sea, Florida
#48. Lower Grand Lagoon, Florida
#47. North Topsail Beach, North Carolina
#46. Kaneohe Base, Hawaii
#45. Waimea, Hawaii
#44. Avon, North Carolina
#43. Miami Beach, Florida
#42. Atlantic City, New Jersey
#41. Beaufort, North Carolina
#40. Haena, Hawaii
#39. Virginia Beach, Virginia
#38. Lamar, Texas
#37. Princeville, Hawaii
#36. Waianae, Hawaii
#35. St. George Island, Florida
#34. Jekyll Island, Georgia
#33. Los Angeles, California
#32. Hanalei, Hawaii
#31. Makena, Hawaii
#30. Hilo, Hawaii
#29. Port Aransas, Texas
#28. Ocracoke, North Carolina
#27. Clearwater, Florida
#26. South Padre Island, Texas
#25. Nags Head, North Carolina
#24. Maalaea, Hawaii
#23. East Honolulu, Hawaii
#22. Lahaina, Hawaii
#21. Fort Lauderdale, Florida
#20. Haleiwa, Hawaii
#19. Surfside Beach, Texas
#18. Oak Island, North Carolina
#17. San Diego, California
#16. Emerald Isle, North Carolina
#15. Palacios, Texas
#14. Napili-Honokowai, Hawaii
#13. Hollywood, Florida
#12. Urban Honolulu, Hawaii
#11. Gulfport, Mississippi
#10. Kill Devil Hills, North Carolina
#9. Kihei, Hawaii
#8. Freeport, Texas
#7. Daytona Beach, Florida
#6. Texas City, Texas
#5. Aransas Pass, Texas
#4. Jamaica Beach, Texas
#3. Bolivar Peninsula, Texas
#2. Galveston, Texas
#1. Corpus Christi, Texas
The article 3 Little-Known Packing Hacks That Leave Room for Souvenirs originally appeared on NerdWallet.