8 unique bed-and-breakfasts within a few hours' drive of St. Louis
Share this article paywall-free.

By Jim Winnerman Special to the Post-Dispatch

If you have ever opted for staying at a bed-and-breakfast inn instead of a traditional hotel, it is likely you have enjoyed a home-cooked breakfast as well as the friendly conversation and helpful local knowledge of the inn owner.
Most inns are in private homes featuring a handful of rooms each decorated differently and often in keeping with the history of the home. Usually the congenial owner lives on the property.
For those interested in a first-time experience at an inn, or for people who prefer a stay at an inn, here are several scattered throughout Missouri and Illinois worth a visit. Each has been highly rated on the internet.
Room rates shown are the lowest offered throughout the year, but vary by type of room, day of the week and season.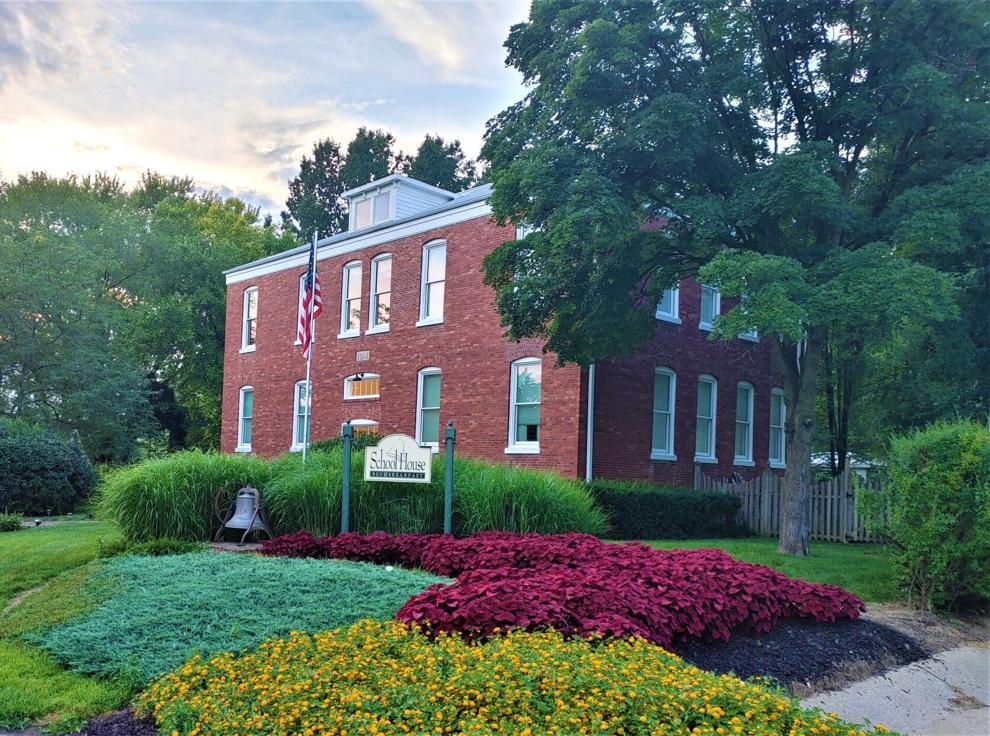 Schoolhouse Bed and Breakfast
Once the school for students in the Missouri River port of Rocheport, the 1914-era building located midway between St. Louis and Kansas City is now a bed-and-breakfast inn.
As a result of the history of the inn, owners and innkeepers Chandrika Collins and Andy Hickman have adopted an appropriate motto for guests: "Stay in Class!"
Now listed on the National Register of Historic Places, the original schoolhouse was four classrooms for grades one through 12 through 1972. After 15 months of extensive renovation in 1986 it opened as one of the first bed-and-breakfast inns in Missouri. It now features 11 luxury guest rooms on four floors, all with private baths. Three rooms also have two-person jetted tubs, and a stay includes a three-course made-from-scratch breakfast.
Two additional buildings associated with the inn are the Clark Street Lodge and the Dorm House. Both cater to cyclists riding the Katy Trail and families. Each has two bedrooms and a full kitchen stocked with self-serve breakfast items.
Rates • Rooms per night range from $189 in the Schoolhouse, $209 in the Clark Street Lodge and $119 in the Dorm House.
Nearby • The tiny village of Rocheport has a surprising number of boutique shops, all within an easy walk. Warm Springs Ranch, the official breeding facility of the Budweiser Clydesdales, is a 10-minute drive.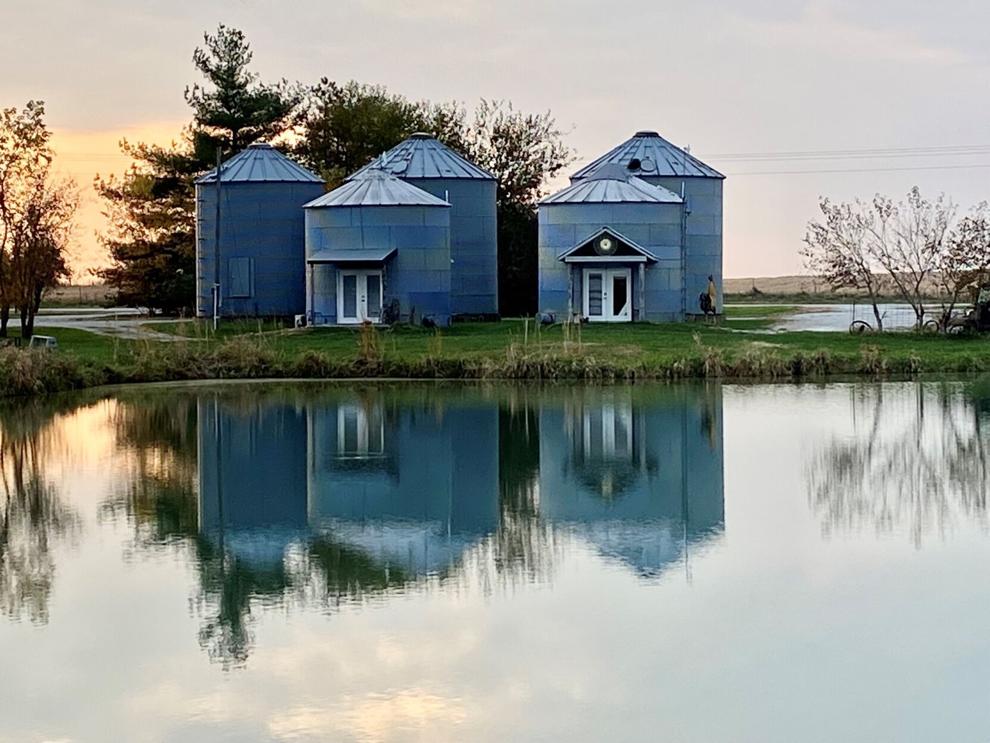 The Silos at Prairie Vale
What do you do when you live on a farm with too many grain silos? Why not convert a few into bedrooms and invite guests!
That was the creative solution Wendy and Doug Needy took to open their very unusual bed-and-breakfast on their 14-acre farm near Sedalia. "We had eight silos when we purchased the farm," Wendy says. "Five are still used for storing grain, but the others now have front doors, kitchenettes, living rooms and a second-story bedroom with a balcony railing made from hay rake wheels used to gather hay."
Add a herd of cattle, goats, chickens, sheep and other farm animals, and the unusual stay is almost complete. But, if that is not enough, fishing poles can be borrowed to fish in the pond outside the front door of the silos, and the wrap-around front porch on the main house is available for sitting and chatting with the Needys in the evening or before or after the hot country breakfast is served.
Nearby • In addition to being the site of the yearly Missouri state fair, the nearby town of Sedalia offers a lot to see.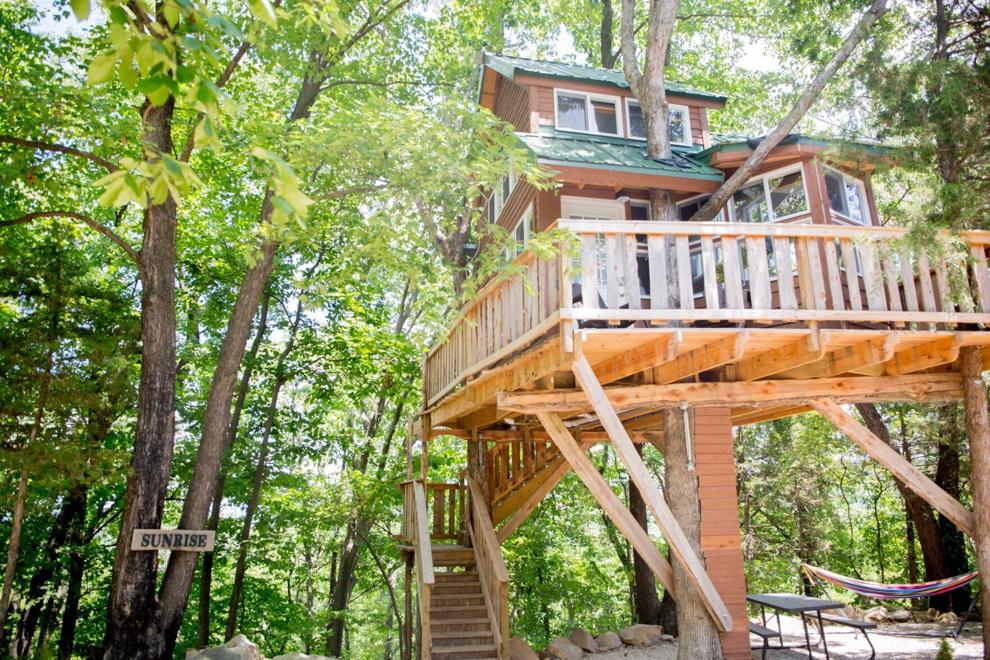 The Cottage Bed and Breakfast
Guests sleep "like a log" in the three treehouses on the inn property, each perched in the forest canopy. It is an opportunity for adults to fulfill their dreams of staying in a playhouse in a tree.
If you are wondering, these "tiny homes" are not lacking amenities, so guests need not rough it. Inside, each treehouse features running water, air conditioning, heat, a full bathroom, small appliances and comfortable beds.
Outside, each features birds looking in the windows and sweeping views of the forest floor on all four sides, giving the impression of sleeping in the sky.
After guests have let the sounds of the forest lull them to sleep, a stay includes a homemade breakfast delivered the night before to the in-room refrigerators.
The inn also has a stand-alone cottage resting firmly on the ground.
Nearby • Hermann offers a variety of restaurants and wineries in the countryside.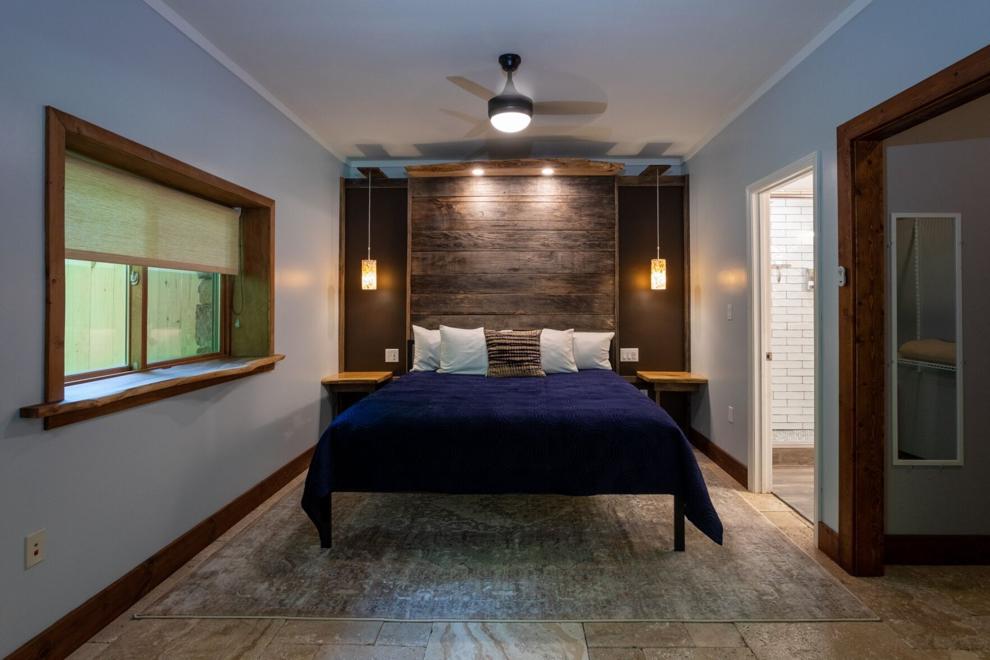 Makanda Inn
While Greg Wellman was teaching in the aviation department at Southern Illinois University, he found 18 acres of land to build his dream of a sustainable resort. As a result, the five-suite Makanda Inn and three cabins were developed as an eco-friendly retreat in the heart of the Shawnee National Forest in southern Illinois. Tucked deep in the woods, the retreat is surrounded by nature, and includes a creek that gurgles through the property.
Both high- and low-tech methods for minimizing the impact on the environment were used in construction of the inn and cottages. Straw bales for sound and energy efficiency fill the walls, and earthen plaster, recycled plastic roofing materials and reclaimed wood for doors and roofing are all integrated throughout the inn. One cottage even features a living roof of native growing plants.
All rooms in the lodge and the cottages were designed from the bed outward, with views of the woods a paramount consideration.
The resort also features the work of several area artisans who handcrafted much of the furniture, created an enormous copper sun sculpture, and made custom-crafted doors and woodwork. Two cottages feature backsplashes made by Shauna Wellman from scrap tile, old broken dishes and whatever else she found for inspiration.
Breakfasts are included in the room rates for the inn, and specially made dinners can be ordered.
Nearby • Dating to the late 1800s, the Makanda Boardwalk contains an eclectic collection of boutiques and artisan shops. Giant City State Park and the Cache River State Natural Area offer opportunities for hiking and horseback riding.
Harpole's Heartland Lodge
Gary Harpole's happy recollections of visiting his Centennial family farm led to him returning to the acreage after college. "He wanted to have dogs, horses and the freedom found in the country," says Gary's mother, Wanda.
Then Gary had the idea to develop the land into a retreat for others to enjoy. "If Colorado can use its mountains and Florida its beaches, we can use the resources that we have in Pike County," he said, and he proceeded to build.
A 9,500 square foot Heartland Lodge was constructed in 1995 on 1,200 acres, and the 10,000 square foot Prairie Ridge Lodge was added in 2005. The 10,100 square foot Sunset Valley Lodge was constructed in 2014, followed by the Heavenly View Cabin in 2015. Five private cabins are the latest additions.
The prevailing theme for all lodge common areas and rooms is "cabin rustic." Rooms feature knotty pine and cedar walls, vaulted ceilings, hand-carved Old Hickory furniture and outdoor themed décor. Some have fireplaces and whirlpool tubs.
In addition to being used for romantic getaways and family vacations, the resort includes a large multipurpose hall for weddings, reunions and meetings.
Activities available on the property include guided hunting (deer, turkey, waterfowl) and fishing trips, sporting clays, excursions on the Mississippi River, morel mushroom hunting, horseback and ATV/UTV trail rides (bring your own), a free pistol range, hayrides and bonfires.
Nearby • Ted Shanks Conservation Area in Missouri and the Clarence Cannon National Wildlife Refuge in Illinois are refuges for over 230 species of birds and other wildlife.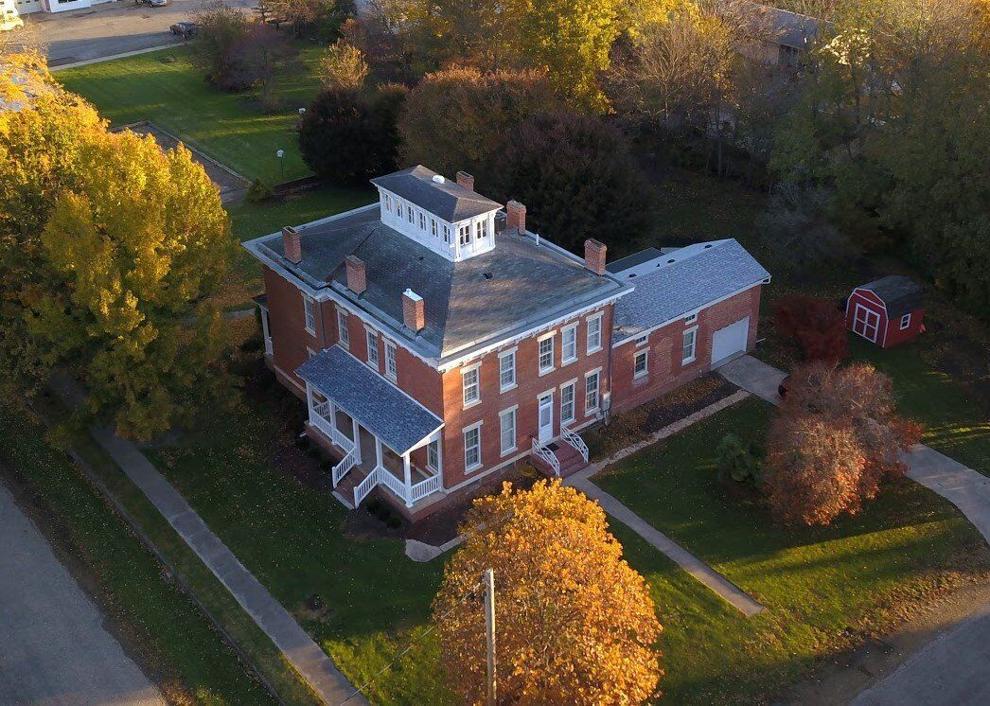 Tiskilwa Inn
This stately Italianate-style manor house has been recognized in an Illinois Historic Structures Survey as "a place of special interest because of its aesthetic, architectural and technological significance." Built in 1848 by John Stevens as a wedding gift to his daughter and named for a Pottawatomie village and chief, the home features a center hallway with a front stairway of cherry wood and a back stairway of walnut.
Opened as an inn in 2019, it is truly an elegant step back in time. Original geometric designs of molded plaster still grace the ceilings in the library and formal dining room, and five of the home's original fireplaces remain, each with its own distinctive design. A large glass room known as a Belvedere and common in Italianate architecture sits atop the roofline, offering magnificent views.
Five guest rooms feature antique furniture, luxurious private baths, spa-quality toiletries and plush guest robes.
The inn is known for the gourmet breakfasts, which include baked eggs with Havarti and dill, homemade buttermilk biscuits with venison-sausage gravy, tasso ham and Gruyere quiche, and the always popular cinnamon roll bread pudding served with local farm bacon.
Nearby • The Tiskilwa Farms Alpacas offers visits to the herd of 100 alpacas and sheep, chickens, turkeys and Akbash dogs, which have ancient origins in Turkey. The 60-mile Hennepin Canal Trail is known for excellent hiking, biking, kayaking and bird watching.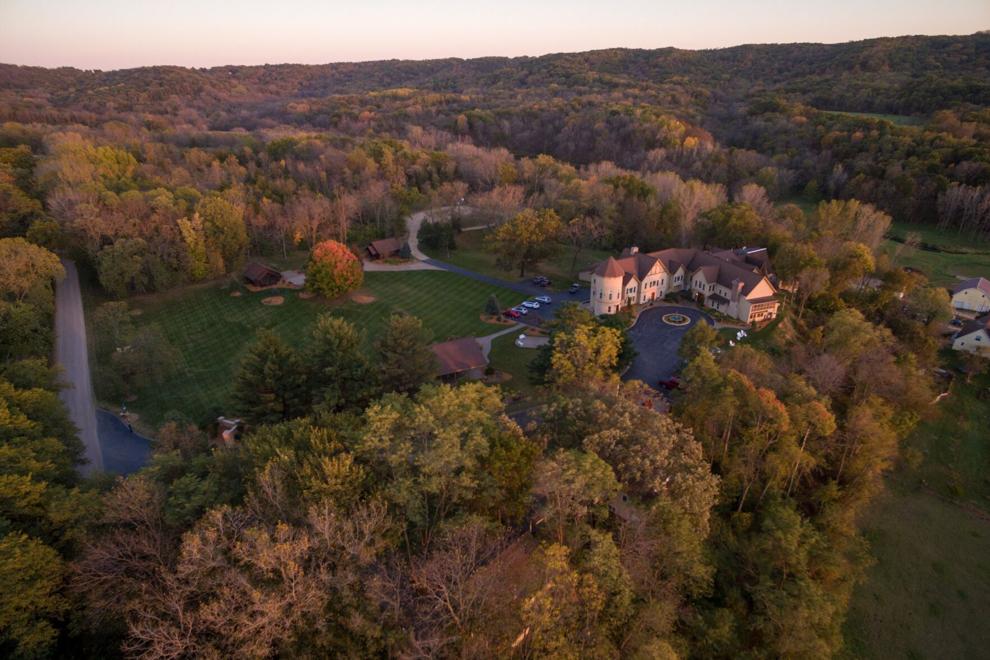 Goldmoor Inn
Surrounded by thick woods on three sides and featuring 180-degree views of the Mississippi River on the fourth, the Goldmoor Inn offers a classic country inn experience just six miles from historic Galena, Illinois, where 85% of the village is included in a National Register Historic District.
Once an elegant, privately owned estate, three decades ago the inn was transformed into a country inn offering a variety of luxurious accommodations for overnight guests. Situated on 21 acres of beautifully maintained gardens and grounds, a stay here is much more than an ordinary overnight accommodation.
Room choices include suites in the main lodge, or freestanding cabins and cottages.
"Many have private, stunning views of the Mississippi River," says co-owner Birgit Radin. Along with husband, Slobo, the couple have over 25 years of hospitality careers for leading hotels and resorts on three continents.
Amenities normally not found at an inn, but which are included at the Goldmoor, are a restaurant on the property, a spa, and breakfast delivered to each guest room every morning. All rooms have a Jacuzzi tub, king bed, fireplace and a fully equipped kitchenette.
Nearby • A 15-minute drive into picturesque Galena takes guests into the heart of the historic town, which features a variety of boutique shops, entertainment venues and Civil War history.
Market Street Inn Bed and Breakfast
This inn has an exceptional past, having been built in 1892 using plans for a Victorian-style home sold through a mail order catalog marketed by American architect George Barber (1854 –1915.) A variety of plans were drawn by Barber and were sold all over the world and in all states.
Originally the Market Street Inn was a 4,400 square foot private residence, but today the main house has been expanded by adding rooms on the third floor. Today it features 7,100 square feet with eight en suite bedrooms (most with fireplaces and whirlpool tubs,) two large parlors and a large dinning room. Two additional rooms are in a carriage house, including the 550-square-foot Hunt Club suite with a fireplace in the main room and a second next to a whirlpool tub for two.
Native Taylorville innkeepers Joe and Myrna Hauser are now celebrating 29 years of innkeeping and ownership of the inn, having acquired the property in 1993. They met in town, married, moved away and returned after successful careers in business.
Nearby • The inn is 30 miles from Springfield and the Abraham Lincoln Presidential Library and Museum, and Lincoln's home. The Illinois Amish community of Arthur is just a little over an hour from the inn's front door.