Aditi Prabhudeva Celebrates Women's Day At BBRC
To acknowledge the contribution of women in the field of wildlife conservation, Indian actress Aditi Prabhudeva visited the Bannerghatta Bear Rescue Centre on International Women's Day. She was accompanied by her family members who showed their support for Wildlife SOS.
Aditi is a familiar face in the Kannada film and television industry and has showcased her talent in movies such as Sinnga (2019), Brahmachari (2019), and Ombatthane Dikku (2022).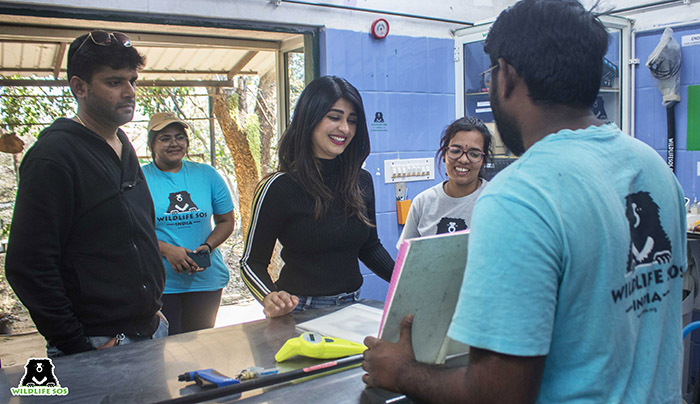 Her tour of the centre began with a brief interaction with the staff about the tragic and painful history of the 'dancing' Sloth bears in India. Aditi commended the efforts put forth by the organisation to rescue and rehabilitate these bears that had suffered in harsh captive conditions.
The bears in our care need regular health checkups to ensure they remain comfortable and healthy. To get an understanding of what this care entails, our veterinary doctor informed the visiting family about the various procedures undertaken to maintain the health of the bears, right from providing them with multivitamin supplements and conducting blood draws to dental care that also includes tooth extractions.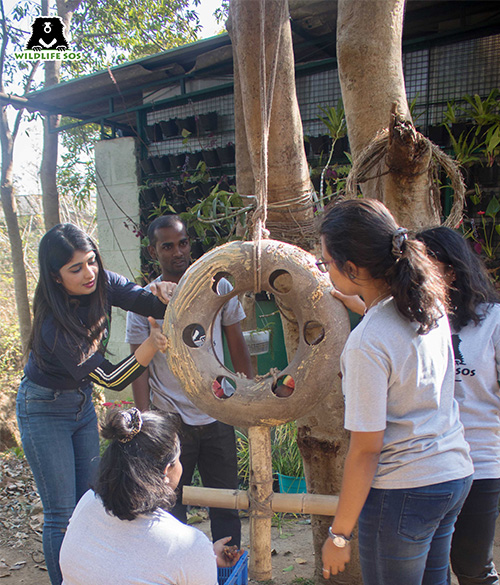 After a tour of the veterinary clinic, Aditi and her family made their way to the eco-friendly kitchen to see how the staff uses briquette stocks to cook meals for our resident bears. The briquettes are made from vegetable waste, sawdust, and wheat husks and can burn consistently for up to 24 hours. BBRC has been using this renewable mode of energy for over nine years now. Aditi was astounded by the fact that nearly 1,000 kg of porridge is cooked daily per meal, and applauded the kitchen staff for their hard work. She was also shown the mealworm raising unit, where worms and bugs are procured from to supplement the diet of the bears.
Aditi also assisted our bear caregivers in creating a tyre feeder enrichment for the centre's youngest Sloth bear, Millie. The enrichment tool consisted of a tyre and bamboo sticks attached in the form of the female symbol '

'. The tyre was filled with pieces of chopped watermelons and smeared with peanut butter on the outside, while the bamboo shoots had tiny holes drilled within which dates were added. The enrichment was added to the enclosure, and the actress was delighted to see Millie enjoy and play with her new enrichment.
The visit concluded with Aditi pledging her support to the 'Refuse to Ride' campaign of Wildlife SOS, which aims to end elephant rides for tourism purposes. Commenting on her experience, actor Aditi Prabhudeva said, "The 'dancing' bear tradition that was observed during our forefathers' time is no longer prevalent because of Wildlife SOS' remarkable effort to help resolve this brutal practice. I appeal to all of you to visit their centre and offer your support by either donating to or volunteering with the organisation."
Aditi and her family was shown around the centre by Ms. Puja Deb, Team Lead, Fundraising and Events, Ms. Vasavi Ballakkuraya, Education Officer and Ms. Shrestha Deb Roy, Resource Mobilization Officer.
If you would like to visit or volunteer at our centres across India, please write to us at visit@wildlifesos.org and volunteer@wildlifesos.org
The post Aditi Prabhudeva Celebrates Women's Day At BBRC appeared first on Wildlife SOS.