All You Need to Know About Lightning Lane at Disneyland!
If you've been to Disneyland in the last 23 years, you might remember the wonderful "FastPass" program. The "FastPass" program began in 1999 and it was complimented by "MaxPass" in 2017 (which I loved.)
The programs offered a speedier way to get on some of your favorite rides, and all you had to do was go to a kiosk, or in more recent years, guests could select their MaxPass rides on the Disneyland app. We'll share all you need to know about Lightning Lane at Disneyland.
Overall, guests loved the FastPass and MaxPass systems because they allowed them and their parties the option to prioritize their favorite rides. It almost guaranteed that they would be able to ride the attraction that day in the park.
Additionally, the program was great because (initially) you held the tangible FastPass tickets in your hand. And, if you decided you wouldn't be using it, you could pass it off to a stranger and give them the "gift" of a shorter line.
MaxPass was not only utilized through the Disneyland app, but it also cost a fee, much like Genie+.  Of course, you might already know how Lightning Lane works and how to use it! But, how much do you know about Lightning Lane at Disneyland? 
---
What is Lightning Lane?
Disneyland Lightning Lane is an offering introduced at the Disneyland Resort, allowing guests to maximize their experience at the beloved theme park. With the introduction of the Lightning Lane, guests can now enjoy shorter wait times for their favorite attractions, ensuring a magical and efficient visit.
---
How Much is Lightning Lane at Disneyland?
One of the key aspects of the Disneyland Lightning Lane is the Genie reservation system. For a fee of $25 per person per day, guests can make use of this convenient feature. The Genie reservation allows visitors to secure access to select attractions throughout the day, bypassing the regular queues and enjoying more time experiencing the magic of Disneyland.
The individual Lightning Lanes at Disneyland provide guests with the opportunity to customize their park visit. By selecting specific attractions through the Genie reservation system, visitors can craft their ideal itinerary, tailoring their day to match their preferences. This à la carte approach enables guests to prioritize their must-see attractions, such as the thrilling Mickey & Minnie's Runaway Railway or the immersive Radiator Springs Racers.
---
How Does Lightning Lane at Disneyland Work?
Upon the park's opening, guests who have made Genie reservations can head straight to their selected attraction, using the Lightning Lane entrance to skip the main queue. This allows them to save valuable time and experience more of Disneyland's world-class entertainment and attractions.
The Disneyland Lightning Lane also offers expedited access to some of the most sought-after experiences, including the legendary Star Wars: Rise of the Resistance. With the Lightning Lane, guests can join the Resistance in their battle against the First Order without the need to wait in long lines.
It's important to note that while Disneyland offers the Lightning Lane, a similar service called Disney Genie+ is available at Walt Disney World. Both systems provide guests with the opportunity to enhance their park experience and reduce wait times. At Walt Disney World, attractions like the thrilling Web Slingers: A Spider-Man Adventure can be accessed through the Lightning Lane reservation system, further adding to the excitement and convenience of the visit.
---
Reserving Your Lightning Lane Arrival Windows at Disneyland
Expanding upon the use of the Disneyland app to book MaxPass, Disney has updated the system and given it a new name, Genie +. But, at its core, it is still about skipping the long lines and having a much better shot at getting on some of your favorite rides while you are in the parks.
Step 1: Download the Disneyland App
The way that Genie+ works is that you must first download the Disneyland app. At the top of the app, there's an option to "add Genie+ for the day." You can even select only certain guests in your group if, for example, some of the guests in your party are not going to the same park that day, etc. 
Step 2: Enter the Park
The biggest thing to note is that in Disneyland, you cannot reserve any Lightning Lane spots in your app until you are physically standing inside the park. This can be confusing for guests who have been to Disney World, where the reservations for Genie+ become available for selection each morning at 7:00 am, regardless of where you are.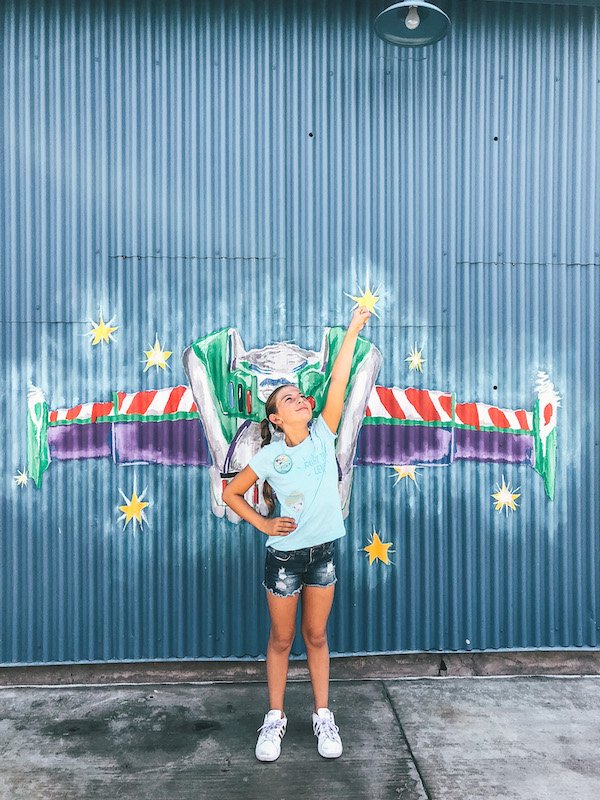 But, at Disneyland, the rules for Genie+ require that guests be inside the park to use the service and reserve their Lightning Lane slots. From a crowd standpoint, this probably helps guests who are right around the corner from the ride to have more immediate priority than those who haven't arrived at the park yet. However, it is something to keep in mind!
Step 3: Order Genie + and Book your Lightning Lane Lines
Once you select the guests on your app who will be using Genie+ for that day, you can look through the rides available at that park for that day and the timeslots available for each ride or attraction. From those options, you can select one attraction per guest and reserve a "Lightning Lane" reservation. As soon as you scan your Magic Band to enter the ride queue and walk through the Lightning Lane, you can automatically select your next attraction in the app.
The slots go super fast, so Disneyland pros try to book one ride at the very beginning of the day, and then as soon as they check in to that first ride, they book a second ride. It's a very fast-paced and, at times, challenging service to use, simply due to all the other guests vying for the exact same rides. (As expected, the available time slots for the most popular rides go fast!) 
---
What's Different About Lightning Lane?
With Genie+ and Lightning Lane, not only are the stakes high to reserve your time slots throughout the day, but you also have to pay for the service (and for whichever rides are the most popular for that day in your park of choice!) 
Each day, there are designated attractions that are the most popular in both Disneyland Park and Disney's California Adventure. The important thing to note about these highlighted attractions is that they are in such demand that guests must pay an extra fee to reserve a spot in the Lightning Lane for those attractions. It's never a guarantee that guests will be able to get a spot in the Lightning Lane for any of the rides, but it's even more difficult to get a spot for these "highly sought after" attractions. 
---
What Else Do I Need To Know About Lightning Lane? 
According to the Disneyland app, guests will most likely be able to utilize the Genie+ service for about two or three attractions total, however we typically get 6-8 in a day.
This is, of course, if the guests begin reserving Lightning Lane spots early in the morning. If you have purchased the Park Hopper option, it is also possible to use Lightning Lane in more than one park on the same day.
Another detail about Lightning Lane at Disneyland is that at Disneyland when you purchase the Genie+ service, all of your PhotoPass photos for that day are included. This is a really nice perk to the Disneyland Genie+ service, and some guests don't realize that you do not have to pay separately for PhotoPass. 
---
Has Lightning Lane Been Successful? 
As someone who used the Lightning Lane program recently, it was worth it overall to pay for the service, because it allowed my group and I to ride a few rides that we may not have been able to otherwise.
The lines were so long for Rise of The Resistance, for example, that had we not used Genie+ that morning and prioritized that Lightning Lane slot, we probably would have had to skip it in order to get to other things throughout the park. 
Overall, having the service as an option was nice because, for some of the attractions that we used Genie+ for, we did not spend very much time in line at all. That being said, it is still a significant shift from the previous services, FastPass and MaxPass.
It's an adjustment because of how the service works within the app. It has caused some guests confusion as far as how to operate the Genie+ service, and some guests feel that it's overcomplicated.
The biggest hurdle for most Disneyland guests is that you might not get your spot in the Lightning Lane for your preferred attraction, even if you go through the steps of purchasing Genie+ early in the morning. Perhaps over time, Disney will find ways to develop and improve the system, as we are still in the first year of its existence.
Surprisingly, sometimes it is actually quicker to get in the regular Standby line for rides, depending on the day and time that you get in line. This has always been true, however, even during the days of FastPass and MaxPass. The wait times can always be affected by weather, ride delays, or unforeseen circumstances. 
Although the update and transition over to Lightning Lane has received mixed reactions from Disneyland guests, it has still been a fairly successful system that enables guests to skip long lines and wait times. After all, that is always a perk at a theme park. 
---
How Can I Prepare or Strategize When Using Lightning Lane?
We know that Lightning Lane can be overwhelming at first, starting with the fact that it has two parts to it, Genie+ (the overall service) and Lightning Lane (the actual queue at the ride or attraction.) Keep in mind that if you ever have issues with the program within your app during your stay, Disneyland Cast Members are always happy to assist you with the program.
Ask a Cast Member for help if needed! Be sure that you have an idea in your head of which rides at which parks you and your party want to prioritize. That way, as soon as you purchase Genie+ on the morning of your park days, you'll be ready to select the exact attractions that you're hoping for. 
We wish you the best in trying to reserve your spots in the Lightning Lane at your favorite attractions! (You'll be so glad you used Genie+ when you're speedily walking through the Lightning Lane, trust us!) Remember to plan out what rides you care most about, and above all, have a wonderful time riding rides at Disneyland. 
---
If you enjoyed our information about the lightning lane at Disneyland, you might also like:
LIGHTNING LANES AT DISNEY WORLD: EVERYTHING YOU NEED TO KNOW TO MAKE YOUR TRIP MAGICAL!
---
Pin for later: Everything you need to know about Lightning Lane at Disneyland