And leaving them behind for a different kind of cruise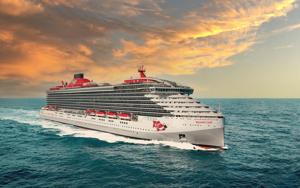 Share this article paywall-free.

Eileen Ogintz, Tribune Content Agency

On this mid-sized cruise ship there are no kids jumping in and out of the pool; budging in line to get ice cream or racing down the halls.
"We're loving it," said Kate Charlesworth-Miller, here on a girls' trip with her daughter, and her daughter's sister-in-law and mother-in-law. "Without kids it is so much more relaxing and leisurely, "she said, noting she has cruised with her children and even an infant granddaughter. "Then it's all about them," she said, smiling.
Welcome to the award-winning three-ship Virgin Voyages, Richard Branson's cruise line where the minimum age is 18. The first ship, Scarlet Lady, named for one of the earliest Virgin Atlantic planes, set sail in the U.S. in October 2021. We sailed Valiant Lady from Miami recently. Resilient Lady is slated to launch next month from Athens and the fourth ship, Brilliant Lady, will sail in late 2024.
The ships can host 2,770 passengers and 1,160 crew with 86 percent of the cabins having a balcony, complete with hammocks made by artisans from Yellow Leaf, an organization that fosters women's empowerment in rural Thailand.
The cabins feature PIR-presence sensors that automatically detect when someone has left the cabin and go into energy saver mode, where blinds close and air conditioning adjusts to an eco-saver temperature, conserving energy to support the company's commitment to sustainability. No single-use plastics are allowed on board.
The cruise line just swept all five awards in the Cruise Critic Cruisers' Choice Awards, the first brand to do so. "That there were no kids was a big draw," said Nicole Fellin, a mom of two and teacher who was on board with her husband John celebrating their 40th birthdays. "I didn't want to be around anyone else's kids," said Fellin, whose children were happily with their grandparents on Long Island, NY.
The passengers on this mid-sized ship are a decidedly eclectic, friendly crowd, ranging from 20-somethings to mother-daughter groups, seniors, couples, including gay and lesbians couples and solo travelers. Some were first-time cruisers; others were veterans of other cruise lines. "There is a real inclusivity here," said Casey Sharp, here with her girlfriend Anna Malhiot from Atlanta. The duo helped our team win salty trivia one night, one of the more popular entertainments.
"All kinds of people, normal people who just want to have a good time and the crew is so happy," added Charlesworth-Miller.
Virgin Voyages has a commitment to wellness with a huge fitness center, including spaces for spin, yoga and cardio, unlimited complimentary fitness classes, an outdoor training zone, including a boxing ring, strength and gymnastics equipment, and a secluded sundeck with 360-degree ocean views for sunrise and sunset yoga. Each day there were upwards of a dozen wellness activities — everything from Open-Heart Slow Flow Yoga to Spin-Out Class to Cleansing Breathing Class, as well as a spa (very popular), a casino, pickleball, and more. Those staying in the RockStar suites have first pick on reservations, their own concierge, fully stocked bars and access to Richard's Rooftop, a private members' club on board with huge circular lounges.
Passengers raved about the value (Wi-Fi, tips and specialty restaurants were included) and about the food and the way it is served. (The latest deal is: $1,200 USD off the voyage fare for Med 2023 sailings and $500 USD off the voyage fare for all other itineraries. The booking window is April 12 to May 24 for travel through 2024 for select sailings.
"I felt like the bigger cruise lines were nickel and diming you," said John Fellin, an attorney from Long Island with his wife. "This is a good option and value."
Passengers clearly enjoyed The Beach Club at Bimini with its huge pool, as well as the white sand beach with turquoise clear water. Lunch was locally inspired — think banana leaf-wrapped snapper, chicken curry and Bahamian rum cake, though portions were small.
Another big difference from other cruise lines was the lack of a buffet. Instead, in the Galley, there were options from freshly prepared dishes to street tacos, burgers (the French Toast burger is a big social media hit) salads and soups, Bento Boxes of sushi and Asian noodle dishes plus an assortment of breads, fruits and pastries — all served to guests who can scan the menu and then put up a mini flag on their table to let servers know they are ready to order.
"We made a conscious decision to eliminate buffets," explained Levi Mezick, Virgin Voyages director of Culinary Development. "The buffet setup would have required us to discard food every four hours to ensure food safety. This kind of process inevitably creates more food waste versus made-to-order offerings. In the Galley, passengers are invited to try as many things as their hearts desire and can order with a server or take advantage of several grab-and-go options."
Another difference is there is no charge for the specialty restaurants that range from a steakhouse to Mexican, upscale Italian (Extra Virgin is the most popular); a vegetarian-forward eatery (though meat is available on the "naughty" menu), a Korean BBQ where chefs grilled at communal tables and The Test Kitchen where guests simply get a list of ingredients which the chefs will use to create each course (ours included mushrooms, scallops, venison or beef, blue cheese and chocolate and dinner was terrific!)
There was no charge at the ice cream parlor, pizza parlor or Sun Club offering pool-side poke bowls. That they had to pay extra for specialty coffee didn't dissuade anyone from their lattes.
"The cuisines were largely inspired by the world's top metropolitan cities, including New York, London, Barcelona and Mexico City," explained Mezick, adding that "careful menu planning and execution," has enabled the cruise line to offer high quality dining without charging the extra fees that most major cruise lines do for specialty dining, whether for brunch or dinner.
There is even the first tattoo parlor at sea. If passengers grumbled about anything, it was the quality of the entertainment. However, Virgin Voyages is in the process of introducing new shows, additional live music acts, an immersive cabaret and rotating stage performances.
Said Charlesworth-Miller "I've paid a lot more for cruises I've enjoyed a lot less."
(For more Taking the Kids, visit www.takingthekids.com and also follow TakingTheKids on Twitter, Facebook and Instagram where Eileen Ogintz welcomes your questions and comments. The Kid's Guide to Philadelphia and The Kid's Guide to Camping are the latest in a series of 14 books for kid travelers published by Eileen.)