Award-winning places to have destination weddings and honeymoons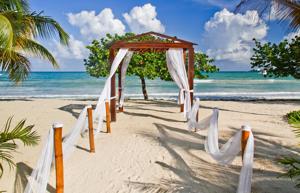 Jamaica (Gold); Riviera Maya (Silver); Hawaii (Bronze)
Make it official with a destination wedding in Jamaica. Then make it unforgettable with a romantic honeymoon that starts immediately after the ceremony.
There is little doubt that Brand Jamaica has captured the hearts and minds of travelers across the globe. Rich cultural heritage, warm, friendly people, outstanding gastronomy, riveting sounds of the one-drop reggae beat, world-class athletics, and beautiful land and seascapes are just a few of the things that come to mind when you think about Jamaica.
To fully experience Jamaica is to know the intimate spaces of the island; it is to taste the delicious land crab steamed with escallion, thyme, pimentos, and pepper served with corn and coconut bits that have been sold along Heroes Circle for generations. It is to be delighted by the artistic reawakening of downtown Kingston. It is to recognize the people's essence, laughter, and cries. The story begins in the capital city of Kingston, the cultural and entertainment mecca and, indeed, the island's heartbeat.