Barbie-inspired vacations to take in summer 2023
It's the summer of Barbie. The movie release date is set for July 21, but the celebration of the iconic doll is going all season with pop-up exhibitions and hotel promotions.
If you want to travel to your own Barbie dream world, here are the best Barbie-inspired trips you can take this summer:
1. World of Barbie: Santa Monica, California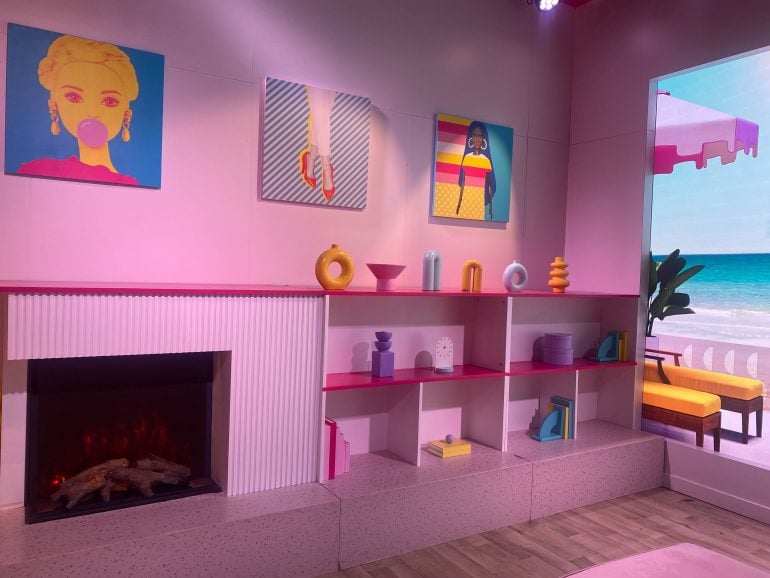 The World of Barbie in Santa Monica, California, is a temporary exhibition that takes people into Barbie's world, including a real-life version of her Dreamhouse, camper van, space shuttle and TV studio. There's also a gallery portion with vintage Barbie dolls and cars on display.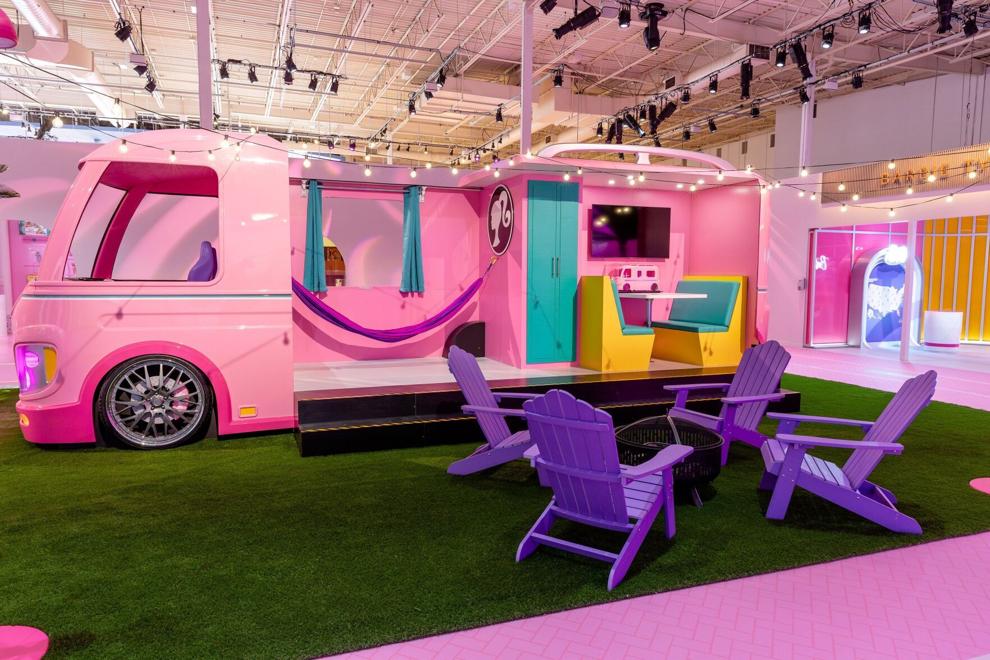 The exhibit is mainly a giant photo opportunity, with some interactive activities for kids, like a ball pit, and even a salon with real stylists on certain days. If you want a unique souvenir, consider building your own custom Barbie set from scratch for an additional fee.
Ticket prices run from $35 to $50 per adult and $25 to $32 per child. The exhibit is open through early September.
2. Malibu Barbie Cafe: Chicago and New York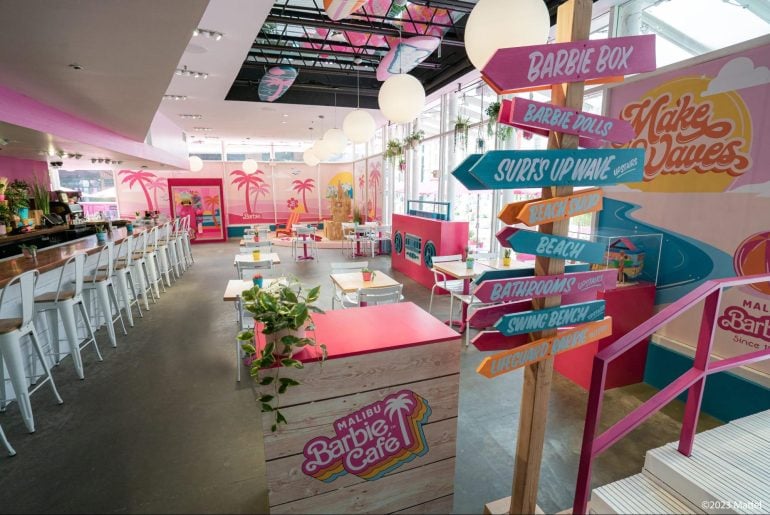 (Photo courtesy of Bucket Listers)
Barbie apparently eats rainbow pancakes, beach burgers and candied bacon at the Malibu Barbie Cafe. The Barbie-inspired restaurant is operating in Chicago and New York with a menu by Chef Becky Brown, who was a semifinalist on MasterChef.
And there's more to do at the Barbie restaurant than just eat. At the Chicago location, there's a roller skating rink. Both sites have a gift shop, plus plenty of Instagram-worthy sets designed for you to have your own Barbie-inspired photo shoot.
Both restaurant locations are temporary, with tickets available through mid-September.
3. The Barbie room at The Curtis Hotel: Denver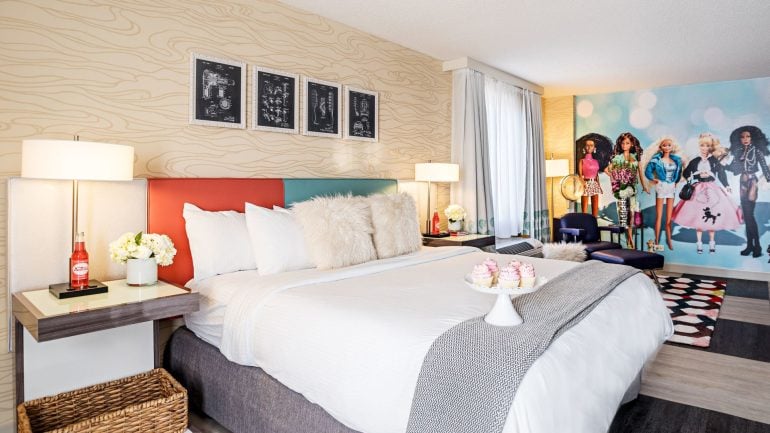 (Photo courtesy of Hilton)
You can book a Barbie-themed hotel room at The Curtis Hotel in downtown Denver. Though the hotel has a boutique feel, it's actually part of the DoubleTree by Hilton brand.
This hotel has standard rooms as well as themed rooms, including one dedicated to Barbie. The themed rooms typically cost about $50 to $60 more per night than standard rooms, according to hotel spokesperson Tamara Atkin.
The Barbie room is decorated with images of the iconic dolls and has a salon chair inside. Guests receive a complimentary makeup case and a voucher for a martini from the hotel bar. And unlike the other temporary offerings, The Curtis Hotel's Barbie room is a permanent fixture.
4. The Don CeSar: St. Pete Beach, Florida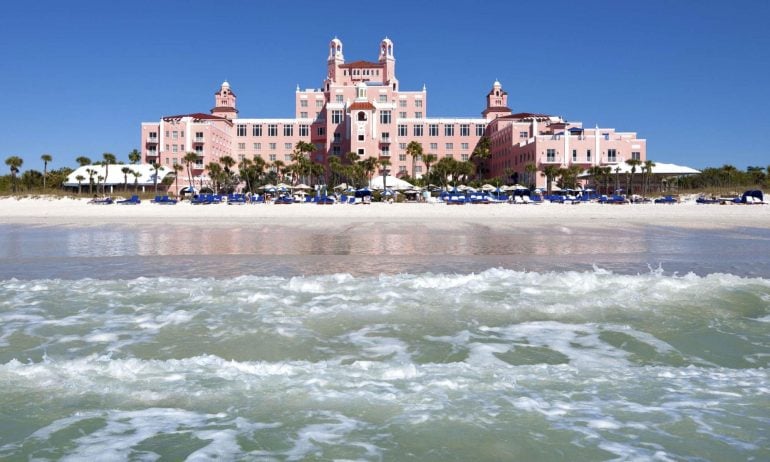 (Photo courtesy of The Don CeSar)
This beachfront resort isn't officially considered a Barbie hotel, but the Don CeSar is known as the "Pink Palace." It exudes historical charm with a famous pink exterior.
Ron Sandel, general manager of HotelTonight, said in an email that the hotel has seen a 30% increase in bookings this year versus last.
"With Barbie mania in full effect this summer, we're not surprised to see HotelTonight users book the pink-walled hotel," he said. "In addition to being steps away from one of the best beaches in the country, we love Don CeSar for its 1950s-style ice cream parlor."
5. The Ken Dreamhouse on Airbnb: Malibu, California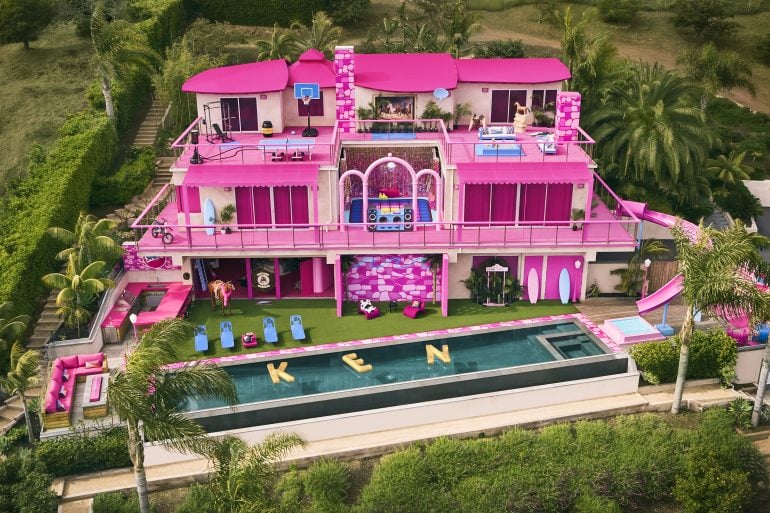 (Image courtesy of Airbnb)
Only a handful of lucky people will get a chance to stay in what might be the ultimate Airbnb: Barbie's Malibu Dreamhouse. The oceanfront mansion includes a disco dance floor and infinity pool.
Airbnb has run promotions for the glitzy house before, and this time, the vacation rental is decked out in honor of Barbie's beau, Ken. It's available to book for just two nights this summer, July 21 and July 22.
Anyone can request to book the Malibu Dreamhouse for a one-night stay for up to two guests each. While Airbnb says the bookings aren't a contest, stays are free of charge, aside from taxes and fees. The booking window opens Monday, July 17, at 10 a.m. PT, so be ready to click.
Hawaii, Alaska lead states with the most public beaches per capita
Hawaii, Alaska lead states with the most public beaches per capita
Northern states offer the most public beaches per capita
#25. Illinois
#24. Maryland
#23. Louisiana
#22. Virginia
#21. Texas
#20. California
#19. Ohio
#18. Mississippi
#17. New York
#16. New Hampshire
#15. Minnesota
#14. Oregon
#13. Connecticut
#12. North Carolina
#11. Delaware
#10. Florida
#9. Wisconsin
#8. Rhode Island
#7. New Jersey
#6. Michigan
#5. Massachusetts
#4. Maine
#3. Washington
#2. Alaska
#1. Hawaii