Bring it on home: Croatia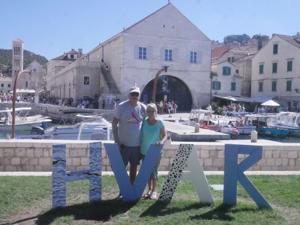 Share this article paywall-free.
Who and where •  Jim and Linda Wertz of St. Louis in Hvar, Croatia.
The trip • The couple took a 19-day cruise on Cunard Cruise line from London via Cagliari Spain; Corfu, Greece; Dubrovnik, Croatia; Hvar, Crotia; Trieste, Italy; Cartgena, Spain; Malaga, Spain; and back to London.
Travel tip • "Dubrovnik was OK, but a little town on the outskirts of Dubrovnik named Cavtat was an absolutely beautiful little fishing port. Weather in September was great with no rain."
Contribute • Email your photo to stlpost@gmail.com. Include the full names of everyone in the photo, including where they are from and where you are standing in the photo. Also include your address and phone number. Please also tell us a little about the trip and a travel tip. We're looking for interesting, well-composed, well-lighted photos.