Bring it on home: New York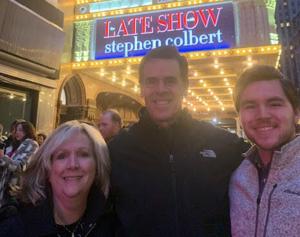 Share this article paywall-free.
Who and where • From left: Chris Rounsefell, Chris Rounsefell and Reece Rounsefell waiting to see Steven Colbert's show in New York.
The trip • They traveled for Chris' (mom) 60th birthday while Reece was on spring break from Missouri State.
Travel tip • Buy tickets in advance for shows, but give yourself some free time. Have backup options. You're not going to get tickets for everything. And of course good, comfortable shoes or boots to walk in.
Contribute • Email your photo to stlpost@gmail.com. Include the full names of everyone in the photo, including where they are from and where you are standing in the photo. Also include your address and phone number. Please also tell us a little about the trip and a travel tip. We're looking for interesting, well-composed, well-lighted photos.