Bring it on home: Slovakia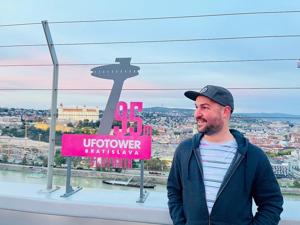 Share this article paywall-free.
Who and where • Andrew Fendelman of St. Louis in Bratislava, Slovakia.
The trip • He traveled last year to Vienna with an overnight stay in Bratislava.
Travel tip • Bratislava is a great day trip or perfect overnight trip if you're in Vienna, Austria (or even nearby Budapest). Direct buses from Vienna airport take about 45 minutes to the central railway station, and trains to Vienna center run all day long. Wander around old town with plenty of cafes, shops and restaurants, walk up to the castle on the hill, and for sunset, walk across the bridge to watch the sunset on the UFO tower.
Contribute • Email your photo to stlpost@gmail.com. Include the full names of everyone in the photo, including where they are from and where you are standing in the photo. Also include your address and phone number. Please also tell us a little about the trip and a travel tip. We're looking for interesting, well-composed, well-lighted photos.