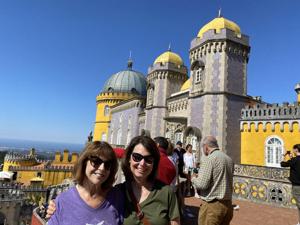 Who and where • Diane Burkard and Donna Greenwald, both of Manchester, at Sintra, the Palacio Nacional da Pena, outside of Lisbon, Spain.
The trip • They traveled in May 2022 for two weeks visiting Lisbon, Porto and Algarve.
Travel tip • Schedule a small group tour to Sintra, the Porto Valley and the Southern Region with gorgeous views of the sea and gigantic rocks.
Contribute • Email your photo to stlpost@gmail.com. Include the full names of everyone in the photo, including where they are from and where you are standing in the photo. Also include your address and phone number. Please also tell us a little about the trip and a travel tip. We're looking for interesting, well-composed, well-lighted photos.