Business Class Etihad Review: MLE-AUH – World Travel Adventurers
On our return home from the Maldives, where we stayed a week at the Park Hyatt Maldives and the Conrad Maldives, we flew Etihad Airways Business Class from Male to Brussels with a layover in Abu Dhabi. In this article we review Etihad Business Class from Male to Abu Dhabi on the Dreamliner B787-9. Our Business Class Etihad Review shows you what to expect on this 4 hour international flight.
*Advertiser Disclosure-World Travel Adventurers is part of an affiliate sales network and receives compensation for sending traffic to partner sites, such as MileValue.com. This compensation may impact how and where links appear on this site. This site does not include all financial companies or all available financial offers. Terms apply to American Express benefits and offers. Enrollment may be required for select American Express benefits and offers. Visit americanexpress.com to learn more.
**Our WTA score represents our own views based on our personal experience with the entity being reviewed.
Booking Etihad Business Class with miles
We booked Etihad Business Class with Air Canada Aeroplan miles. We booked the return home from Male to Washington D.C. for a total of 100,000 Air Canada Aeroplan miles plus $207 Canadian dollars (about $167 USD at the time) per person for this one-way itinerary. The itinerary included this 4 hour 15 minute flight on Etihad Business Class from Male to Abu Dhabi, a 7 hour flight from Abu Dhabi to Brussels, and then a 8 hour flight from Brussels to Washington D.C on United Airlines Polaris Business Class. For our family of four, our flight back to the US would have cost $28,594.40; we saved $27,926.40 on this redemption!
Since Air Canada Aeroplan is a transfer partner of several transferable currencies, it is fairly easy to accumulate miles. You can transfer points to Aeroplan from the following programs at these ratios:  American Express Membership Rewards (1:1 transfer ratio), Chase Ultimate Rewards (1:1 transfer ratio), Capitol One miles (1:1 transfer ratio), and Marriott BonVoy (3:1 transfer ratio with a 5,000 mile bonus for every 60,000 points transferred).
Some of our favorite travel reward credit cards (see current offers) can earn you a valuable welcome offer that you could transfer to Aeroplan. Our top picks include the Chase Sapphire Preferred Card, Chase Ink Business Preferred® Credit Card, The Platinum Card® from American Express, The Business Platinum Card® from American Express, and the American Express® Gold Card.
Etihad Airways Check in at Male
Our experience at Male's Velana International Airport was extremely chaotic prior to arriving at the Etihad Airways desk to check in. The line to get through security was so long that it snaked around the entire room multiple times. People were trying to cut the line and were yelling at each other. Thankfully we had Hassan, a staff member from the Park Hyatt Maldives, there to help us check in, which made the process much easier.
We had forgotten to fill out our IMUGA forms (required for travel to and from the Maldives) prior to arriving to the airport, thinking we would have plenty of time in the lounge to fill them out. However, we needed them to pass through security and did not have access to wifi until we arrived at the lounge. Luckily Hassan filled them out for us on his phone while waiting in the long line to get to the security checkpoint. We waited for about an hour to get through security and luckily had a long layover so we were weren't worried about missing our flight.
There was a separate counter for Etihad Business Class with fortunately a much shorter line. We waited about 15 minutes to check in. After checking in we received passes for the Leeli Lounge, which is the business class lounge at Male for departures for all airlines.
Leeli Lounge at Male
We had several hours to wait at Leeli Lounge due to the timing of our domestic flight in the Maldives to Male. After such a chaotic airport experience, we were eager to sit down and relax before our flight. The Leeli Lounge had a buffet and non-alcoholic drinks available. Due to the Maldives being a Muslim nation, alcohol is not available outside private resorts including at the airport.
The dinner buffet at Leeli Lounge offered beef curry, hot soup, rice, steamed vegetables, 2 minute noodles, veggie noodles, brownies, and fresh fruit. Drinks included bottled water, juice, and soda. There were plenty of chairs available with small tables between the chairs. The lounge was very crowded prior to our evening flight and we had to wait in line for about 15 minutes to get food or drinks from the buffet. However, by the time we left the lounge it had cleared out and there was no line for food or drinks. We used the wifi to get some work done prior to taking off.
Chaotic Boarding at Male
We headed to the gate to board our flight and the chaos resumed. The very small waiting area was crowded with groups of people for multiple different flights. The airport did not seem to be equipped to handle so many flights in such a small time frame, and they seemed understaffed as well. After waiting 30 minutes and still not seeing or hearing an announcement for our flight to board, we asked the airport staff when would our flight board. The airport crew informed us that our flight had been delayed and would not board for at least another 30 minutes.
The area was so crowded that we couldn't find anywhere to sit for the first half hour we waited. We considered heading back to the lounge but didn't want to risk missing our flight announcement considering how unorganized everything was at the airport. We noticed that the crew at the gate were airport crew instead of Etihad Airways crew, which was atypical based on our experience boarding flights.
When they finally announced our flight over an hour after it was supposed to board, there was a mad dash of people to line up. There was no order and an airport staff asked us along with some other families with children to be among the first to board since we had children. The overwhelmed airport crew checked each passenger's PCR test, boarding pass and passport before they were allowed to enter the gate. We were herded onto a bus and then transported to our plane. It was not a pleasant experience to start our flight, but once we stepped onboard things calmed down as Etihad crew took over.
Welcome drinks on Business Class Etihad Airways
Once finding our seats in the business class cabin, we were offered welcome drinks of orange juice or water. Champagne was not offered, presumably because we were leaving the Maldives. After a stressful airport experience, I would have happily indulged in a glass of bubbly if it had been offered.
The cabin lead introduced herself prior to takeoff, which was a nice touch. The flight crew were fully covered in PPE including plastic gowns, eye shields, face masks, and rubber gloves. They still wore their signature Etihad hats, which added a touch of elegance to the uniforms that looked more like what you'd see in an ER than what you'd normally see on flight crew.
Etihad Business Class Cabin
We flew on Etihad's Boeing 787-9 Dreamliner which has 28 lie-flat Business Class seats arranged in a 1-2-1 configuration. In our cabin the window seats faced the opposite direction of center seats in the same aisle, and each row alternated directions. Our family occupied seats 5C, 6A, 6D, and 7C.
The cabin has a sleek design with soothing colors of tan, beige, gold, and copper reminiscent of the Arabian desert in the United Arab Emirates. The seats fully recline to a flat bed which was appreciated for our overnight flight that departed at 10:30pm from Male.
Each seat had a touchscreen IFE and a remote control. Buttons on the side of the console controlled the seat recline as well as a touchscreen next to the remote.
There was a storage compartment next to the seat large enough to store headphones, a phone, camera, and a book. There was also a literature pocket.
Etihad Business Class Amenities
We did not receive amenity kits since this was a short flight but did receive an essential wellness kit with a snood, disposable face mask, sanitizing wipe, and hand sanitizing gel. A thick quilt, blanket, and noise-cancelling headphone were available for use during the flight. A bottle of water was also waiting in each seat for us.
Etihad Business Class Menu
The Etihad Business Menu included dinner after take-off for our short flight to Abu Dhabi. The meal included bread with olive oil, an Arabic mezze starter of cold Middle Eastern appetizers, a choice of mains, and chocolate mousse for dessert. For my main entree I ordered the chicken shish tawook with green beans, grilled tomato, and harissa potato. It was absolutely delicious. The chicken was moist and spiced perfectly. Everything was served together on a tray.
The other options for mains included fillet of beef, spiced tuna, and spinach fettuccine. Our kids went straight to sleep since they ate dinner at the lounge prior to departure.
Etihad Business Class Drink Menu
The drink menu included water, juices, soft drinks, coffee, and tea. The Etihad Business Class champagne served was Piper-Heidsieck Cuvée Brut. There was a choice of 2 white wines, 2 red wines, 2 dessert wines, 2 liqueurs, 3 beers, and several aperitifs and spirits. I had a glass of wine with my meal and called it a night.
Etihad Lavatories
There were 2 business class lavatories at the front of our cabin. They were standard airplane bathrooms with a touchless sink and toilet. A small black vanity with sink had a tiled backsplash. We appreciated the luxe hand soap by Acqua di Parma. A bottle of hand sanitizer sat on a shelf where typically hand cream and face mist are held for business class passengers. Hopefully those extra amenities will return post-pandemic.
Etihad Inflight Entertainment
Etihad Airways offers a decent selection of inflight entertainment. We had a choice of Hollywood movies, TV shows, music, and games. Since our flight departed so late at night and was delayed further, we went straight to sleep after our meal. The IFE screen is a touchscreen and also has a remote control. Wifi was available for a fee, but we didn't buy any since we wanted to sleep.
Service
Service on our flight was good but not noteworthy. Perhaps the crew were frazzled as well after the chaos at the airport. I know we certainly were, and I think that started the flight off on the wrong note. Since it was such a short flight, we ate quickly and then slept for the majority of it, not giving us much time to interact with the cabin crew. We found the flight crew more personable and friendly on the next flight with Etihad.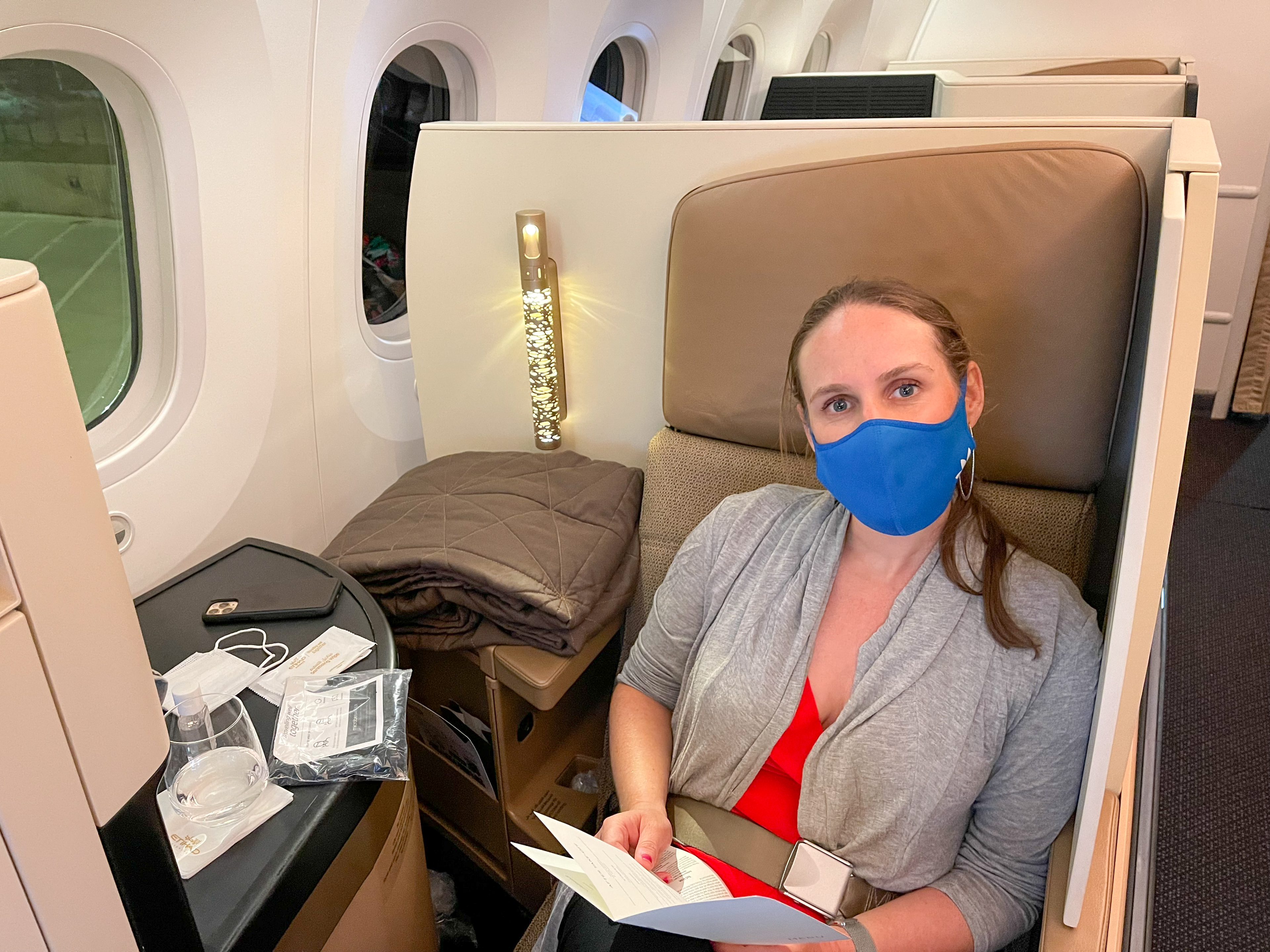 Last thoughts on our Etihad Business Class Review
Overall, we had a decent experience on Etihad Business Class from Male to Abu Dhabi. The chaotic airport experience left us frazzled and perhaps the staff too, who didn't seem as attentive compared to our later flight from Abu Dhabi to Brussels. However, the food was delicious and the cabin was comfortable so that we could sleep for the majority of the flight. Has a stressful airport experience ever dampened your flight experience?
*Editorial Disclosure-The editorial content is not provided or commissioned by the credit card issuers. Opinions expressed here are author's alone, not those of any bank, credit card issuer, hotel, airline, or other entity. This content has not been reviewed, approved or otherwise endorsed by any of the entities included within the post.