Disney World or a Disney Cruise?
Share this article paywall-free.

Sally French

A Disney Cruise certainly isn't cheap, especially compared with other cruise operators. But what about compared with other types of Disney vacations?
For many travelers, a Disney cruise actually comes out cheaper than a trip to Walt Disney World.
To better understand Disney Cruise Line versus Disney World costs, NerdWallet analyzed prices for two people sharing one room across three price tiers: Value, Moderate or Deluxe.
Disney World trip costs included four categories:
Park tickets (and add-ons, such as Genie+).
On-property hotel room rates.
Food at park restaurants.
Add-on activities, such as spa treatments and tours.
Cruise prices are mostly all-inclusive, so the analysis only included:
Base rates (including taxes and fees).
Add-on activities.
Here's a closer look at the data on Disney Cruise Line versus Disney World costs.
Disney Cruise Line vs. Disney World: An overall cost comparison
While the data doesn't definitively determine whether one is cheaper every time, there are some clear trends.
For longer trips (e.g., seven nights), cruises are always cheaper. Cruises are also a better deal for Deluxe-style trips with larger or fancier rooms, plus activities like spa services.
Here are the average prices across each trip type: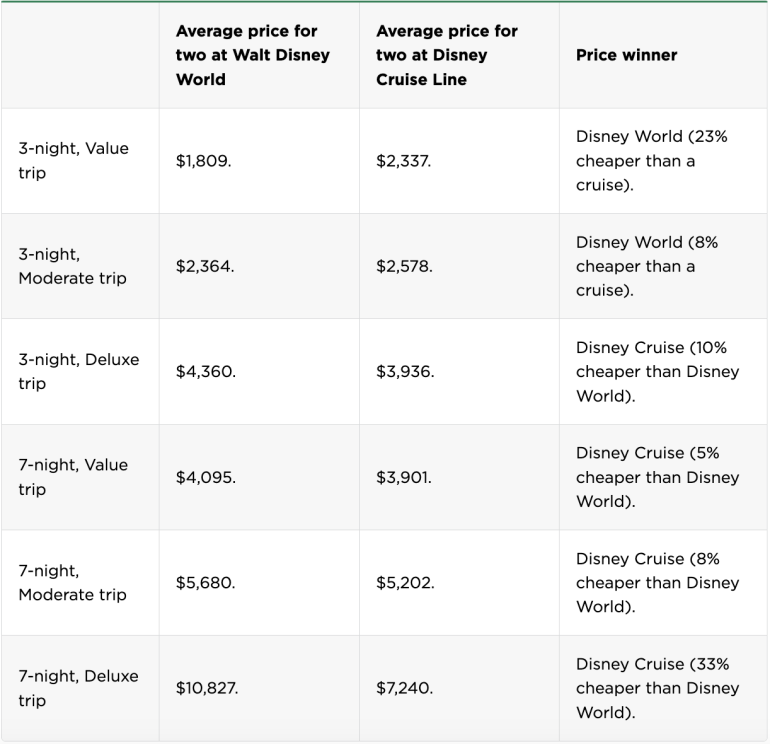 What's included in a Disney Cruise?
While Disney Cruises have a relatively high base cost, you won't pay much more once onboard. Cruises include:
A room for two, plus taxes and port fees: Stateroom prices assume double occupancy, so solo travelers owe the same as a couple. They also include taxes and port fees, which vary by location but typically amount to about 15% of stateroom costs. Cramming more than two people in each room incurs an additional cost.
On Disney's newest ship, the Disney Wish, the lowest-cost, inside staterooms include a queen bed, convertible sofa bed, pull-down bed and bathroom, plus a mini refrigerator and TV.
All meals (except some upgraded choices): Food is free, except for a few upscale restaurants, alcohol and upgraded options. You can eat as much as you want from the onboard restaurants or order complimentary room service (available 24 hours a day).
Soft drinks are included at meals and at certain outposts like the teens-only lounge — but cost extra at bars and lounges. Alcohol is always extra, though Disney lets you bring alcohol onboard in limited quantities.
Most entertainment and activities: Once onboard, you're free to attend Broadway-quality shows, jump in the pools, hit the gym, visit the nightclubs and meet characters roaming about.
What's not included in a Disney Cruise?
There are a few extra costs you'll almost certainly encounter onboard. Extra costs include:
Gratuities: While not required, they're recommended. Disney suggests $14.50 per person, per night (about $100 extra per person on a seven-night cruise). Disney automatically adds an 18% gratuity for some optional add-ons, such as spa services and alcohol.
Transportation to the ship: You're on your own to arrive at the port, though Disney can help coordinate shuttles (for an extra fee, of course). Note that NerdWallet didn't include transportation expenses to Disney World in its analysis.
Avoidable extras
Disney might try to sell passengers upgrades and add-ons, but you can have a delightful cruise even if you skip them:
Port adventures: Upon docking, you're free to explore on your own, which is theoretically free. Or, you can pay Disney to chauffeur you around through organized excursions. Some are affordable, like bike rentals (typically under $20). Others cost more, like tours of historical sites and guided scuba dives. Some run many thousands of dollars, like a seaplane ride through Misty Fjords National Monument offered on some Alaska cruises.
Some onboard entertainment and activities: You might pay extra for a princess tea party, personal training or a golf simulator.
What costs should you account for on a Disney World trip?
At Disney World, you generally pay for food and entertainment à la carte. While most experiences are included once inside the park, you're still paying for a ticket to get inside and the food at restaurants while you're there.
So with that, here are some costs you should expect to encounter at Disney World, broken down by service level:

Disney World ticket prices
Disney World ticket prices vary by park and date. An average Magic Kingdom ticket (typically the most expensive park) costs $160 for one-day tickets, though prices drop the longer you stay. NerdWallet found that the average five-day, one-park-per-day ticket price was $643, which breaks down to $129 per day.

Disney World hotels
There are more than 30 Disney-owned hotels at Disney World. According to Disney price tracking site Touring Plans, rooms run as low as $128 per night at the affordable Disney All-Star properties.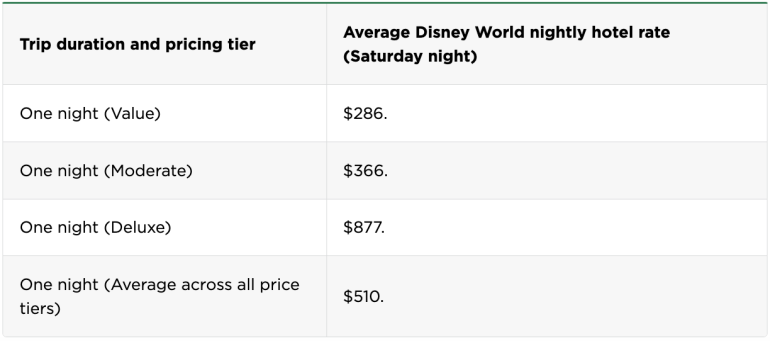 Disney World food costs
Comparing Disney World versus Disney Cruise Line food is tricky, considering cruises are all-you-can-eat. Disney World has buffets and restaurants with à la carte meals and snacks.

Folks with lighter appetites (or who pack snacks) might find Disney World more worth it than a cruise. But cruises can offer significant savings for those who take advantage of the all-you-can-eat meals.
Other activities
Across both cruises and Disney World, you could stay entertained without opening your wallet (yes, there is plenty of free stuff to do at Disney World outside the theme parks). But it's more realistic to assume someone spending a week at either would pay for extra activities, like spa services, snorkel rentals, mini golf or cruise Wi-Fi.
Depending on the length of the trip and price tier, NerdWallet's sample budgets accounted for additional entertainment line items: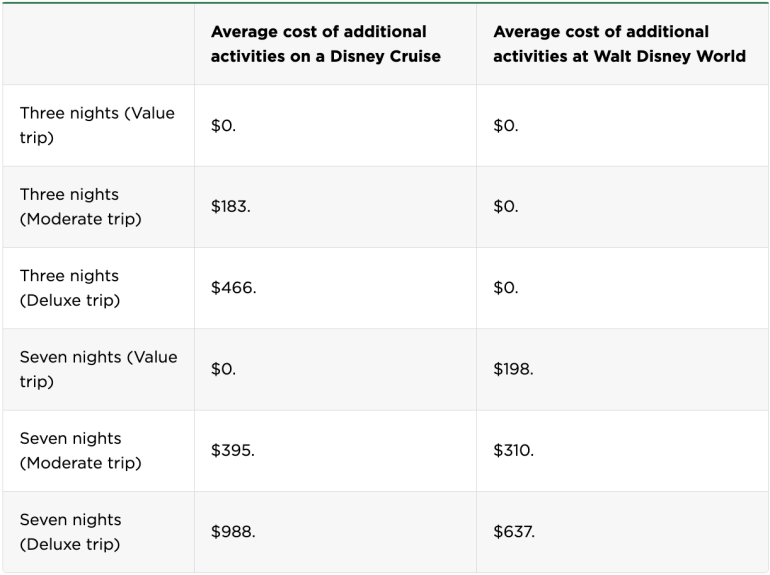 In general, cruisers should budget more for add-on activities than Disney World vacationers. However, even the most frugal travelers are likely to pay a bit more for add-ons during a weeklong Disney World trip.
The bottom line
Don't write off a cruise simply because the upfront cost is far higher than a Disney hotel room. A cruise is more than a place to sleep — it's food and entertainment, too. When budgeting for a Disney World trip, budget for theme park tickets, food and all the other incidental costs that go along with it.
Both trips are growing in popularity. In 2022, Disney saw a 51% increase in occupied hotel room nights across all its resorts and a 32% increase in passenger cruise days, according to its Fiscal Year 2022 Annual Financial Report — suggesting that interest in theme parks is rising faster than cruises.
But for vacationers seeking any sort of Disney fix — especially for a week or longer who prefer more luxurious accommodations — cruising might be cheaper than going to Disney World.
Sam Kemmis and Carissa Rawson contributed to this report.
(Top photo courtesy of Disney)
The article Which Is Cheaper: Disney World or a Disney Cruise? originally appeared on NerdWallet.