Ed Perkins on Travel: Airport rail: Making access easier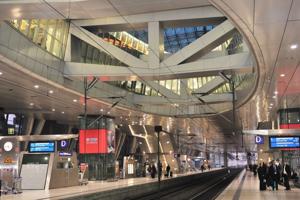 Share this article paywall-free.

Ed Perkins, Tribune Content Agency

Over the years since I first started traveling, a few perennially knotty problems have become easier to solve.
– Plastic — at least the right plastic — has made it easy to obtain cash and avoid exchange gouges virtually anywhere in the world. I've covered this topic extensively.
– The near-universal use of mobile phones has made it possible to call home or get online about anywhere without paying a long-distance gouge rate. I'm not sure that I know enough to write about the latest wrinkles, but I may try.
– Improved rail services — today's topic — have made it much easier to get to/from airports in cities you don't know.
Rail service linking an airport with its central station (and others) can avoid some of the worst hassles and gouges of airport access. It avoids traffic jams that often make access by private car or taxi difficult. I still get a smug feeling as my Blue Line train from O'Hare into downtown Chicago zips past vehicles stalled by traffic on the adjacent Kennedy Expressway. It avoids worries about being taken for a ride by local taxi drivers exploiting visitors — still a big problem at too many airports these days. Rail service is the only practical option to/from airports that are a long way out of the city — Tokyo/Narita being the prime example, where a cab costs a fortune and a bus takes forever. And fares are usually reasonable compared with taxi or private-car fares.
But rail services aren't perfect. The biggest problem is that you often need to take another form of transportation to get from a downtown station to your hotel — unless you deliberately book station-area hotels, which can limit your hotel options.
Airport rail services generally fall into three general types of system:
– Dedicated airport express services offer the best service — they typically operate nonstop between airport and downtown, they have facilities for baggage storage, and they don't load up with commuters. But they're expensive: London/Heathrow, with all three system types, illustrates the differences. The walk-up one-way fare is £25, which you can beat down to £5.50 only if you buy a nonrefundable ticket far in advance.
Regular regional rail service can be almost as fast, and you usually have more downtown station options, but trains make a few stops on the way to/from town — where they can get crowded during rush hours. They're usually less expensive than dedicated trains; at Heathrow, the Elizabeth line one-way fare is £12.80.
Metro and light rail service generally offers a wider choice of stations, and it's usually the least expensive, but it's most prone to problems with baggage at rush hours. The Underground at Heathrow costs £5.50 to town, but you wouldn't like heading to town with baggage on the Piccadilly Line at 8 a.m.
– In the U.S., it's easier to name the few big airports that don't have rail access than those that do. The key holdouts are Honolulu, Las Vegas, Houston, New Orleans, Detroit, Cincinnati, and Charlotte: Los Angeles is also lacking, but it's building a connection that will likely open in 2024, Most big airports in Europe and East Asia enjoy good rail access.
If you aren't familiar with an airport where you're going, it's easy to find your best bet. Airports have website pages detailing access options — start there. If you aren't sure about availability, the Wikipedia posts an exhaustive list of airport rail services, although it's cumbersome to use because you have to check up to four different tables to find each city's services.
For other options, several online postings, including taxifarefinder.com/ and ride.guru/, compile the costs of various types of cabs and ride share services, including airport trips. Normally, taxi or ride share are both the most expensive and the most convenient. The main exception I know is China, where on my last pre-Covid visit, I found taxis so inexpensive that I forgot anything else. But you don't want to make that choice at Washington/Dulles or London/Gatwick.
(Send e-mail to Ed Perkins at eperkins@mind.net. Also, check out Ed's new rail travel website at www.rail-guru.com.)