Ed Perkins on Travel: Avoid hotel search clutter: Use those filters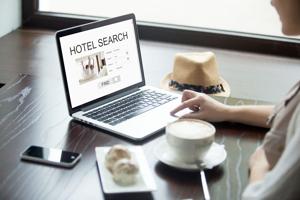 Share this article paywall-free.

Ed Perkins, Tribune Content Agency

Woman in cafe searching for hotel on laptop, planning vacation.
When you search for a hotel, most of you these days have a few deal-breaker requirements. For me, it's an elevator — I'm an old geezer and don't do stairs very well — but it can range from a kitchen to being pet friendly. And you can save time and hassle if you can limit your search to hotels that meet your needs, without cluttering up your response list with places that wouldn't do no matter what the price or other features. To cater to that need, almost all hotel search engines include filters that allow you to exclude those unwanted responses. I checked eight top hotel search systems — Booking.com, Expedia.com, Hotels.com, Hotwire.com, Kayak.com, Priceline.com, Tripadvisor.com, and Trivago.com — and although they all use filters, each uses a somewhat different set of filters.
The Basics. All eight include some basic filters:
– Access to promotional prices.
– Location/neighborhood within a larger city and map view search options.
– Type of property — hotel, motel, B&B, vacation rental, and such.
– Some measure of attractiveness — star ratings, user reviews, and such.
– Accessible room availability.
But I found some differences in treatment of what I figured might be among the more important deal-breaker features for most travelers:
– All-Up Pricing. I remain amazed that Kayak is still the only top engine that allows you to search for what you really pay, including taxes and fees, from the get-go. All of the others ultimately show you the phony "resort" and similar add-on fees and taxes before you book, but only Kayak lets you choose to see the real price in big numbers from the get-go. This isn't important if you're searching for roadside motels or outside North America, where such fees are rare, but it can make a big difference if you're looking in a popular North American vacation destination.
– Cancellation. Most big systems allow you to limit your search to bookings that don't require nonrefundable prepayment, but I couldn't find that filter on Hotwire.
– Electric Vehicle Charging Station. This was a big surprise: Despite the increasing popularity of EVs, I didn't find availability of EV charging stations filters on Hotwire, Priceline, or Trivago. I'm guessing those systems will get with it soon.
– Kitchen facilities. Not a filter on Priceline, Tripadvisor, or Trivago.
– Washer-Dryer. Not a filter on Kayak, Priceline, Tripadvisor, or Trivago.
– Elevator. Not a filter on Priceline, Tripadvisor, or Trivago.
– Free Wi-Fi. Not a filter on Priceline or Trivago — possibly because everybody expects free Wi-Fi everywhere these days — but those two don't specify "free."
– Free Parking. Most provide a parking filter, but Booking, Expedia, and Hotels do not specify "free."
– Free Airport Shuttle. Most provide an airport shuttle filter, but Booking, Hotwire, and Priceline do not specify "free."
Specifying a filter for a feature as available but not saying "free" doesn't mean it isn't free; just that free isn't promised.
All eight systems provide additional filters and detailed subcategories of the most important filters. Trivago employs fewer filters than the others, and Booking is possibly the most granular. A few provide filters that leave you in the dark: Expedia and Hotels let you filter for "LGBTQ friendly," for example, without indicating exactly what that entails. Of more importance for most travelers is the detail they can add into such categories as "accessible" and "property type."
Hotwire and Priceline remain the only two online agencies that offer an "opaque" pricing option: In exchange for a big reduction, the agency selects the hotel and doesn't name it until after you've made a nonrefundable payment. Given the high fees, opaque buying isn't as useful to bargain seekers as it once was.
You clearly have your own set of necessities and deal-breakers. I suggest that you take a look at all of the systems to see which best accommodate your individual needs and preferences. If possible, however, use all that work; Prices and promotional deals do vary among them.
(Send e-mail to Ed Perkins at eperkins@mind.net. Also, check out Ed's new rail travel website at www.rail-guru.com.)