Everything You Need to Know and The Best Perks
Everyone loves Disney! Florida and Disney are almost synonymous. Whenever someone mentions Florida images of Cinderella's Castle or Spaceship Earth immediately come to mind.
At Disney parks, you are surrounded by your favorite Disney characters, are immersed in your favorite Disney movies and shows, and can tackle adventure head-on by jumping on wild and fun attractions.
People from all over the world and all walks of life travel to Florida to experience the wonderful world of Disney. 
---
The Disney Cruise Line for Florida Residents
Did you know Disney has their own cruise line? The Disney cruise experience is unlike any other. Offering the highest quality in accommodations, service, entertainment, activities, and dining, it is considered one of the premier cruises on the sea. Read on for everything you need to know about taking a Disney Cruise for Florida Residents.
While a trip to Disney can be a once-in-a-lifetime experience or a yearly adventure, for some families, Florida residents have the Disney park experience at their fingertips year-round.
All Florida residents should take advantage of the magic of a Disney cruise and here is why. 
---
Are you looking for discounted tickets to Disney? Check out our post here!
---
The cruise line's Florida residents' program offers an unforgettable experience that combines the enchantment of Disney with the excitement of a cruise.
When it comes to planning a Disney Cruise Line vacation, Florida residents enjoy exclusive benefits and special offers. With the cruise line's focus on Florida residents, we were able to take advantage of unique discounts and perks designed just for us.
The availability of these special offers is subject to terms and conditions set by Disney Cruise Line, ensuring that residents of the Sunshine State can make the most of their vacation.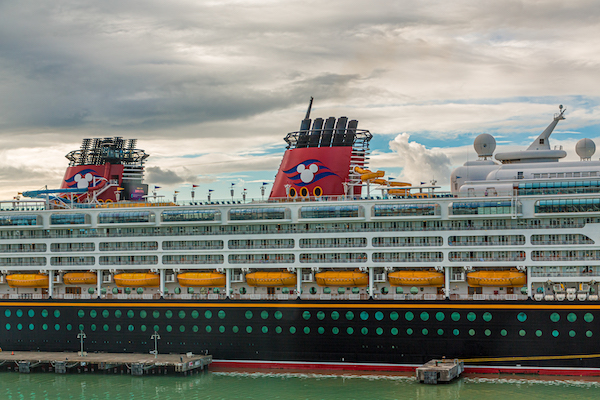 Home Away From Home: While Disney parks offer themed hotels and hotel rooms, how often are you really in your room when visiting a Disney park? Your stateroom on board a Disney cruise is truly your home away from home. 
Disney Magic at a Slower Pace: When visiting a Disney park most guests are running rampant trying to cram in as many wonderful experiences as humanly possible. On a Disney cruise, you're able to plan your entire day and fully immerse yourself in each and every activity. 
Private Island: Sometimes it's nice to just kick back and relax. Imagine being able to take a few hours to snorkel, lounge in a beach chair, or rent a boat? This is exactly what you'll get at Disney private island. 
World-Class Adventure & Service: Disney cruise lines offers new and exciting destinations and excursions each year. Disney has always prided itself on delivering top-notch guest services and experiences. This is priority number one on a Disney cruise.
Keep reading to discover what perks the Disney cruise line offers to Florida residents. First, let's dive into all the specular features of a Disney cruise. 
---
The Fleet
The Disney cruise line currently has 5 unique and awe-inspiring ships to choose from. 
Disney Magic: The original Disney cruise vessel. Includes interactive clubs for kids, tweens, and teens, as well as, nightclubs for adults. Splash zones and AquaDunk waterslides are fun for the whole family.
Disney Dream: Built specifically to provide captivating moments and memories that will last a lifetime. Star Wars-themed play space for the kiddos and Broadway-style musicals are just a few of the fun activities on board
Disney Wonder: Boosting a variety of over-the-top dining experiences which include southern cooking and a British pub. Kids can meet their favorite superheroes and enjoy themed activities in the Marvel Super Hero Academy. 
Disney Fantasy: Designed to provide entertainment, eateries, and activities for guests on longer cruises. Offering the high-end Royal Court restaurant, water coaster, and interactive play areas. 
Disney Wish: The newest Disney ship brings an experience unlike any other. Dining and lounge spaces are magically designed like Marvel, Frozen, and Star Wars. Adults can play and rest in adult-exclusive spaces and kids are able to ride Disney's first-ever attraction on the ocean. 
No matter which Disney cruise you choose to plan your adventure on, you will be blown away by the extravagant details and delights that await you. Next up, lets discuss your home away from home.
---
Accommodations
As with any vacation or getaway, you want to feel at complete and utter ease in the space you will be inhabiting. Disney spares no expense when providing their guests with the best accommodations while on board their cruises.
Contemporary comforts and forward-thinking features are onboard that guests will not find on other cruise lines. Stateroom accommodations are listed below. 
H20 Plus-branded spa, bath, and shower toiletries within the stateroom 
Split bathrooms with privacy curtains (in most staterooms). This allows double access to the bathroom making getting ready easier for everyone in your family. 
Ample storage and movement space. This includes under bed storage tucking luggage away
A refrigerator
A hairdryer
Television and in-room movies
Attentive housekeeping services twice a day—including turndown service
Disney cruises offer 4 different types of staterooms for guests to choose from. 
Inside: Disney's base accommodations include natural wood and nautical fittings. 
Oceanview: Provides a stunning ocean view with an in-room porthole or two. 
Oceanview with Verandah: Enjoy refreshing breezes and beautiful sites from your own private veranda. 
Concierge: Boosts the most spacious and high-end accommodations for parties with up to 7 guests. Dedicated concierge service is also included. 
Each type of stateroom offers guests comfortability, relaxation, and a space to call their own. Florida residents should choose a stateroom based on their travel size and must-have features. 
Now that you have a painted picture of your Disney cruise accommodations, let's deep dive into your onboard experience.
---
On-Board Experience
Disney is known for delivering exceptional experiences and services. Below are some of the onboard experiences you will have as a guest on a Disney cruise. 
Staterooms: All rooms are designed with families in mind. Extra storage, a sitting area, and a split-level bath and some of the more lucrative features. 
 Dining Options:  A plethora of different food and beverage options to satisfy the entire family. Casual dining, poolside snacks, upscale restaurants, and 24/7 room service.
Entertainment: Up-close and personal Disney characters interactions and photo-taking opportunities. High-level broadway-style musicals and even fireworks on the ocean. 
Youth Clubs: Different themed clubs for children and teens of all ages. Specially trained staff and counsels are supervising and interacting with your children at all times. 
Disney's Private Island: This island is only accessible to Disney cruise ships. Enjoy a BBQ lunch, private waterslides, and a relaxing day of beach chairs and umbrellas
Pools & Recreation: Waterslides and freshwater pools are fun for everyone in the sun. 
Adult-Only Areas: Experience adult-only nightclubs, lounges, and pubs. 
Next up, let's talk about the perks of a Disney cruise as a Florida resident. 
---
Disney Cruise For Florida Residents Perks 
While Disney cruises are an amazing experience for anyone, Disney Cruise Line Florida residents get two massive perks. 
Disney Cruise For Florida Residents Discount: Disney appreciates the residents in its home base state. As such they offer special savings throughout the year for Florida residents.  The current Florida resident special offer is 35% off select dates and ships. Some of these cruises include the following: 
3 Night: Bahamian & Halloween on the High Seas Bahamian
4 Night: Bahamina, Halloween on the High Seas Bahamian, Very Merrytime Bahamian 
5 Night: Western Caribbean, Halloween on the High Seas Western Caribbean, Very Merrytime Bahamian with 2 stops at Disney Castaway Cay, Very Merrytime Western Caribbean
6 Night: Very Merrytime Western Caribbean
7 Night: Western Caribbean, Halloween on the High Seas Eastern Caribbean, Halloween on the High Seas Western Caribbean, Very Merrytime Eastern Caribbean, Very Merrytime Western Caribbean
8 Night: Halloween on the High Seas Eastern Caribbean  
 Remember, these special offers change so be sure to check out their Disney Cruise for Florida Residents Rates page on their website for the most up-to-date Florida resident special offers. 
2. No Travel or Park Trauma: Disney cruises offer all the magic, memories, and lifelong experiences that Disney parks do. As a Florida resident, enjoy the magic of it all without the long lines, the hassle of parking and transportation, and miles upon miles of walking.
Florida residents can enjoy Disney characters, adventures, and food without experiencing overcrowding and without rushing through a park to see everything.
---
Disney Cruise For Florida Residents Qualifications
To qualify for these exclusive benefits, proof of Florida residency is required. Disney Cruise Line's terms state that valid government issued photo identification, such as a passport, driver's license, or state identification card, is necessary to establish residency. As a homeowner in Florida, presenting a homeowner's license state identification card served as the perfect proof of residency.
In order to take full advantage of the Disney cruise Florida residency cruise offers, you must provide documentation within 48 hours of booking your trip. 
You must submit proof of residency by submitting one of the following: 
Florida Driver's License
Florida Identification Card
Florida-based military ID
If you are not in possession of one of the above IDs, one of the following documents must be provided. It must be within 2 months of the Disney cruise booking. You must also submit a corresponding non-expired government-issued photo ID. 
Monthly mortgage statement
Renter's lease agreement
Current automobile registration, insurance policy, or bill
Current homeowner's insurance policy or bill
Current utility bill (power/phone/cable/water)
Mail from a financial institution, including checking, savings, or investment account statements
Mail from a federal, state, county, or city government agency
The Disney cruise for Florida residents discount is an awesome perk. In order to receive the discounts, and offers the above steps must be followed. It is also important to note the following. 
The proper form of verification must be sent via email to offerverification@disneycruise.com.
Florida residency must be current at the time of booking and at the time of sailing.
Property deeds and/or P.O. boxes are not considered acceptable proofs of residency
If multiple staterooms are being purchased, proof of residency must be provided for 1 adult per room. 
Failure to submit qualifying documentation will result in a cancellation, with applicable cancellation fees.
Disney cruises are an absolute necessity for all Florida residents. What could be more fun than a floating, round-the-clock, nonstop Disney adventure with no lines and special pricing? 
---
If you enjoyed reading about the perks of taking a Disney Cruise for Florida residents, you might also like:
TRAVEL EXPERTS REVEAL THE BEST DISNEY CRUISE TIPS & TRICKS
OUR TOP 5 REASONS YOU SHOULD BOOK A DISNEY CRUISE FROM GALVESTON AND WHAT MAKES IT SO GREAT!
HOW MUCH DOES A DISNEY CRUISE COST? + MONEY SAVING TIPS
---
Pin for later: Everything You Need to Know: Best Perks of a Disney Cruise For Florida Residents