First-time cruise? Here are 5 tips for a great voyage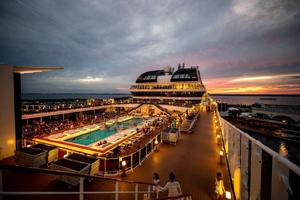 There are many methods for leisure travel, whether by plane, train, car, bike, scooter or on foot — but especially in Florida — boating takes a large part of the spotlight. Cruising, in particular, shines brightly in the Sunshine State.
With ports in Fort Lauderdale, Miami, Jacksonville, Tampa and Port Canaveral, there is no shortage of options for embarking on an ocean voyage.
I recently set off on my second cruise ever, and my first in more than a decade. As a relative newcomer to the sailing scene, I got onto the MSC Meraviglia with wide eyes and excitement. On the way, I learned more about the ins and outs of cruising that may not seem obvious at first.
I quickly figured out that, at least on my voyage, the buffet is free and open to everyone and everyone has an assigned restaurant and seating time. My travel partner and I wasted no time figuring out what our drink package included, or what offerings were available at the spa. We wandered the ship counting hot tubs and picking out a perfect spot to relax by the pool.
In the process, it also became clear some of the logistical headaches with getting on the ship, connecting payment methods and navigating excursions. For example, each passenger has an arrival time and while it's OK to show up early, it might be best to show up during your designated embarkation window.
Here are some tips and insights I gleaned during a three-night trip as a cruising newbie.