Flying with children? Better plan ahead to get seats together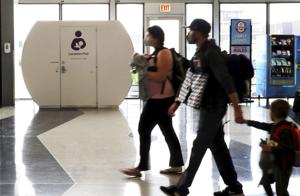 Earlier this summer, the Office of Aviation Consumer Protection issued a notice urging U.S. airlines to "do everything in their power" to keep children 13 and younger near their parents when flying.
The office will begin to review all airline policies and consumer complaints four months after the notice is issued.
"This is a big problem because under-13 year olds are sitting next to strangers," said Kendall Creighton, spokeswoman for FlyersRights, a passenger's rights group. "What happens in case of evacuation, or putting on an oxygen mask? And, it makes for a bad travel experience in general, being split up."
She said airlines should offer families advanced seating and block more seats to assign to families on flights.
A review of the policies of several big airlines shows that this approach is hardly universal, and some airlines charge higher fares to ensure a child sits next to a parent.