Go away with … William Yu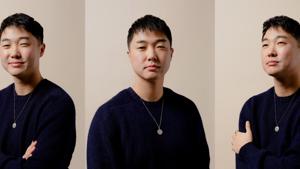 Share this article paywall-free.

Jae-Ha Kim, Tribune Content Agency

One of eight TV creatives selected for the NBC TV Writers Program, William Yu was taking a break from his craft at the time of this interview. "With the [Writers Guild of America] strike now upon us, I am in full support of them," the Korean American screenwriter said. "I am pencils down on any writing work." His previously completed project "GOOD BOY" (https://www.youtube.com/watch?v=lmA7cb1NyYM) was workshopped at the Sundance Episodic Lab. And in the future, he will resume work "on a feature romantic comedy that is set up with Electric Somewhere, the production company of 'Crazy Rich Asians' director Jon M. Chu, and developing an animated half-hour series with Rooster Teeth and Religion Of Sports." Based out of Los Angeles' Koreatown, Yu posts regular updates of his work on Instagram and Twitter (@its_willyu).
Q: How has living in different places impacted your view of the world?
A: I'm lucky to have family roots that stretch around the globe. I was born in Philadelphia, moved to Hong Kong when I was five, then to Boston, and then to New York, before coming out here to Los Angeles. My older sister currently lives in London. While we still have family in Seoul, where my parents were born, my mother went to high school in Taiwan, while my father spent formative years in Jamaica, before the two ended up in America for college and beyond. Moving around so much, I gained empathy for seeing how big the world is. And how there is so much range and nuance to all of our upbringings, while also realizing that there are so many fundamental values that connect us. This perspective made me a curious person, which drives me to dig deep whenever I'm developing new stories and characters.
Q: What was the impetus for your #StarringJohnCho social media campaign, which featured the "Harold & Kumar" actor depicted as the leading man?
A: It started in 2016, when a few things happened – several whitewashed movies ("Doctor Strange," "Aloha," "Ghost In the Shell") had been announced. I had seen reports from USC Annenberg and the UCLA Bunche Center that had published data that showed that films with more diverse casts are better returns on investment than non-diverse films. And I had grown really, really tired of having conversations about Asian representation that ended with well-intentioned folks saying that they couldn't [imagine] a bonafide Hollywood movie with an Asian lead. So, armed with a little design knowledge, I decided to show them. I Photoshopped hit movie posters, swapped out every Hollywood Chris with an Asian John, and shared them on Twitter with the hashtag #StarringJohnCho. Turns out, an Asian "Captain America" actually looks pretty normal and the world agreed! Before I knew it, a viral conversation had been sparked and CNN, BBC, even the New York Times were covering the movement.
Q: Do you speak any foreign languages? And in the same train of thought, do you pick up new languages easily?
A: Even though I'm Korean American, Mandarin is actually my second language. I first studied it when living in Hong Kong and then took classes for it during college, because my school didn't offer Korean. I've also got my high school Spanish and some dim sum Cantonese. Because I was never formally taught Korean, it's my worst language, but I'm working on it. I just hit my 115 day streak on Duolingo! Small steps.
Q: What are your five favorite cities?
A: Copenhagen. Hong Kong. Amsterdam. Seoul. New York.
Q: Where would you like to go that you have never been to before?
A: Berlin has been at the top of the list for a while now! I've also wanted to explore Singapore as an adult. The only time I've visited was as a kid.
Q: What kind of research do you do before you go away on a trip?
A: I am a massive planner when I travel. I'll usually plan my day around meals, landmarks I want to visit, or museums, design stores and cafes that I'd like to check out. Before any big trip, I create a custom Google Map where I'm able to catalog my wish list of destinations. Then I'll start breaking up the days I'm visiting by grouping places that are in the same or nearby neighborhoods. What I've learned over the years is that while I love covering all my planning bases, I have to give myself the grace to know that things probably won't always go the way I expect. Which is why I also make sure to throw in some backup, contingency spots in case things go awry.
(Jae-Ha Kim is a New York Times bestselling author and travel writer. You can respond to this column by visiting her website at www.jaehakim.com. You may also follow "Go Away With…" on Twitter at @GoAwayWithJae where Jae-Ha Kim welcomes your questions and comments.)