History and music combine for drive on Mississippi Blues Trail
Share this article paywall-free.

By Pamela Selbert
Special to the Post-Dispatch

We'd never really thought of ourselves as fans of the blues (the music, not the hockey team). But then a few years ago, driving through Mississippi, we decided on a whim to visit the B.B. King Museum in Indianola. What an eye-opener. It's a museum worthy of a president (or a king; bad pun, sorry). In the film about his life and career shown there, the oh-so-likable blues legend sings "Key to the Highway," and well, we were hooked.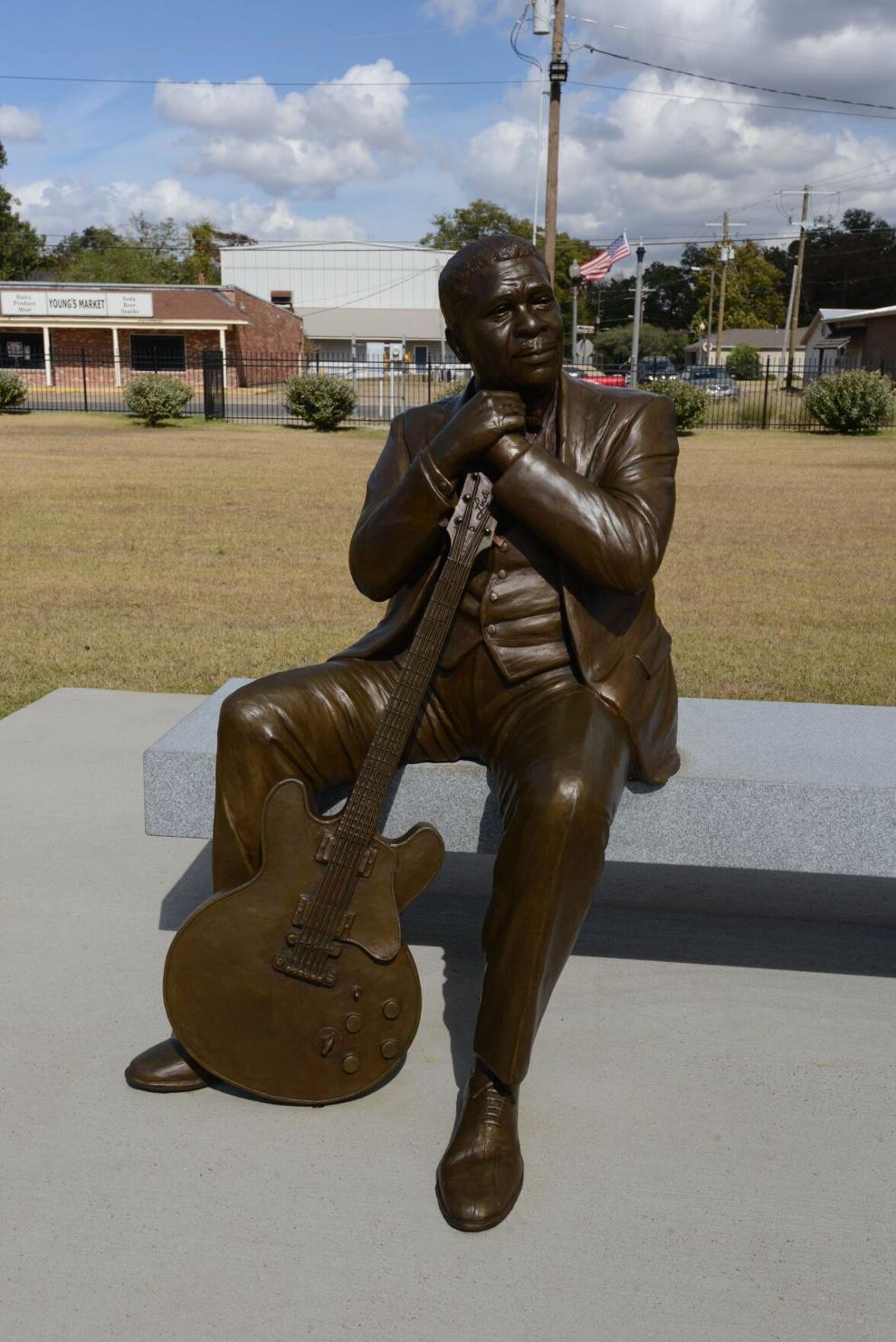 The museum is one of dozens of stops, including other fine museums, on the Mississippi Blues Trail. The trail was created in 2006 by the Mississippi Blues Commission, to place blue interpretive markers — there are hundreds — at notable historical sites related to the blues music throughout Mississippi (and a few beyond). For the most part, the trail follows the "Blues Highway," U.S. Highway 61, with many possible side trips. (A list of the markers by area of the state — Delta, Hills, Pines, Capital/River and Coastal — is available online at msbluestrail.org.)
There's no set itinerary: you travel as much of the trail's many miles as you choose (and can always come back for more or to revisit). You're likely to see one of the blue markers in nearly every town, a dozen or so in some. We were at it for three days, seeing every blues-related Delta site we could from Gateway to the Blues Visitor Center and Museum at Tunica Resorts (almost as far north on Highway 61 as you can go and still be in Mississippi) south to the Walnut Street Blues Club and Blues Walk (sidewalk markers to important blues artists) along historic Walnut Street in Greenville.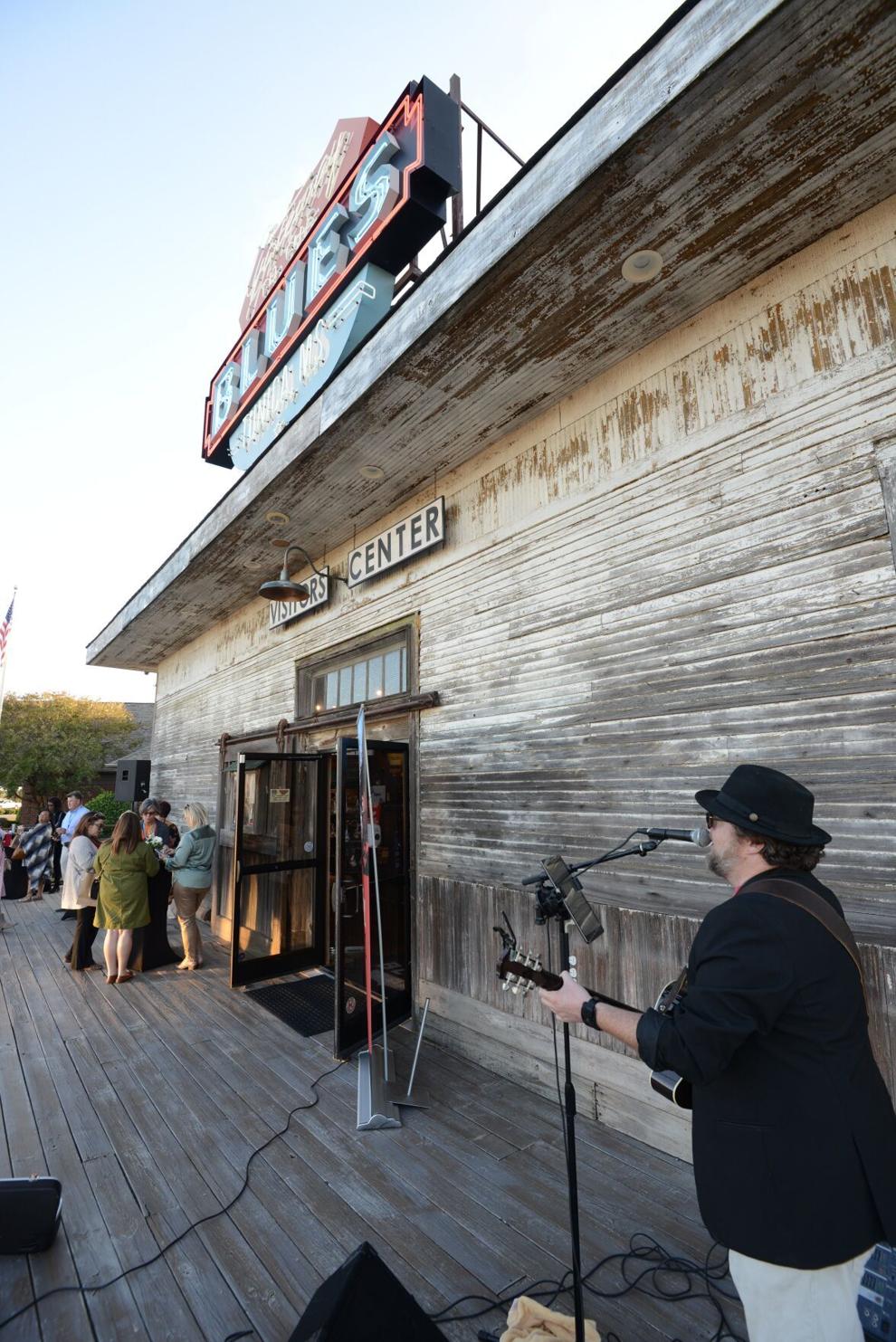 The Gateway to the Blues Visitor Center (and gift shop) occupies a weathered-gray, rustic building, new in 1895, that had been the one-room railroad depot in Dundee, Mississippi. It was moved the 23 miles here, renovated and opened in 2013. A $2.8 million project added the 3,500-square foot museum, a true masterpiece among museums, which opened two years later.
It includes numerous interactive exhibits, more than seven hundred artifacts, photos, videos and biographies in six galleries, "illuminating the story of the origins and development of blues music in the Mississippi Delta," an exhibit reads. There's even a studio where you can record your own song.
You could spend days here learning about the lives of the many bluesmen who were born and raised in the Delta. Nearly all of the most influential blues artists were from this world of cotton fields, with a "musical heritage as rich as the alluvial soil that is the backbone of the economy." Familiar names all: B.B. King, Muddy Waters, Howlin' Wolf, Charley Patton, Son House, Sonny Boy Williamson and, among others, Robert Johnson (who according to legend acquired his wizardry on the guitar by selling his soul to the devil). They and other blues artists traveled the Blues Highway north, leaving behind the poverty and cotton fields of the "flat nothingness that is the Mississippi Delta" to perform in Memphis, St. Louis, Kansas City and Chicago.
While at the museum, we met Webster Franklin, president of the Tunica Convention and Visitors Bureau, who said the 700 artifacts originally belonged to nearby Horseshoe Casino. They'd been in storage a decade before 2007, when the owners agreed to a hundred-year loan, and the collection became the "centerpiece" of the museum, a project Franklin had spearheaded.
From there we drove south, then west on Highway 49 toward port town Helena, Arkansas across the Mississippi River (a worthy side trip). But before crossing the river, we turned right on Lula-Moonlake Road to briefly visit tiny Lula, where blues great Charley Patton was born, and would later immortalize the town in the lyrics of his "Dry Well Blues" and "Stone Pony Blues."
On to Helena, and the Delta Cultural Center in the historic downtown, which offers a wealth of information about the blues and Delta area. (The annual King Biscuit Blues Festival, drawing thousands from all over, will take place here Oct. 4-7 this year.)
Exhibits at the center explain that the blues, developed by African Americans in the late 1800s, after the Civil War, had originated with enslaved Africans struggling to maintain their culture. African music, featuring stringed instruments and complex rhythms, became transformed into African American music. Work songs, spirituals, traditional ballads, dance tunes and country music all found their way into the blues, which is the "product of the overall African-American experience."
King Biscuit Time, begun in 1941, the longest-running American radio broadcast in history, airs weekdays from 12:15-12:45 p.m. on radio station KFFA (1360 AM). Broadcast from the Cultural Center, it was the first regular radio program to feature the blues and live blues performances.
We crossed back to Mississippi, then drove south to Clarksdale, a center for the blues culture since the 1920s. Here, where the Blues Highway and U.S. Highway 49 intersect, marked overhead by three enormous blue guitars, Robert Johnson sold his soul (some sources claim it was elsewhere), and later wrote "Cross Road Blues" about the event.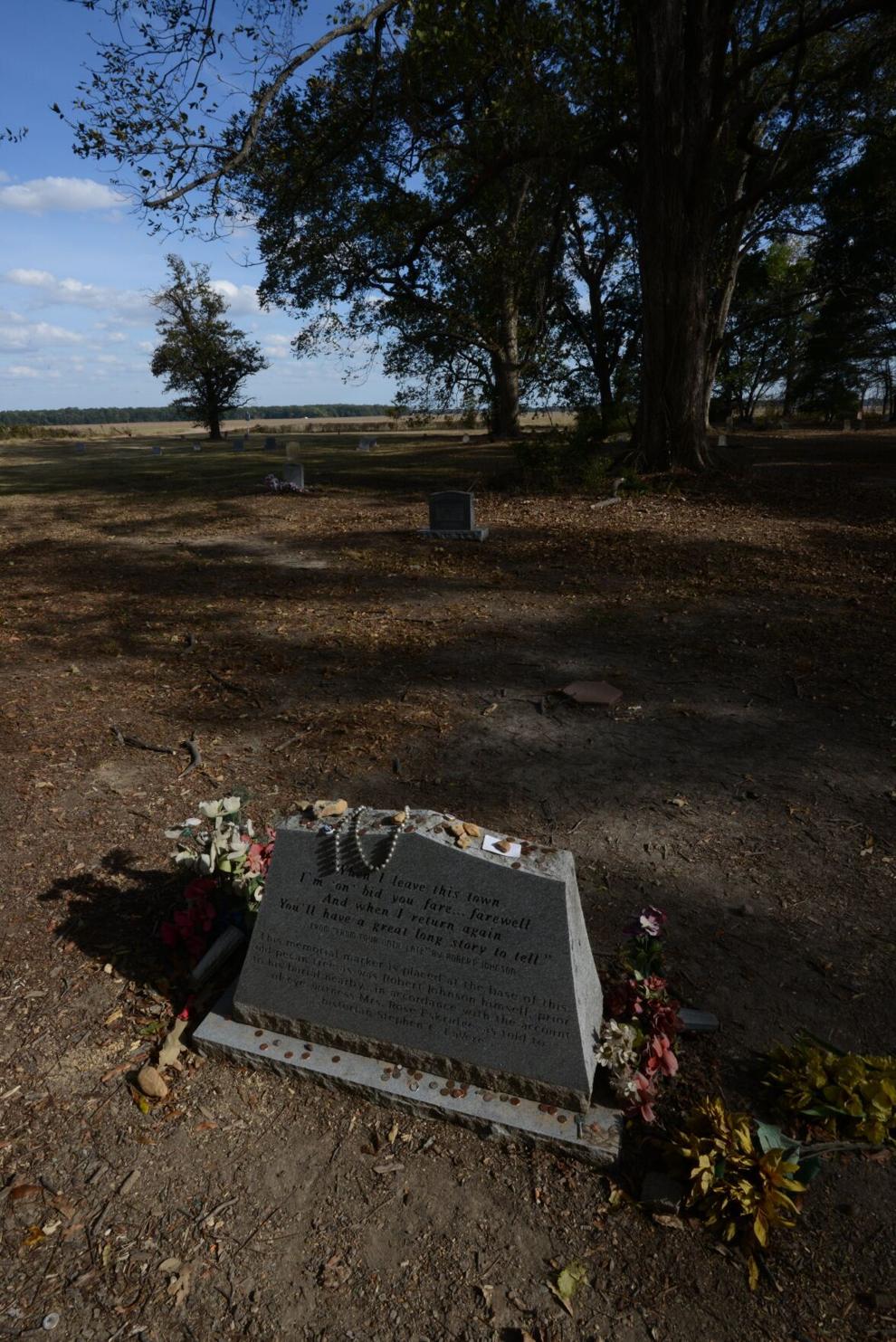 Clarksdale's Delta Blues Museum, established in 1979, is "the world's oldest blues museum." Hundreds of artifacts are displayed, among them musical instruments (including the "diddlybow," a primitive makeshift guitar created from a plank of wood with nails anchoring the wires that served as strings), recordings, sheet music, posters, photographs, costumes, folk art, paintings and more.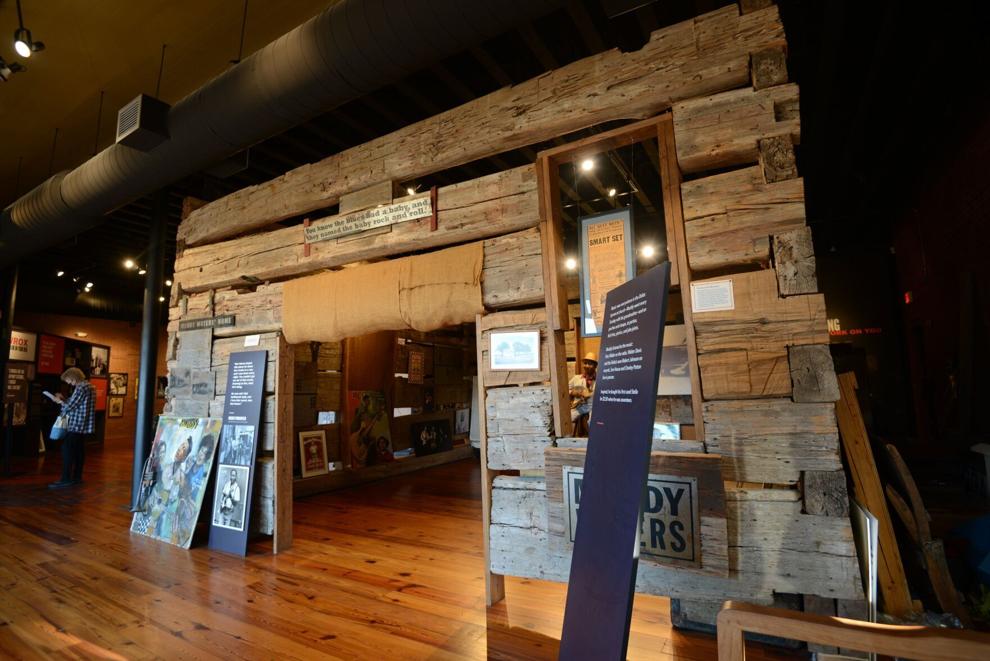 Exhibits tell the stories of dozens of blues musicians, including W.C. Handy, "Father of the Blues," who composed "Memphis Blues," "Yellow Dog Blues" and "St. Louis Blues." A replica of B.B. King's guitar "Lucille" is here. But centerpiece of the vast museum is the 20-foot-by-20-foot former slave cabin of hand-hewn cypress planks that was home to McKinley Morganfield — aka Muddy Waters — when he and his family sharecropped on the nearby Stovall plantation in the 1940s.
Next stop, Shelby, was the birthplace of Henry Townsend (b.1909), the only blues artist known to have recorded in every decade from 1920 to 2000. He died in St. Louis in 2006.
At Cleveland we turned west on Highway 8 for the 20-mile side trip to Rosedale, another town "associated with the legend of a bluesman selling his soul to the devil at a crossroads." Robert Johnson immortalized the town in his "Travelin' Riverside Blues."
We returned to Cleveland and just past to visit Dockery Farms, a 25,000-acre cotton plantation and sawmill established in 1895. It claims to be "where the blues was born." A number of blues artists, Charley Patton and Howlin' Wolf among them, lived, worked and made music here. The plantation was added to the National Register of Historic Places in 2006.
From there, our fascination with Robert Johnson's mysterious life and untimely death (poisoned in 1938 by a jealous husband when he was just 27) led us to Greenwood (where "The Help" was filmed) in search of his gravesite.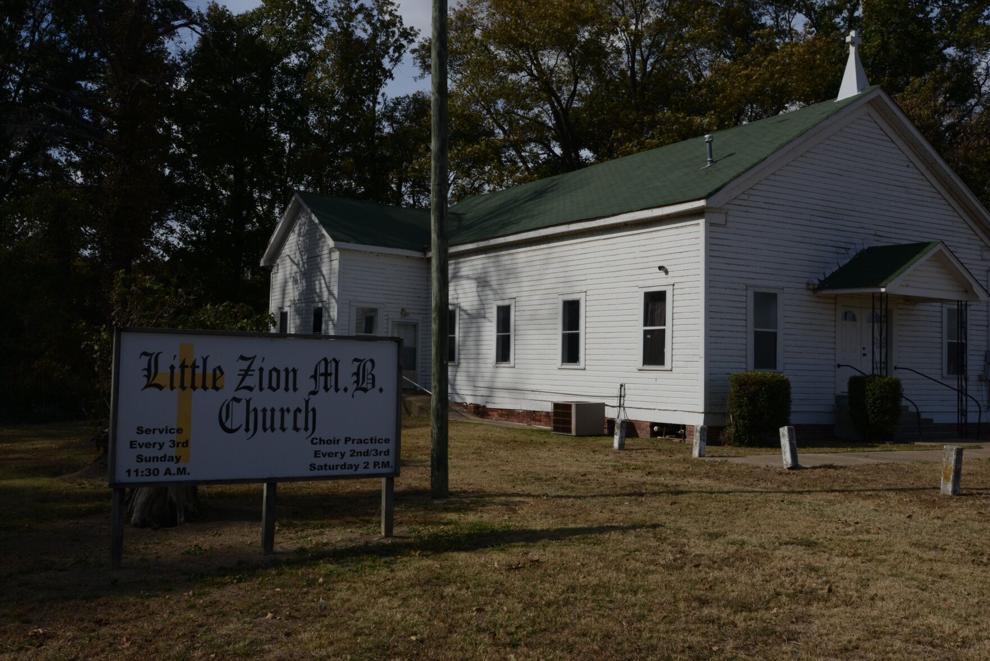 In Greenwood, Grand Boulevard, lined with antebellum mansions, runs north to the edge of town and becomes Money Road, a narrow country lane. Two miles north it passes Little Zion Missionary Baptist Church and cemetery, where we found Johnson's grave, his headstone oddly lavish with coins, beads, small rocks and other trinkets, even cigarettes and a beer bottle left by fans.
Several women, parishioners, pulled in while we were there, bringing flowers to another grave. One of them, Hilda McSwine, of Greenwood, told us the church had been founded in 1870, built by local sharecroppers. Services are held there the third Sunday of every month.
She also said that what remains of Bryant's Grocery, is nearby. There, in 1955, Emmett Till, a Black 14-year old visiting the area with his mother, supposedly had whistled at a white woman, and was later found brutally murdered. The woman eventually revealed she'd lied, but no one was ever convicted of the crime. An heroic-size statue of Emmett in Greenwood's Rail Spike Park had just been unveiled the October day of our visit.
From the park we headed west to Indianola and the exhaustive B.B. King Museum. King had died since our earlier visit and is buried in the memorial garden outside the recently expanded museum (2021). A life-size bronze of him holding his guitar "Lucille" is seated nearby.
Now with 15,000-square feet of exhibit space, the museum includes hundreds of artifacts, films, photos, computer "interactives," and more that tell King's story — from his early life on the nearby plantation his family sharecropped (where he'd been born Riley B. King) to his time as a DJ in Memphis, acquiring the nickname Beale Street Blues Boy, shortened to Blues Boy, then B.B., and on through his long award-winning career.
From there we continued west to Greenville and its historic Walnut Street, our last stop. The Walnut Street Blues Club was closed the afternoon of our visit. But outside it, a Blues Walk stretches along the sidewalks on both sides of the road, with markers to numerous blues musicians, B.B. King, of course, among them. His marker reads: "Through the 1950s, 1960s, 1970s, 1980s and 1990s there has been only one King of the Blues."