How Local Airbnb Regulations Could Affect Your Next Trip
Share this article paywall-free.

Sam Kemmis

From Atlanta to Zion National Park in Utah, local governments are cracking down on short-term vacation rentals, such as those listed on Airbnb and Vrbo. These regulations are often seen as a battle between hosts and neighbors, but they can impact another group: travelers.
These local ordinances can affect travelers in ways good and bad, limiting supply and driving up prices as well as improving oversight and safety. Yet because these rules vary from location to location, they can be dizzying to understand for tourists.
Many of these regulations are popping up in surprising places: vacation destinations that saw major tourism growth in the past few years and are now overwhelmed with crowds.
"Destinations are looking at the sheer volume of tourism to their area," says Alexa Nota, co-founder of Rent Responsibly, an education and community platform for short-term rental hosts. "And instead of just 'grow, grow, grow,' they're looking for a way to cap tourism to make it sustainable for their community."
Fewer options, higher costs
Local restrictions on short-term vacation rentals can reduce the number of available listings. When Amsterdam introduced a new licensing requirement in 2021, the capital of the Netherlands saw a sharp drop in supply of available listings, according to AirDNA, a vacation rental analytics company. Additional AirDNA data shows similar drops have played out across Sydney and Tokyo in response to tightening regulations.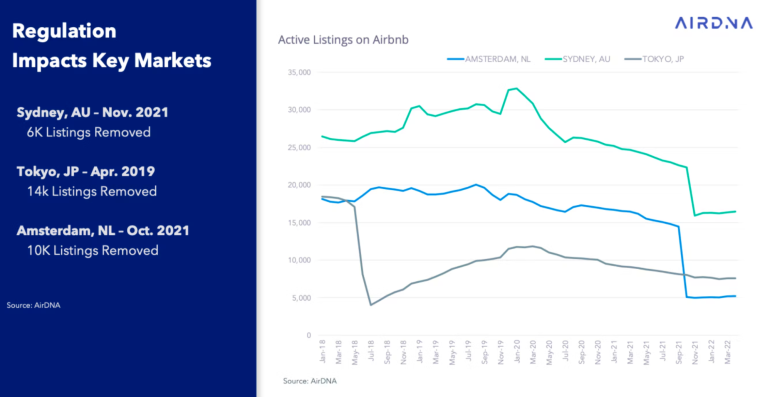 Graphic courtesy of AirDNA
Demand for short-term rentals continues to grow — up about 18% year over year in the U.S., according to a February 2023 report from AirDNA.
"We see a lot of cities putting restrictions in, which limits supply and can drive the cost of these rentals up," Nota says.
Experiencing sticker shock while shopping for a vacation rental? Consider scoping nearby towns and cities, which may have fewer restrictions and more homes on the market.
Safer and more predictable rentals
These restrictions aren't all bad for travelers, experts say. Many local laws require hosts to purchase a license, which can put operational standards in place. Just as hotels are expected to meet local codes, some vacation rentals must now do the same.
"A lot of counties are including some kind of safety inspection," says Tony J. Robinson, host of the "Real Estate Rookie" podcast. "They're checking whether, for example, if you have a hot tub, it's installed correctly. Basic safety things like that."
Travelers visiting destinations with these inspections can sleep (or soak) better knowing that at least some oversight is in place. On the flip side, vacation rentals in areas with few or lax regulations remain a relative Wild West.
Beyond safety concerns, local permitting and licensing requirements can also help make the experience more predictable and professional for guests. Vacation rental "horror stories" are less likely when hosts have more at stake.
"If you have to jump through multiple hoops for hosts and pay fees, it will weed out some of the more amateurish hosts," Robinson explains. "As that happens, the experience for guests will get better."
More rules for guests and hosts
These regulations don't just affect the number of rentals in the community or how they're managed. They can also affect what guests can — and can't — do on property.
"For guests who have previously been able to rent a home and have a party and be rowdy, it's a lot harder," Nota says, citing local laws enacted to reduce noise and parking complaints. "When you're traveling like a local, you're living amongst locals, who expect a certain amount of peaceful enjoyment of their own homes. Make sure to follow noise and parking rules."
Failure to comply could result in a fine or getting booted from your rental by your host, Nota says.
Another thing to watch for: permits and licenses. Many counties require that hosts include their license number in the listing.
"Some cities do enforce the license," Robinson says. "So if you see them in the listings and then you find one that doesn't have it, that's a red flag."
The new normal
In its early days, Airbnb followed the Silicon Valley motto of "move fast and break things," expanding quickly across the globe and revolutionizing how travelers lodged. Yet local communities are now trying to put things back together, enacting laws and regulations to curb some excesses.
Whether visiting New York City or the island of Maui in Hawaii, travelers are now likely to encounter vacation rental regulations. Some of these may squeeze availability, sending prices higher, but they can also ensure a modicum of safety oversight. And, of course, there are always hotels, which can be cheaper in many circumstances.
"Every other industry like this has regulations," says Robinson, who manages vacation rental properties in several states. "I somewhat welcome them in the short-term rental space, assuming they're fair."
The vacation rental industry might finally be growing up.
The article How Local Airbnb Regulations Could Affect Your Next Trip originally appeared on NerdWallet.