Human deaths caused by tiger attacks in Ranthambhore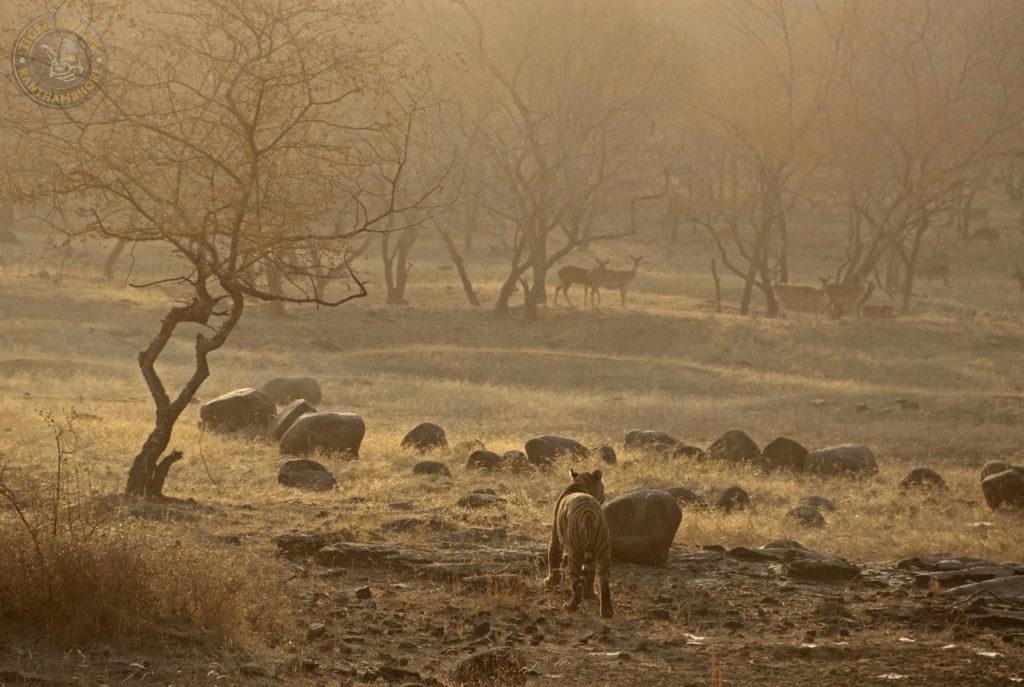 Due to their sudden increase, there is a lot of talk and debate surrounding the recent tiger attacks in Ranthambhore. Tiger Watch has analyzed all the facts surrounding tigers that have caused human deaths in and around the tiger reserve. Here are our findings which are limited to attacks over the past decade, but reveal specific identifiable trends since the onset of constant tiger attacks in 2010.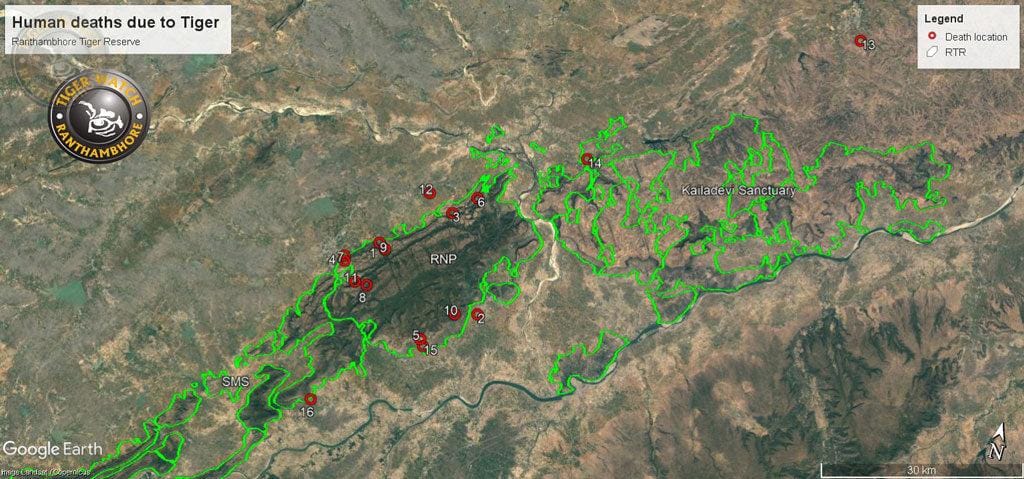 Since the formation of Ranthambhore Tiger Reserve in 1973, a total of 16 people have been killed by tigers.
Out of a total of 16 attacks, only 5 attacks took place outside the park. Out of a total of 5 attacks outside, 3 were on the outskirts of the park (very close to the border of the reserve) one at 14 km and the other at 2.5 km from the tiger reserve.
After 14 years of the Tiger Reserve's formation, the first attack happened in 1987, when a boy ran off the tarmac road where he encountered a tiger and was killed immediately. It was on the main Ganesh road, near Ada Balaji.
18 years later, the second attack took place (in 2005), when a male tiger attacked a 60-year-old farmer in Mai village in Khandar region. It happened at night while he was watering his wheat crop. The man had wrapped a black blanket around him.
A constant human-tiger conflict started from the year 2010 and a total of 14 human beings have been killed so far.
In 2010, a total of 3 human beings were killed by tigers. The year 2011 was completely peaceful but in the year 2012, 3 human beings were killed. Between 2008 and 2013, about 7 tigers were transferred to Sariska Tiger Reserve, 2 of them were males and 5 of them were females. The translocation of more females may have created an imbalance, causing male tigers to spend more time roaming outlying areas in search of females bringing them into contact with humans.
The years 2013, 2014 were peaceful but in 2015, 1 human being was killed. The years 2016 and 2017 were peaceful.
In the years 2012 to 2015 many critical villages like Padra, Kathuli, Mordungari and Bhid were moved outside the park by the government and the result was soon apparent, the conflicts between tigers and human beings were considerably reduced. In 5 years (2013 to 2017), only one man has been killed by a tiger.
In 2018 there were a total of 2 victims and in 2019 a total of 5 victims were killed. Despite the relocations (there have not been any since), the newly available space was quickly occupied by the rapidly growing tiger population.
Interestingly, out of a total of 16 attacks, only 3 victims were female and 13 were male.
Most of the identities of the tigers responsible have been established by the authority. All victims were attacked by male tigers except in 2 attacks.
A total of 11 tigers have been implicated in 16 human deaths.
Only 2 tigers killed multiple humans. The Tiger T-24 killed 4 humans and the Tiger T-104 killed 3 humans.
The victims of the tigers were attacked while amid myriad activity – 5 were cutting wood in prohibited areas, 2 were grazing livestock inside the park, 2 were cutting grass in the park , 2 were tending their fields, 1 was defecating in the open air and 1 was urinating off the road in the forest, 2 forest rangers were patrolling on foot and 1 was unknown.
A total of 7 fatal attacks occurred in winter (December to March), a total of 6 attacks occurred during monsoon (July to October), and only one attack occurred in summer (April to June). There were no attacks during the months of April, June and November.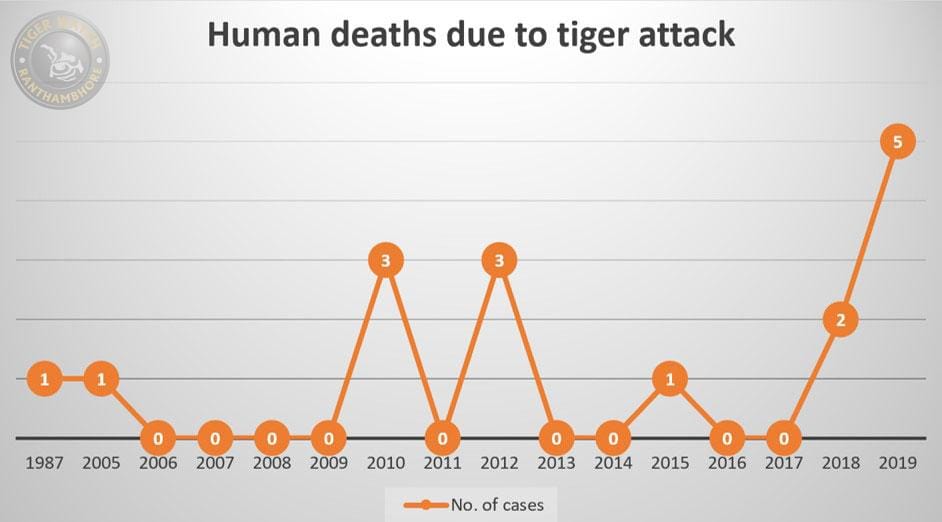 Conclusion:
Question 1: So why the sudden rise in tiger attacks in Ranthambhore?
Question 2: Why were there attacks in some years and peaceful years in others?
Over the past decade (since 2010), a total of 14 human beings have been killed for the following reasons…
A. INCREASE IN TIGER POPULATION: Proactive anti-poaching and modern monitoring techniques have resulted in an exponential increase in the tiger population in Ranthambhore. In 2006 there were only 18 tigers and now there are 62+ tigers in the landscape which means it has increased 3-4 times.
B. STOPPED NATURAL ELIMINATION PROCESS: Young and old male tigers are the main culprits. There is a natural system to regulate the population of male tigers in any tiger ecosystem – by males against males. Over the past 2 years, the Forest Department has intervened to rescue old male tigers or sub-adult male tigers after they were injured in natural male-male fights at least 10-15 times. (T109, T28, T06, T 23, T 91, T 34, T 104 several times, T109 again). These tigers were not only treated, but also abnormally fed with prey substitutes. When we don't make more habitat available for tigers and don't allow the tiger population to regulate itself naturally, the natural balance is bound to be destroyed.
Things to consider:
These points require more discussion to get a real picture:
There is some debate over the idea that pressure from safari tourism forces tigers to move to the outskirts of the park where they harm humans. Their logic is that all the mankiller tigers were born and raised in the tourist area and eventually moved to the edges due to the heavy human traffic inside the park. This is a flawed theory because if the traffic was so high, why were they born in the area and raised there successfully? Why is the density of tigers so high in the tourist area, currently 31 tigers (50%) roam the 16% of the reserve which constitutes the tourist area?
Excessive human interaction with animals like the Tiger T-24 which has been dealt and thrown multiple times and similarly the Tiger T-104. They are the only tigers that have killed multiple humans (4 and 3 respectively). Animals retain their "bad" experiences and then act on them. Medical interventions are very stressful for wild animals – heavy tranquilizer drugs, the tranquilization process is also hectic, the ubiquitous smell of humans is an unusual experience and can turn a tiger into a problem animal. Likewise, this point also needs more discussion to establish or reject.
Poor management decisions and failure to make the right decisions in time, such as releasing known man-killers like the T-104 tiger after capture, have also contributed to the increase in human deaths. Tiger T-104 was captured and released twice after killing and feeding 2 people in 2019. Even after his capture after his 2nd kill in August, when his predilection for man-eating was very apparent, he was released and he promptly killed a 3rd victim on September 12, 2019. The department cited the NTCA as the reason for his release twice. Even in the case of T-24, the department did not agree to remove him despite his murder and feeding on 3 victims quoting the outgoing Minister of State Forests, which made the ranger Rampal Mali pay of his own life as the 4th victim before finally being fired in 2015.
Management instability also has a role to play as it has hampered the ability to monitor changing dynamics on the ground and make appropriate decisions in times of crisis such as this. This can be attributed to decision making at higher levels of the Ministry. For example, at range officer level in Ranthambhore, officers feel they can be transferred at any time with little justification. Falodi's lineup position has seen multiple transfers in a relatively short period of time. The same is true for the other ranges. Even at the level of forest guards in the same massifs, good guards have been transferred without justification.
By Dharmendra Khandal, Ishan Dhar, Sachin Rai, Divya Khandal and Meenu Dhakad