Is this the best ship in the Disney Fleet?
We have now gone on the newest Disney Cruise Line Ship, the Disney Wish 3 times! So, I feel pretty confident that I am qualified to put together a full Disney Wish Review for you.
Disney Wish, the newest addition to the Disney Cruise Line fleet, set sail with the most advanced technology and the latest magical innovations. The ship offers a ton of new experiences that past ships have not had, so let's take a deep dive into everything you need to know before booking your next trip.
Below, we'll explore everything from dining to entertainment to Kids Club to help you get the most out of your Disney Wish cruise.
---
We have been lucky to experience so much of what Disney has to offer from Disneyland to Disney World, Aulani, and more. But, the Disney Cruise ships really hold a special place in our hearts. They are an amazing option for families, especially big families with a wide variety of ages. Disney Cruises really do a good job of offering something for everyone.
Dining on the Disney Wish
We LOVE food, and we can confidently say that none of the Disney Cruise Line Ships disappoint. One of the unique features of the Disney Cruise Line is rotational dining.
Every guest will visit each of the three non-upgraded restaurants at least once. We loved this because we were able to enjoy and experience each one as a family.
The Disney Wish also offers upgradable options for restaurants and many different quick service options for Guests. We went ahead and listed them all below.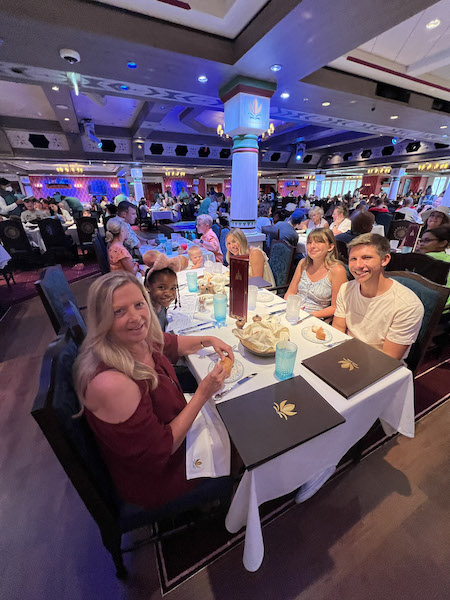 Arendelle: A Frozen Dining Adventure
This is one of the newest and most highly anticipated restaurants on the Disney Wish. Inspired by the popular Frozen franchise, this immersive dining experience takes guests on a journey through the Kingdom of Arendelle, complete with live performances and interactive storytelling.
The menu features Nordic-inspired cuisine and signature cocktails.
The show was really cute and had Olaf, Elsa, Anna and Oaken as the host! Overall, the restaurant provides and enjoyable dining experience for both the kids and adults!
---
The 1923 Restaurant
The 1923 restaurant on the Disney Wish cruise line is a unique dining experience that pays homage to the year that Walt Disney first arrived in Hollywood to start his legendary career. This exclusive restaurant features elegant Art Deco theming and serves up contemporary California cuisine with a touch of Hollywood glamour.
The restaurant is divided into two sides, the Roy Disney side, and the Walt Disney side. Each side has its own unique memorabilia. The restaurant offers a classic Hollywood steakhouse setting and serves delicious filet mignon and classic sundaes.
We personally loved it because it gave us the feeling of eating at Carthay Circle in Disney California Adventure!
---
The Worlds of Marvel
The last restaurant in the rotation is the Marvel-themed restaurant. The Worlds of Marvel restaurant on the Disney Wish cruise line is a one-of-a-kind dining experience that brings the Marvel Universe to life.
The restaurant is designed to look like Tony Stark's Stark Industries space station, with sleek metallic accents and interactive displays that transport guests into the world of Marvel. Guests are welcomed into the restaurant by Tony Stark himself, who appears via a high-tech hologram projection.
The Ant-Man and The Wasp make an appearance and tell a few jokes. Originally, when we first heard about this restaurant, our entire family was super excited to experience it. However, this restaurant was a little underwhelming, and the food was just okay. I think we had an expectation for the food to be more themed like it is at Disney California Adventure.
---
Marceline Market
Marceline Market is a unique and immersive food hall experience onboard the Disney Wish cruise line. Named after Walt Disney's hometown, Marceline, Missouri, the market features a variety of food stations offering a wide range of cuisine, from classic American fare to international flavors.
The market is designed to look like a bustling street market, with high ceilings, colorful decor, and a lively atmosphere. Guests can wander through the market and explore the different food stations, which include options like pizza, burgers, sushi, tacos, and more. Personally, we loved the seafood offerings that they have in the evening…YUM!
---
Mickey & Friends Festival of Foods
Sometimes we are not in the mood to sit down and just want to grab something quick – that is when we head to the Mickey & Friends Festival of Foods.
The Mickey & Friends Festival of Foods on the Disney Wish is a culinary celebration like no other. This exciting event features a wide variety of delicious dishes, drinks, and culinary experiences that are inspired by beloved Disney characters and themes.
Among the many offerings, guests can indulge in unique dining experiences at Mickey's Smokehouse, Donald's Cantina, and Goofy's Galley.
Mickey's Smokehouse is a barbecue-themed restaurant that pays homage to Mickey Mouse's love of grilling. The restaurant serves up mouthwatering dishes such as smoked beef brisket, St. Louis-style ribs, and BBQ chicken. There are also vegetarian options like grilled portobello mushroom burgers and roasted corn on the cob.
Donald's Cantina, on the other hand, is a vibrant Mexican-inspired eatery that features a range of delicious dishes and drinks. Think of it like a Chipotle…but much more magical!
Finally, Goofy's Galley is a quick-service restaurant that offers grab-and-go items like sandwiches, salads, and snacks.
We enjoyed all three of these restaurants and love how quick they are; especially when you are at the pool!
---
Palo – Adult-Exlusive + Additional Fees Apply
This is a classic Disney Cruise Line restaurant that offers a sophisticated and upscale dining experience. The menu features high-quality cuts of meat, fresh seafood, and decadent desserts.
The restaurant also offers an extensive wine list. Note that Palo is not included with your cruise package; so to dine here you will need to pay additional.
If you have kids, dropping them off at the Small World Nursery or one of the kids clubs could allow you and your partner to enjoy a little night out on the ship!
---
Enchanté by Chef Arnaud Lallement – Additional Fees Apply
This is an exclusive fine dining restaurant that offers a French-inspired menu curated by three Michelin-starred Chef Arnaud Lallement.
The restaurant features an elegant and intimate atmosphere, with beautiful views of the ocean. Guests can expect a multi-course meal featuring seasonal ingredients and expertly paired wines.
---
The Rose
This is a romantic and elegant restaurant inspired by Beauty and the Beast. The menu features French-inspired cuisine and a curated wine list. The restaurant features beautiful decor and an intimate atmosphere, perfect for a special occasion or a romantic date night.
---
Nightingale's
Nightingale's is one of the signature restaurants onboard the Disney Wish cruise line, offering an elegant and sophisticated dining experience for guests.
The menu at Nightingale's features contemporary American cuisine with an emphasis on locally sourced ingredients and seasonal flavors.
---
Keg & Compass
Keg & Compass is a cozy and welcoming gastropub onboard the Disney Wish cruise line, offering a casual dining experience with a focus on craft beers and comfort food.
The menu at Keg & Compass features a variety of classic pub fare, including burgers, sandwiches, and fish and chips. Guests can also choose from a selection of salads, soups, and appetizers, as well as a variety of craft beers, wines, and cocktails.
---
Star Wars: Hyperspace Lounge
Calling ALL Star Wars fans! Hyperspace Lounge on the Disney Wish cruise line is a unique and immersive experience that transports guests to a galaxy far, far away.
This high-tech lounge features interactive displays, stunning visuals, and a range of delicious cocktails and mocktails inspired by the Star Wars universe.
If you LOVE Star Wars like we do, then you are going to want to check this one out!
---
The Bayou
The Bayou is one of the signature restaurants onboard the Disney Wish cruise line, offering a taste of the vibrant and diverse flavors of New Orleans.
The menu at The Bayou features classic Creole and Cajun cuisine, with an emphasis on fresh seafood, spicy jambalaya, and rich gumbo.
---
Cove Bar & Cafe
The Cove Bar & Cafe is a popular spot onboard the Disney Wish cruise line, located near the adult-only pool area. The bar offers a variety of refreshing cocktails, including signature drinks inspired by tropical destinations, as well as a selection of beer and wine.
---
Inside Out: Joyful Sweets
Are you feeling joy, sadness, disgust, anger or FEAR? Head to Joyful Sweets! Inside Out: Joyful Sweets is a whimsical confectionary onboard the Disney Wish cruise line, inspired by the popular Disney-Pixar film, Inside Out.
The menu offers a variety of sweet treats, including candy, chocolates, cupcakes, and other desserts, all creatively designed to reflect the personalities of the film's characters.
---
Entertainment on the Disney Wish
Entertainment on the Disney Wish is remarkable. From the movie theaters to the live entertainment, everything on the Disney Wish Cruise Line is amazing!
Movie Theaters
For a more interactive experience, guests can check out the Wonderland and Never Land Cinemas. These theaters offer a range of experiences, from first-run movies to 3D films and even interactive game shows. Our older kids love to go relax and go watch one of the movies in the theater.
On our last cruise, they were showing the newly released Ariel and Haunted Mansion.
---
Theatre Shows
The Disney Wish cruise line offers a plethora of entertainment options for guests of all ages. From Broadway-style shows to interactive experiences and character meet-and-greets, there is always something exciting happening on board.
Disney's Aladdin – A Musical Spectacular
This is one of the most popular shows on the Disney Wish, featuring the classic story of Aladdin with a dazzling display of music, dance, and special effects. It reminds us a lot of the original show they had at Disney California Adventure's Hyperion Theater.
Disney Seas The Adventure
In this production, Minnie hands over the helm of the ship to Goofy. As Goofy tries to gain his confidence as captain he comes across many characters like Moana, Elsa, and Merida.
The Little Mermaid
The Little Mermaid show is one of the many Broadway-style productions that guests can enjoy at the Walt Disney Theatre onboard the Disney Wish cruise line. The show is based on the beloved Disney animated film, The Little Mermaid.
Our Daughter, Olivia loved the show since she is a HUGE Ariel fan!
---
Character Meet-and-Greets
One of the most beloved entertainment offerings on the Disney Wish is the chance to meet and take photos with favorite Disney characters.
From Mickey and Minnie Mouse to Marvel superheroes and Star Wars icons, there are plenty of opportunities to interact with beloved characters throughout the ship.
---
Pirate Themed Night
Disney Cruises are known for their epic Pirate Nights! There is one night on every cruise where guests are encouraged to dress up in their best pirate gear and enjoy a variety of pirate-themed activities, including a deck party and a fireworks display.
About 70% of people dress up for Pirate Night and a LOT of them are really decked out! The waiters and characters for the evening are also dressed up, so it is overall a lot of fun!
You end the evening on the top deck with a show and fireworks; always a great way to end the night!
---
The Kids Clubs on the Disney Wish
The Disney Cruise Kids Clubs are hands down our favorites. In fact, Olivia often does not want to leave! I feel like the cast members in the clubs do an incredible job and feel completely confident leaving my kids in their care. I also love that Disney uses their in-cruise chat feature to let you know when your child is ready to be picked up.
There are so many different interactive areas for little ones to explore. There is a complete Star Wars area, an Avengers area, a Princess area where kids can draw and read, an imagination area, and an area where kids can build their rollercoaster.
For the Little Ones (6 months – 3 years old)
For the youngest guests, there is the It's a Small World Nursery, which provides childcare services for children aged six months to three years old. The nursery is staffed by trained childcare professionals (all CPR certified and background checked) and features age-appropriate toys, games, and activities.
You do have to pay for the Small World Nursery and it is $8 per hour.
For Kids (3-12)
For children aged three to twelve, there are several themed kids' clubs to choose from, including the Marvel Super Hero Academy, the Fairytale Hall, and the Disney Imagineering Lab.
These clubs offer a range of activities, from art projects and games to interactive workshops and character meet-and-greets. Your kiddo can even put their Imagineering skills to the test and build their very own ride which they can then virtually ride!
For the Tweens and Teens
For tweens and teens, there are the Edge and Vibe clubs, designed for children aged eleven to fourteen and fourteen to seventeen, respectively.
These clubs offer a range of activities tailored to older children's interests, including video games, dance parties, and social events.
---
The Adults-Only Areas on the Disney Wish
So, where should you head once you have dropped the kids off?
The Wish thoughtfully integrates adult-only spaces, allowing for moments of relaxation and serenity away from bustling family activities. One of the most anticipated is the Quiet Cove, an idyllic retreat featuring an infinity pool, plush loungers, and a bar, all overlooking the vast expanse of the ocean. This oasis provides adults with a serene escape where they can sunbathe, read, or sip on gourmet coffees and cocktails in peace.
Further enhancing the adult experience, the Disney Wish introduces specialty dining venues like Palo Steakhouse and Enchanté by Chef Arnaud Lallement. These sophisticated establishments offer exquisite menus paired with premium wines, ensuring a gourmet dining experience in an intimate setting. And as the evening unfolds, adults can head to The Rose, an elegant lounge inspired by the tale of 'Beauty and the Beast', perfect for post-dinner cocktails or wine-tasting sessions.
---
Pools and Other Activities
We couldn't do a proper Disney Wish Review, without mentioning all the amazing fun activities you can do on the cruise. One of the ship's most exciting features is its 11 pools and six hot tubs located on the deck.
The Aqua Mouse Waterslide
One of the most popular attractions on the Disney Wish is the Aqua Mouse waterslide. It really is more of a ride than a waterslide. You are able to ride it with a friend and in the beginning they have a lot of interactive things to view before the plunge!
The T-Rex Twisty Slide
For younger guests who may not meet the height requirements for the Aqua Mouse, the T-Rex twisty slide provides a fun and exciting alternative. This colorful slide winds around and around, offering a thrilling experience for children who are looking for a bit of adventure.
Other Activities
In addition to the pools and water attractions, the Disney Wish also features an incredible indoor sports court. This air-conditioned space provides guests with a comfortable and enjoyable place to play a variety of sports and games, including basketball, air hockey, ping pong, and shuffleboard.
During one day of the cruise, the Disney Wish transforms the sports court into an "Incredi-Course," which is a challenging obstacle course that guests can race through with their family and friends.
Ella and I competed on the "Incredi-Course," and I am happy to report that I won! Better luck next time Ella!
---
Disney Wish Staterooms
The Disney Wish features a wide range of stateroom options for guests to choose from. Whether you're traveling with a family or as a couple, there is something to suit everyone's needs and preferences.
One of the most exciting features of the Disney Wish staterooms is the innovative use of technology to enhance the guest experience. For example, the ship is equipped with a virtual porthole that displays real-time views of the ocean outside, even if your stateroom doesn't have a physical window.
The virtual porthole can also display Disney characters and animations, adding an extra touch of magic to your stay.
Here's a breakdown of the different stateroom categories available on the Disney Wish:
Standard Inside Staterooms: These staterooms are perfect for guests who prioritize value and comfort. They feature a queen-sized bed, a pull-down bunk bed, and a single convertible sofa, accommodating up to four guests. These staterooms also have a private bathroom and ample storage space.
Deluxe Inside Staterooms: These staterooms are similar to standard inside staterooms, but with added features like a split bathroom design that allows multiple people to use the facilities at the same time. These staterooms can also accommodate up to four guests.
Oceanview Staterooms: These staterooms offer stunning views of the ocean and natural light. They feature a queen-sized bed, a pull-down bunk bed, and a single convertible sofa, accommodating up to four guests. Some oceanview staterooms also feature a veranda for guests to enjoy.
Verandah Staterooms: These staterooms offer guests their own private outdoor space, complete with seating and a table. They feature a queen-sized bed, a pull-down bunk bed, and a single convertible sofa, accommodating up to four guests.
Concierge Staterooms: These staterooms offer the ultimate luxury experience, with exclusive access to a concierge team who can assist with everything from dining reservations to onboard activities. These staterooms feature a queen-sized bed and can accommodate up to five guests, with some also offering a veranda.
Suites: The Disney Wish also features a range of suites for guests who want the most luxurious experience possible. These suites offer separate living areas, large balconies, and a host of other amenities. Some of the suite options include the Disney Wish Suite, the Two-Bedroom Suite, and the Concierge Royal Suite.
---
Disney Wish Itineraries
There are a variety of sailing locations to choose from when you are booking your Disney Cruise, each with its own unique appeal.
Bahamas
One of the most popular destinations for the Disney Wish is the Bahamas. Here, passengers can enjoy tropical weather, beautiful beaches, and crystal-clear waters.
The ship will dock at Nassau, the capital of the Bahamas, where passengers can explore the local culture, take part in water activities such as snorkeling, or simply relax on the beach.
Castaway Cay
One of the popular destinations is Castaway Cay Island, a private island owned by Disney. Castaway Cay is a beautiful island with crystal-clear water, white sand beaches, and exciting activities.
There are plenty of things to do on the island, such as swimming, snorkeling, and enjoying water sports. It's a great place to relax and unwind, and we highly recommend visiting it.
---
Disney Wish Review Tips
Sailing on the Disney Wish is an exciting and unforgettable experience. Here are some tips to help make your cruise even better:
Pack a day bag: On the first day of your cruise, you most likely won't be able to get to your room before 2 pm. So, having a day bag with your bathing suit and sunscreen will allow you to take advantage of the pools and waterslide before everyone else crowds them.
Take advantage of the day pass for the spa: The cruise offers a day pass for the spa, which sells out quickly as they only sell 100 passes. If you're interested in getting one, it's best to purchase it as soon as you board the ship.
Book experiences early: If you're interested in booking experiences like the Bippity Boppity Boutique for your little ones, it's best to do it as early as possible. These experiences can sell out quickly, especially during peak seasons. We booked it for our Daughter, Olivia and she loved being dressed up as Ariel!
Download the Disney Cruise Line app: The Disney Cruise Line app is a must-have for sailing on the Disney Wish. You can use it to check the daily schedule, book activities, order food, and more. It's a great way to stay organized and make the most of your time on board.
Attend the first-night show: The first-night show on the Disney Wish is a must-see. It sets the tone for the rest of your cruise and is a great way to get excited about all the fun activities and events planned for the trip.
Bring a refillable water bottle: Staying hydrated is important, especially on a cruise. Bring a refillable water bottle to save money on bottled water and help reduce plastic waste.
Plan for the busiest pool day: The busiest day for the pool is the day at sea. Plan accordingly and consider exploring other areas of the ship on that day to avoid the crowds.
Overall, the Disney Wish is an incredible cruise experience that is perfect for families, couples, and solo travelers alike. From the dining options to the entertainment, there is something for everyone on this ship.
The attention to detail and the commitment to providing a magical experience for guests is evident in every aspect of the ship. Whether you're a Disney fan or not, the Disney Wish cruise is an unforgettable experience that will leave you with memories to last a lifetime.
---
If you enjoyed reading our Disney Wish Review, you might also enjoy:
HOW MUCH DOES A DISNEY CRUISE COST? + MONEY SAVING TIPS
OUR TOP 5 REASONS YOU SHOULD BOOK A DISNEY CRUISE FROM GALVESTON AND WHAT MAKES IT SO GREAT!
10 REASONS DISNEY TRAVEL AGENTS MAKE YOUR TRIP INCREDIBLE!
THE 15 BEST CASTAWAY CAY ACTIVITIES [10 OF THEM ARE FREE!]
Frequently Asked Questions about Disney Wish Review
Is The Disney Wish worth it?
Ultimately, whether or not the Disney Wish is worth it for you depends on your personal preferences, budget, and priorities. If you're a fan of Disney and immersive storytelling experiences, and you're willing to pay a premium price for a high-quality cruise, then the Disney Wish could be a great option for you.
What is special about Disney Wish?
There are many special and unique features that set the Disney Wish apart from other cruise ships.
Here are some of the key highlights:
Immersive storytelling
AquaMouse
Themed restaurants
Kids clubs
Adult-only areas
State-of-the-art technology
Pin it for later: Our Disney Wish Review: A Magical Experience on the Newest Disney Cruise Line Ship