Looking for the Cheapest Weeklong Disney Vacation? Consider This

Sally French

For budget-conscious fans, options for taking a Disney vacation are slim. Disney ticket prices can add up quickly, and paying extra for line-skipping privileges like Lightning Lane and Genie+ is practically imperative for a memorable trip.
Then, there's food, hotels and other inevitable add-ons, from Mickey Mouse ears to princess makeovers. Yet hidden within the realm of Disney's offerings lies a surprisingly accessible option: the Disney cruise.
While the notion of a Disney vacation may evoke thoughts of pricey indulgence, embarking on a Disney journey at sea ranks among the best examples of how to do Disney on a budget.
NerdWallet analyzed total average trip costs across hundreds of sample itineraries for the following U.S. destinations:
Walt Disney World Resort in Florida.
Disneyland Resort in California.
Aulani, a Disney Resort & Spa in Ko Olina, Hawaii.
Disney Cruise Line voyages departing from U.S. ports.
NerdWallet also broke down trips into three price tiers — Value, Moderate and Deluxe — to represent travelers' range of frugality versus luxury (e.g., Value cruise cabins were inside with no windows, while Deluxe cabins faced outside and included a balcony).
For seven-night trips, here were the average prices per person (assuming double occupancy) across each Disney destination: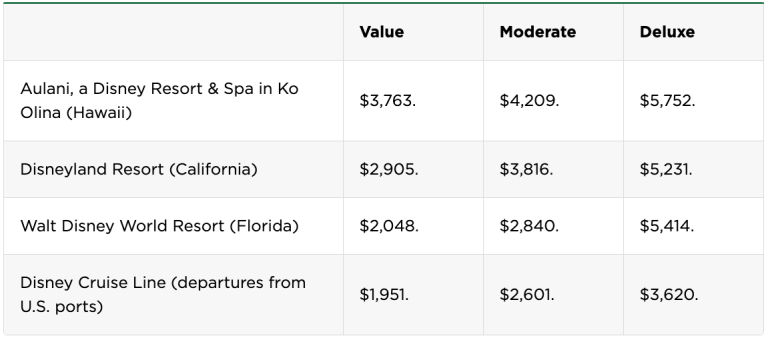 Assuming double occupancy, weeklong Disney cruises cost less than $2,000 per person, on average. Even a cruise with all the frills (like port excursions, spa treatments and upgraded meals) still costs less than a value trip to Aulani.
What's included in a Disney cruise
While cruises have a high price tag upfront, most everything is included on board. And for folks who take advantage of it all — meaning the all-you-can-eat buffets, the kids clubs and the shows — the net cost of a Disney cruise often turns out lower than that of any other Disney trip.
It makes sense that travelers are turning to Disney cruises. In the second quarter of 2023, The Walt Disney Co.'s domestic revenue increased by 14% year over year, which the company attributed to Disney Cruise Line, according to its second-quarter earnings report.
Though results at Disney's domestic parks and resorts were slightly unfavorable to the prior-year quarter, the company's cruise arm stood apart "due to an increase in passenger cruise days," which included the addition of the newest ship, the Disney Wish, which took off with its first passengers in 2022.
For what it's worth, a Disney cruise isn't necessarily the experience that comes to mind when most travelers think "Disney vacation." There are no rides — unless you count something like the AquaMouse on the Disney Wish, which is billed as Disney's first attraction at sea (but is more like a waterslide on steroids).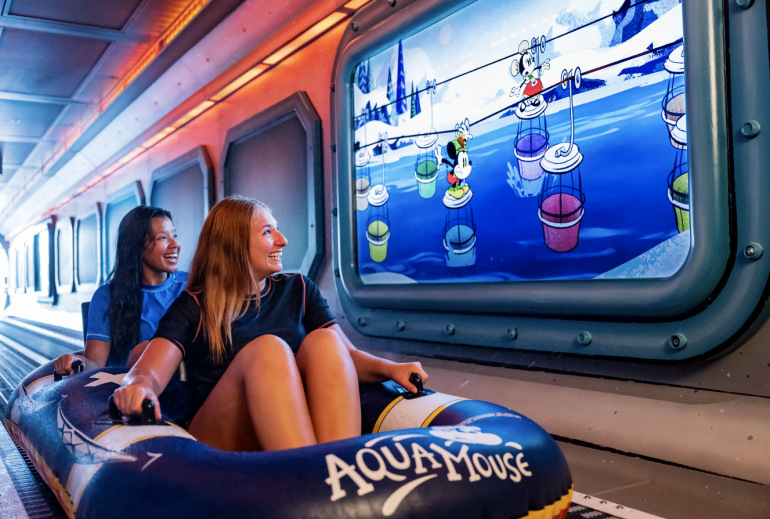 The AquaMouse on the Disney Wish, the newest ship from Disney Cruise Line. (Photo courtesy of Disney)
But many other aspects of Disney parks exist on the cruises, including meet-and-greets with characters and stage shows. And sometimes, the cruise experience outperforms the theme parks. For example, there's typically shorter lines to meet characters (and more time to spend with them when you do).
Why a Disney cruise might not be as expensive as you think
On a nightly basis, the average seven-night Disney cruise starts as low as $279 per person — just under the $293 nightly price to spend seven nights at Disney World on a value budget.
To calculate the estimated trip costs above, NerdWallet aggregated and analyzed trip costs across four categories:
Park tickets (and add-ons, such as Genie+).
On-property hotel room rates or cruise cabins.
Food at Disney-owned restaurants.
Add-on activities, such as spa treatments and tours.
Because Disney cruises are mostly all-inclusive, the analysis accounted only for room rates and add-on activities. Sure, cruises command a high "room rate," but final costs are lower because there are no park tickets to buy and standard meals are included (the additional food costs are optional extras, like alcohol and bottled water).
Yet fewer categories contributing to the sum total doesn't necessarily guarantee lower costs. Just look to Aulani, Disney's resort in Hawaii. While free amenities include pools, Aunty's Beach House (a club for kids ages 4-12), Disney character photo ops and nighttime stories around a campfire, most other things are a la carte — and an expensive cart at that.
Room rates start at about $760 per night, on average, and it's unlikely travelers would go without experiencing the Ka Wa'a luau, which begins at $175 for guests ages 10 and up. Spa treatments, snorkel rentals, yoga classes and excursions cost extra, too.
It's true that trips to Disney's theme parks aren't quite as expensive as Aulani: Meals and park tickets can average $154 per day at Disneyland and $160 per day at Walt Disney World.
Even cheaper family vacation options
If your heart isn't set on Disney, there are cheaper ways to cruise. At Carnival Cruise Line, passengers spend, on average, $219 per person, per day, according to Carnival Corp. revenue and passenger data from its 2023 first-quarter earnings report. That's far lower than NerdWallet's estimated $293 daily spend for Disney cruises.
For folks seeking a Disney trip, specifically, there are other ways to take a Disney vacation on a budget. NerdWallet's calculations assumed theme park guests stayed at Disney owned-resorts, but plenty of other, cheaper hotels (often bookable on points) are within walking distance of Disney properties. And for visitors who still want to experience Disney without buying theme park tickets, there are plenty of free or cheap things to do at Disney World.
And as is the case with any type of trip, be flexible with your travel dates. Sometimes even shifting departure dates by a few days can result in hundreds of dollars in savings. Usually, traveling during the shoulder season or the offseason means even deeper discounts.
The article Looking for the Cheapest Weeklong Disney Vacation? Consider This originally appeared on NerdWallet.