Majority of Americans Prefer Transparent Vacation Rental Prices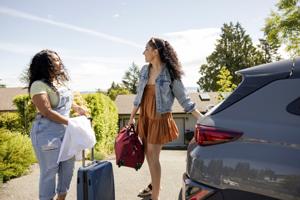 Share this article paywall-free.

Sally French

Hotels might charge extra for breakfast or amenities like bike rentals. Some force contentious resort fees upon travelers even if they don't use the amenities. But a fee to have your hotel room cleaned? That's practically unheard of.
But when it comes to vacation rentals booked through websites like Airbnb and Vrbo, cleaning fees are the norm. Those websites allow owners to decide whether to charge one and, if so, how much.
A 2022 NerdWallet analysis looked at 1,000 U.S. Airbnb reservations with check-in dates in 2022 or 2023 and found that 84% of listings had cleaning fees. The median cleaning fee per listing for a one-night stay was $75.
The practice of charging cleaning fees is controversial, even among Airbnb hosts. Some hosts say the fees cover the high cost of maintaining properties.
"Cleaning is between 25% and 30% of my fixed expenses each month," says Cameron Dunlap, who owns a vacation rental service called Aussie Man Rentals. "We don't have a huge in-house laundry service to get laundry done quickly, and we don't have the storage to have multiple sets of linens and towels available. And Airbnb encourages us to pay cleaning crews a living wage."
But other hosts say that cleaning fees lead to poor reviews and guest complaints. Some say that guests leave properties with cleaning fees in poor shape, adding that guests are more likely to treat properties without fees like their own home.
"If they pay a cleaning fee, they sometimes leave the place looking like it's been lived in and uncleaned for months," says Dennis Shirshikov, an Airbnb host who owns a rental property in upstate New York.
How do Americans prefer additional vacation rental fees?
A recent NerdWallet survey conducted online by The Harris Poll sought to understand how Americans feel about seeing additional fees at vacation rentals, such as cleaning fees, amenity fees, taxes and other surcharges. Of the Americans who intend to travel in 2023 and have ever looked at vacation rentals, 60% say they prefer to see one total price that includes all charges rather than a base price plus separate line items, like cleaning fees.
Meanwhile, 31% of 2023 travelers who have looked at vacation rentals prefer to see fees — like cleaning fees — broken out from the nightly rate (9% say they weren't sure how they prefer to see costs), according to the NerdWallet survey.
Vacation rental websites are taking new approaches to cleaning fees
In December 2022, Airbnb began rolling out a toggle option for travel bookers browsing the website, where they can opt to see the total listing price (aside from taxes) on Airbnb's map, filter and listing pages. NerdWallet reached out to Airbnb, and its press team would not share how many users have activated the toggle to display the final price.
The changes don't eliminate cleaning fees, but it does allow travelers to fairly compare listings based on the total price. Once guests get to the booking page, they're presented with a breakdown of line items.
Also late last year, Airbnb adjusted its search algorithm to rank listings by best total price rather than nightly rate alone. This change removes previous incentives for hosts to promote low nightly rates but high cleaning fees to improve visibility in the platform.
Similarly, Vrbo now lets customers choose to filter properties by nightly rate or by total price, the latter of which includes cleaning and service fees.
Why do vacation rentals charge cleaning fees?
If people don't like cleaning fees, then why charge them? Instead of advertising a vacation rental at $200 per night with a $50 cleaning fee, why not just list it as $250 per night, given that it's the same cost to the buyer?
The reasons vary depending on whom you ask.
Making prices fairer for longer stays
Cleaning fees are usually a one-time charge, and the cleaning costs are largely the same whether guests stay three nights or seven. Thus, a single cleaning fee could be a fairer representation of the actual cost versus charging higher overall nightly rates to guests who stay longer.
In fact, NerdWallet's 2022 study of Airbnb prices found that the nightly rate for a seven-night Airbnb stay averages 32% cheaper than the nightly rate for a one-night stay, largely due to the impact of cleaning fees.
Airbnb does allow hosts to set lower cleaning fees for short stays of only one or two nights (instead of the fee charged for all other stays), though it doesn't account for trips of other durations.
Attracting more customers
Then there's drip pricing, where hosts advertise only part of a product's price and reveal other charges later throughout the buying process. With a lower base rate, a traveler might discover a listing they wouldn't otherwise consider, particularly as hosts compete with listings nearby and try to catch the attention of travelers who sort potential listings by price.
Of course, those travelers end up owing more than they might have intended once they learn of the cleaning fee. And the practice of drip pricing might slow as travelers use features like total price display.
Looking for more avenues to profit
And then there's perhaps the most straightforward reason of them all. Some within the vacation rental industry suspect that hosts use cleaning fees as a mechanism to milk more profit. Some say the problem has grown more frequent at the dedicated vacation rentals run by property management companies, as opposed to the listings from individuals renting out a spare room in their own home — as was the initial spirit of Airbnb.
Julie McIlwain, who works as an independent contractor cleaning vacation rentals in Sonoma, California, said in an email to NerdWallet that the cleaners don't always see the full cleaning fee amount.
"If you're being charged a $200 cleaning fee, the cleaner may see $125 of that," she said.
While not necessarily true of all operations, McIlwain said she pays for expenses, such as cleaning supplies and gas between properties, out of her own pocket.
Allyson Ballou, who has worked cleaning rentals near Joshua Tree, California, for the past three years, says that there are some misaligned expectations on all sides about the costs of Airbnbs — both from guests seeking cheap stays and property owners seeking to maximize profits.
"Owners want everything to run smoothly without their involvement, and travelers don't want to pay cleaning fees or they think they're too high," she says. "But they still want impeccably clean rentals."
Erin El Issa contributed to this report.
This survey was conducted online within the United States by The Harris Poll on behalf of NerdWallet from Feb. 7-9, 2023, among 2,080 U.S. adults ages 18 and older, among whom 1,502 plan to vacation in 2023 and have looked at vacation rentals. The sampling precision of Harris online polls is measured by using a Bayesian credible interval. For this study, the sample data is accurate to within +/- 2.8 percentage points using a 95% confidence level. For complete survey methodology, including weighting variables and subgroup sample sizes, please contact Lauren Nash at lnash@nerdwallet.com.
The article Majority of Americans Prefer Transparent Vacation Rental Prices originally appeared on NerdWallet.