Meet the Japanese macaques of Jigokudani Monkey Park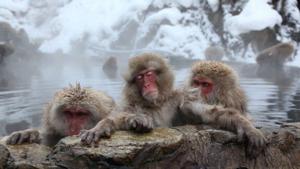 The Japanese macaques in Jigokudani Monkey Park begin most days with a relaxing dip in their own private hot tub.
Located in Joshinetsu Kogen National Park in Japan's Nagano prefecture, the primate-only onsen is world-famous as the preferred simian hot spring.
But life hasn't always been so simple for the snow monkeys of Jigokudani ("The Valley of Hell," named for its natural hot springs). They were initially forced from their habitat in the 1950s by the development of nearby ski resorts.
As a result, they moved into nearby towns and quickly found trouble, raiding fruit from local farmers' orchards. The farmers petitioned the government and were granted the right to hunt the macaques.
A Nagano Railway Company worker and local nature enthusiast, Sogo Hara was determined to protect the monkeys and worked for months to persuade troops to leave the creatures alone. Hara's strategy was to lure the monkeys into the mountains with apples.
His group soon discovered a nearby ryokan (a traditional Japanese inn). As is typical for ryokans, Korakukan's property included outdoor onsen for guests' enjoyment. One day in 1963, so the story goes, an errant apple fell into the human's onsen. A young monkey tested the steamy water and emerged with the apple. He didn't exit the waters immediately, though, and many of the monkeys looked on as their buddy quietly enjoyed the water.
It wasn't long before other young monkeys began mimicking the water-loving monkey's behavior.
Within months, all of the female monkeys had taken to bathing in the hot springs. While this behavior delighted human visitors, it created a clear hygiene issue for the inn.
This led to the establishment of the Jigokudani Monkey Park in 1964, thanks to the efforts of Hara. Today, this is where the snow monkeys live, freely soaking in their dedicated hot springs peacefully.
Damage resulting from Typhoon No. 19 had impacted the spring's water levels and temperature but restoration work is now underway and the park is open to tourists.
The Jigokudani Facebook page offers daily updates on the restoration work and presence of the monkeys.