Mexico's Magic Towns offer travelers wonderment, beauty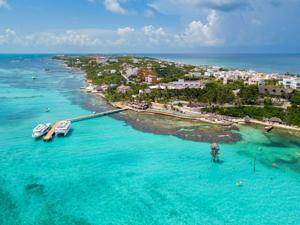 This is one of the most beautiful places in the Mexican Caribbean. It is ideal for those looking to have close contact with nature and relax with stunning ocean views.
Its coral reefs, located to the west of the island, are perfect for diving and snorkeling lovers who can admire extraordinary biodiversity, including the whale shark, which visits from November to February.
One of the most popular places for visitors is El Farito, Contoy Island, and the underwater sculptures of Manchones Reef, in addition to the area's cliffs where visitors can swim with dolphins, bike, and climb, among other activities. In addition, the local communities offer excellent cuisine with dishes made from fish and other seafood, such as the traditional Tikinxik, a fish baked underground or cooked on the grill, seasoned with achiote (ancient pigment), as well as the famous snail ceviche.
Other places that visitors should not miss are Garrafón (for diving and snorkeling), Hacienda Mundaca, the Mangroves of Santa Paula and the Maya Observatory, to name a few.