Remodeled in Paris: new life for abandoned buildings in the capital
AA huge Art Nouveau greenhouse rises above the Meudon forest, its facade is made entirely of glass. Inside, suspended from the ceiling, is a shiny, 21-metre-long inflatable airship that looks like it could burst through the façade's central circular glass at any moment.
The airship is a permanent artwork by Korean artist Lee Bul, designed to grab attention and signify a vast space: it is Hangar Y, the world's first hangar for the production of airships, built in 1878. Less than 10 miles southwest of Paris, he made airships and hot air balloons until the end of World War I. After a brief stint as an aeronautical museum, it was abandoned and vacant for 40 years.
Hangar Y is one of the many vacant or disused buildings in the Paris region that are being dusted, refurbished and given new life. Abandoned urban areas – or wasteland – turn into cultural centers for various purposes, exhibition areas, concert halls, workspaces, premises for charitable organizations and venues for popular club evenings.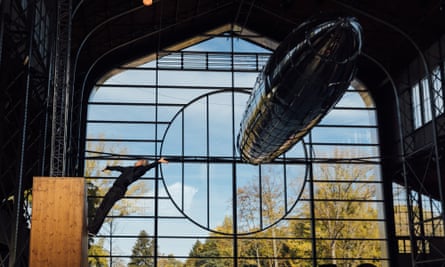 "Hangar Y is a wonderful place that is famous in the world of aeronautics," said general manager Aidin Halleman. "The idea is to create a site with the dual purpose of events and culture – and with such a huge space, we can host really big events."
In its heyday, three 100-meter airships could fit in an area of ​​2,800 square meters.hangar. When it opens in March, exhibitions will take place on the expansive mezzanine floor, while the rest of the space will be used for concerts, conferences and virtual reality that tells the story of the building. The first exhibition will focus on the history of aeronautics, with art provided by the Tate Gallery and private collectors such as Henri Seydoux (father of actress Léa Seydoux, who is a connoisseur of aviation memorabilia). The large sculpture park, curving around the lake outside, will feature special installations and immersive sound effects with work from international artists including Subodh Gupta, Olafur Eliasson and Kiki Smith.
Repairing and reusing existing buildings is nothing new, but in the last few years wasteland have become popular hangouts for Parisians: famous party places playful chance And ground control both were opened in former railroad premises; 6b, an old office building in the northern suburb of Saint-Denis that houses artists' studios as well as entertainment venues. A wasteland in nearby Epinay-sur-Seine, it looks like it will be the new party spot this summer: Flash is run by event organizer Soukmachines, known for its massive raucous parties and transformation wasteland around Paris. It is transforming the abandoned premises of veteran French film company Éclair into what Soukmachines founder Yoann-Till Dimet calls a "giant event hybrid space" to open in June 2023.
The place of "Eclair" in the history of French cinema is hard to overestimate: most French films of the 20sth the century probably passed through its laboratories at some point, and its cameras were favored by directors, including Jean-Luc Godard. The offices are a labyrinth of small windowless studios and movie theaters that were once used for scoring, developing and restoring films. Their soundproof cladding will come in handy when Soukmachines turns the building into studios for dancers, theater groups, musicians and designers.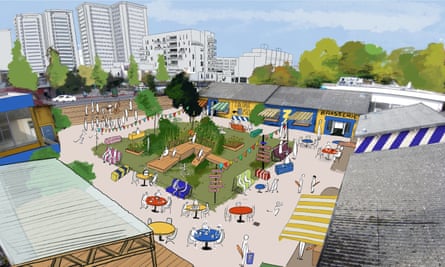 "That's why we're called Souk – but instead of market vendors, we have artists," Dimet said as we toured the site, indicating where they plan to set up a concert hall, dance floor, bar and theater. "I think that many tourists would like to see the city from a different perspective, places that are more unconventional. When we come to Paris, we see the Eiffel Tower, Notre Dame, the Louvre. But it's good to leave historic Paris and go where Parisians go."
In a bustling capital where space is at a premium, governments have supported projects to revive abandoned spaces. National urban planning agency Cerema has even begun tracking vacant lots with a crowdsourced map. French friesto encourage collectives to take advantage of empty property.
There are clear benefits for property owners: a vacant building is renovated and they can even earn rent from it.
"It's more interesting and more financially beneficial than hiring a security company to keep squatters out," said Victor Wion of city ​​tray cooperative that recently occupied the former campus of the Sensieur Sorbonne in the center of Paris with its new project transfer. Plateau Urbain is renting space to student societies, local charities and artists at prices 60% below market value and will refurbish the dilapidated building for social projects.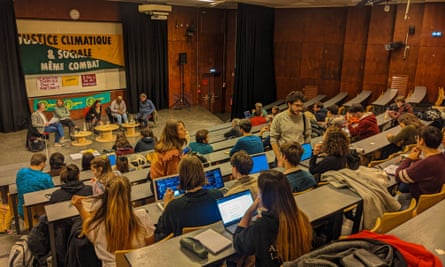 In one former classroom, the student association set up a food bank for students. Sacks of potatoes are piled along one of the walls next to crates of fruit and vegetables waiting to be sorted into grocery baskets. Nearby, a resounding hall that used to be a library could be used as a food market, an exhibition hall for local artists, or even become a weekend disco.
"Tourists will find a creative program here that is different from what you find in other major cultural centers," said Angèle de Lambertri, Development Director of the Urbain Plateau.
"It's important that the city center has more than just commercial space," added Jeanne Yianopoulos of Yes We Camp, an urban company that works with Urbain Plateau. She wants this space to be environmentally friendly, so that visitors can spend time there without buying anything: "We are trying to develop a tourism that is less passive, less consumption-oriented. We want visitors to see that Paris is at the forefront of climate change."
In the old university halls, a rustic atmosphere already reigns, artists and workers come here every day. It will officially open to the public in late spring, becoming yet another addition to the Parisian masonry of eateries and a perfect example – in a densely populated city – of how unused urban areas can be transformed into spaces that serve the community.