Should the COVID-19 vaccine figure into the future of flying?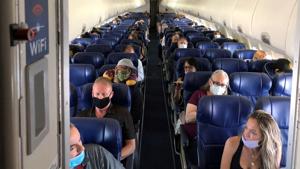 The vaccine for COVID-19 might be the beginning of the end of the pandemic, but for airlines, it's the beginning of the discussion about how and whether a vaccine will factor into the future of flying.
The discussion gained momentum after Alan Joyce, chief executive of Qantas Airways, said in November that the Australian airline will require passengers for international flights to receive the COVID-19 vaccine.
"Whether you'll need that domestically, we'll have to see what happens with COVID-19 and the market, but certainly for international visitors coming out and people leaving the country, we think that's a necessity," Joyce said, according to CBS News.
Soon after his remark, this turned up on the Qantas website: "While the Australian Government strongly supports immunisation and will run a strong campaign to encourage vaccination, it is not mandatory, and individuals may choose not to vaccinate. There may, however, be circumstances where the Australian Government and other governments may introduce border entry or re-entry requirements that are conditional on proof of vaccination.
"It's likely that other countries — and possibly airlines— will require vaccination against Covid-19 before allowing entry. This already happens with yellow fever and polio in some parts of the world."
Perhaps Joyce overreached, but other airlines could back that play.
The questions become these: Could U.S. airlines require a vaccine? Would the airlines do that? How would they do that? Should the public just submit and hang the ramifications?
The answer to each of those questions: a definite maybe.
Here are factors to consider as the vaccine begins its rollout.