The 'Airbnbust' Was a Mirage
Share this article paywall-free.

Sam Kemmis

All it took was a single tweet.
In October 2022, a Twitter user posted a screenshot of Airbnb hosts fretting over rising vacancies, dubbing it the "Airbnbust."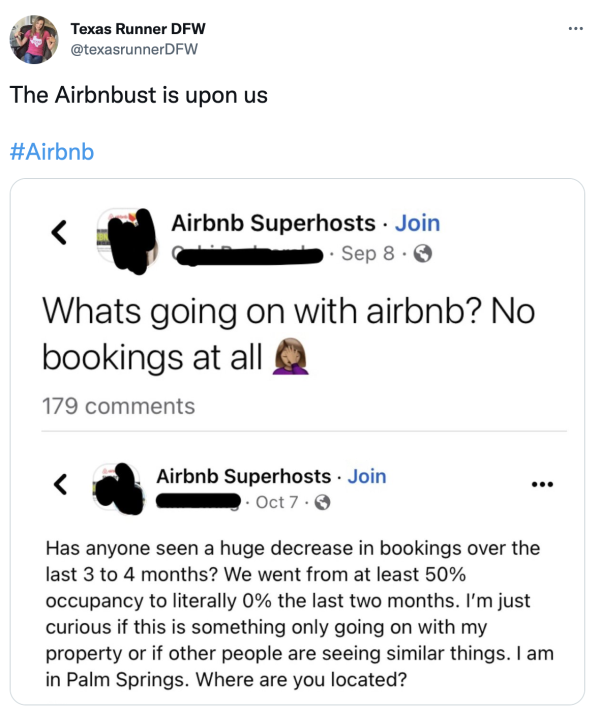 This set off a sky-is-falling panic among short-term rental hosts and pundits. The vacation rental bubble was finally popping, it seemed. There was just one problem: It … wasn't.
Occupancy was dropping a bit because so many new properties were being added to Airbnb and other platforms, but demand for vacation rentals remained strong and continues to rise.
"The idea that the short-term rental industry is seeing any kind of demand bust is laughable," says Jamie Lane, vice president of research at vacation rental analytics company AirDNA.
An April 2023 report by KeyData, a short-term rental business intelligence provider, shows that the number of bookings made on Airbnb and Vrbo in the U.S. increased by 11% in the first quarter of 2023 compared with the same quarter in 2022. Revenue increased by a whopping $1.2 billion over the same period.
The Airbnbust was never upon us — if anything, we're in an "Airbnboom."
More rentals, higher demand
It wasn't just a single Twitter user who was worried last year, though. The "Airbnbust" idea gained so much traction, even data-minded pros were getting nervous as occupancy rates began to fall.
"Last fall, I was really concerned about an Airbnbust," says Melanie Brown, executive director of data insights at KeyData, noting that the number of new properties entering the market threatened to potentially flood it. "Supply growth was so high that occupancy started falling. This fall was quite concerning, given the economic situation."
AirDNA data from March 2023 shows that the number of available listings in the U.S. increased 26% in February compared with the same period a year earlier. This has knocked occupancy levels down, as travelers have more options. Yet occupancy rates remain above pre-pandemic levels, according to AirDNA.
"A lot of new hosts were reacting to seasonality trends in the market that they weren't aware of," explains Lane. "Yes, occupancies are coming down, as the industry expected. But we're still at high occupancy overall."
So more listings did drive down occupancy, but not nearly as much as feared, because of surging demand from travelers. Maybe it was more of an "Airbnblip."
Shifting trends
According to Brown, one trend Airbnb hosts could have overlooked as they squirmed over falling occupancy is that travelers are booking later. This shift toward delayed bookings means two things: Guests have more options, and hosts won't see their calendars fill up until the final weeks.
"If you're not booked three weeks out right now, do you panic and drop your rates?" asks Brown. "Or do you trust that last-minute travelers will book your property?"
And it's not just when travelers book vacation rentals, but where. KeyData further shows that vacation rental management companies, which tend to be clustered in leisure destinations such as beach and ski towns, saw a 13% decrease in revenue per property across vacation rental platforms in the first quarter of 2023 compared with the same time last year.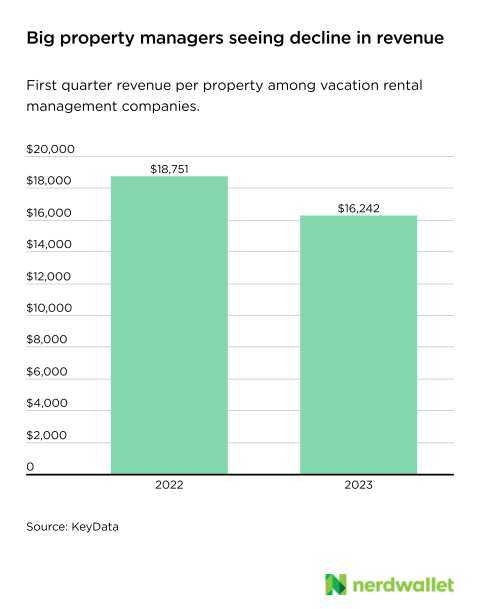 However, this first quarter drop is relative: Per-property revenue remains 40% above 2019 levels. Hosts are still earning more overall than they were before the pandemic.
"A lot of the leisure markets that saw such an explosion in 2020, 2021 and 2022, they're seeing demand going down," Brown says. "People are going back to cities."
So, for a vacation rental host who listed a property in a beach town in 2021, these shifting trends might make it seem like a troubling change. But really what's happening is a return to pre-pandemic travel trends, as travelers ditch rural leisure destinations in favor of cities.
But "Airbnbbacktonormal" doesn't roll off the tongue.
For whom the bust tolls
Whether the short-term rental bubble is bursting depends on who you ask. From a traveler's perspective, there has never been more appetite for Airbnb and its alternatives. Demand continues to surge, showing no signs of slowing down despite macroeconomic jitters.
For hosts, the story is more nuanced. Yes, occupancy is dropping somewhat because so many new properties have been added to platforms like Airbnb and Vrbo. This is especially true in those regions that received floods of tourists during the pandemic. But what's happening is a slow return to normal travel patterns, not a catastrophe.
And what about Airbnb, the company? It posted its best fourth quarter ever in 2022, and it saw revenue jump 24% year over year — hardly a bust.
"If you own Airbnb stock, this looks great," says Brown. "There are more properties, there is more demand. If you own a short-term rental property, though, you're feeling a return to more normal occupancy rates."
The article The 'Airbnbust' Was a Mirage originally appeared on NerdWallet.