The influencer applauded for refusing to switch seats so the family could sit together on the flight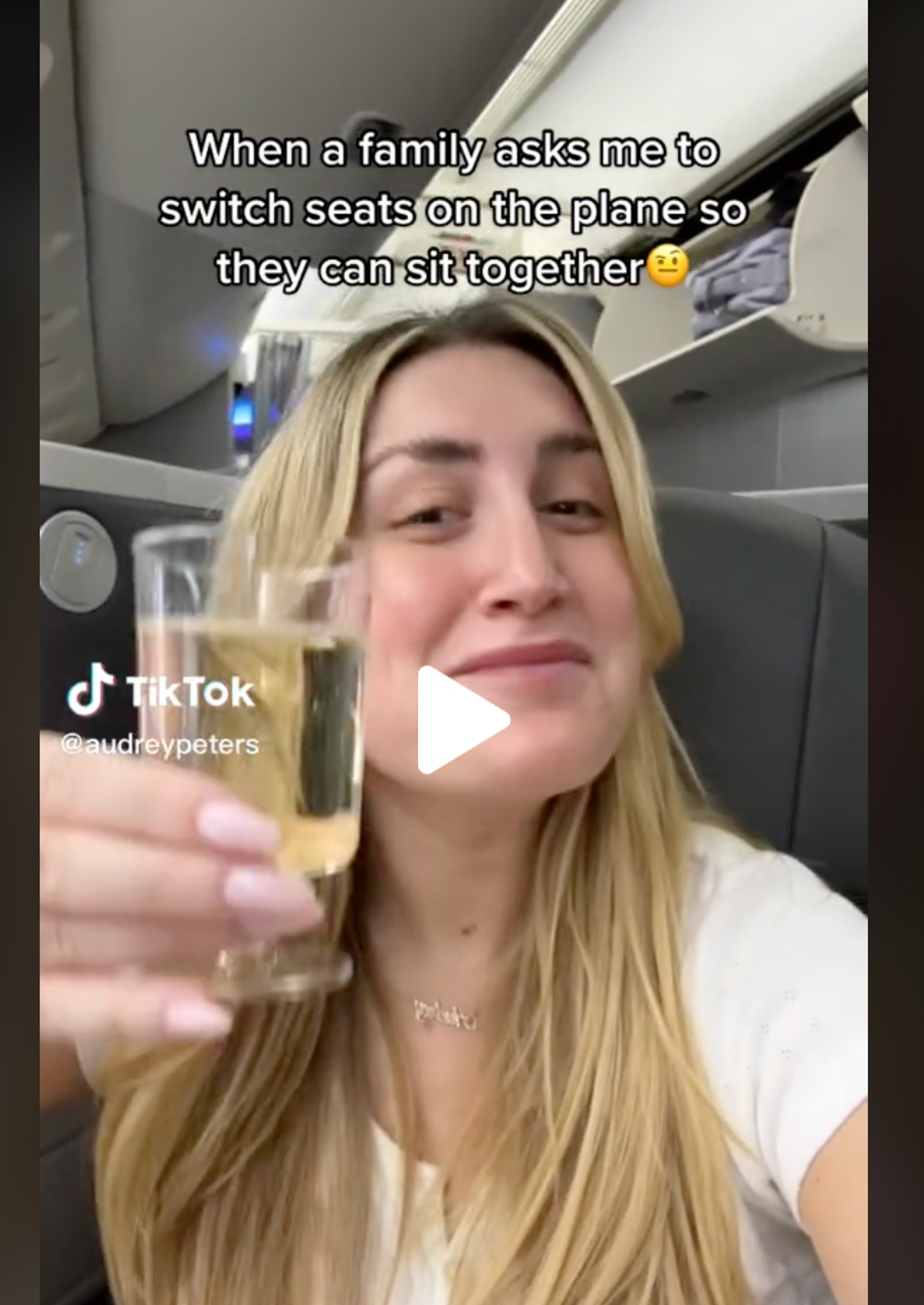 The influencer was applauded for refusing to switch seats on the plane so the family could sit together.
In a TikTok post that has over 900,000 views, Audrey Peters raises a toast to the camera with a glass of fizz.
The caption "when the family asks me to switch seats on the plane so they can sit together" followed by a raised eyebrow emoji is written throughout the video.
A background sound is heard playing the expletives "Fuck them kids and you too" as a clear statement of defiance of the request.
The caption for the post reads: "No I won't change to a middle seat, book your flights earlier babes," highlighting that Ms. Peters was unimpressed by being asked to change to a less comfortable seat on the plane.
American social media influencer Ms. Peters appeared to be traveling to France for Paris Fashion Week in first class at the time of filming the video.
Netizens were quick to comment, and many applauded Ms. Peters for taking the stand.
"As a mom, I totally agree! It's okay if your new place is better than the one you paid for!" — wrote one of them.
"I'm a mom too and I agree 100%!" another parent said, adding, "I'm booking early so everyone can get together or we'll take another flight. Enjoy these champions!"
Meanwhile, others say passengers should plan ahead to get the seats they want.
"I'm so sick of people who think it's okay to get in the way of someone for lack of planning," one person wrote, while another asked, "Don't they understand that you planned ahead and chose this place?" .
Another user countered that families don't always have to sit together. "My parents intentionally booked my whole family separately so we couldn't fight," they said.
After one person pointed out that sometimes people get separated through no fault of their own, Ms. Peters replied: "This is the exception!! I totally understand when an airline is cheating on you."