Things to do in Rarotonga – for active relaxers!
Have you got an "active relaxer" in your life? Or maybe it's you!
I've just returned from a wonderful week in Rarotonga, hosting 15 ladies on one of my "Blogger at Large Tours" and found plenty of things to do for everyone from those who like to flop by the pool to those who were off from morning till night.
The Cook Islands (of which Rarotonga is one of 15 islands) is a fantastic fly and flop destination for relaxing on the beach or beside a pool, drinking cocktails with umbrellas in and reading endless books.
It also has the best food scene in the South Pacific, if you ask me. And they're all really easy to get to.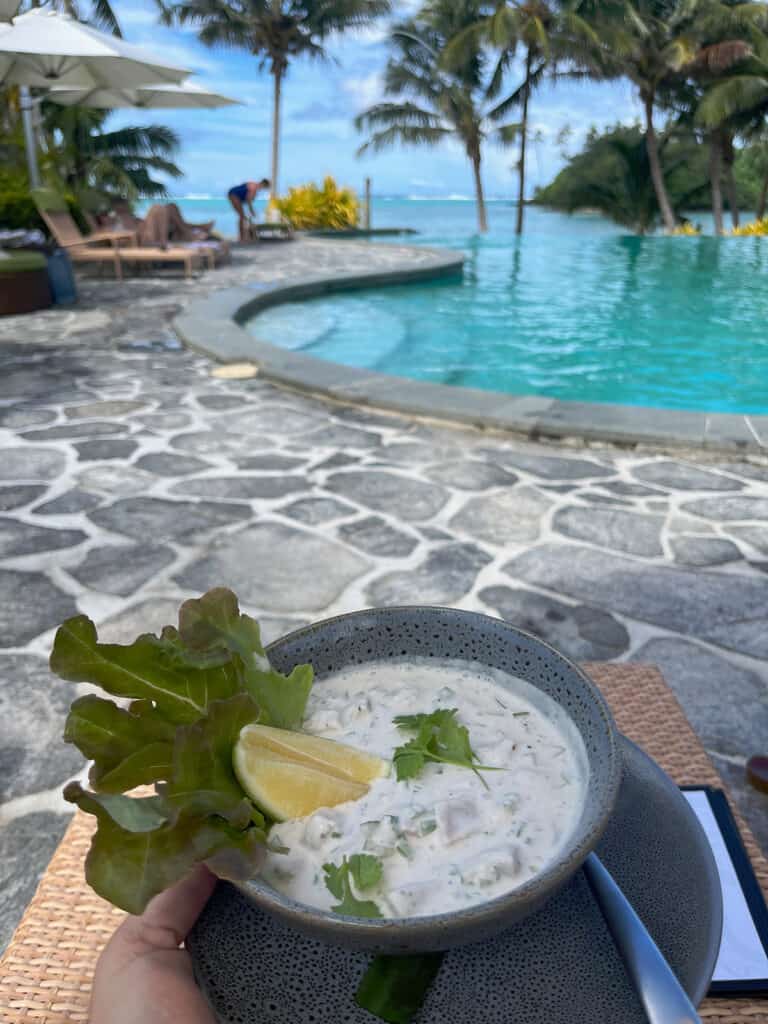 But it's also a very cool destination for active relaxers. The reason is, it's so easy to get around to a plethora of great water and land activities. There's shopping and loads of places to eat (more than you could get through in a month).
I was here last year too and wrote this post on all the things to know before you go to Rarotonga.
This post covers our 7-day itinerary in Rarotonga. Not everyone did everything, of course, but it'll give you some great ideas for things to and on which days to do them as things like markets and food trucks and church are only on certain days.
*This post contains affiliate links. That means if you make a purchase I may make a small commission at no extra cost to you.
Day 1 Friday
If you're coming from New Zealand or Australia, you'll depart Saturday and arrive Friday. We actually left the day after my birthday and arrived on my birthday. So what's a girl to do but organise an epic cake, made locally by Sweet Sensations, and delivered to our hotel?!
Turned out there were four birthdays among my group while we were there, and two more within cooee, so we hooked into this gorgeous vanilla and berry cake for dessert at our hotel on day one.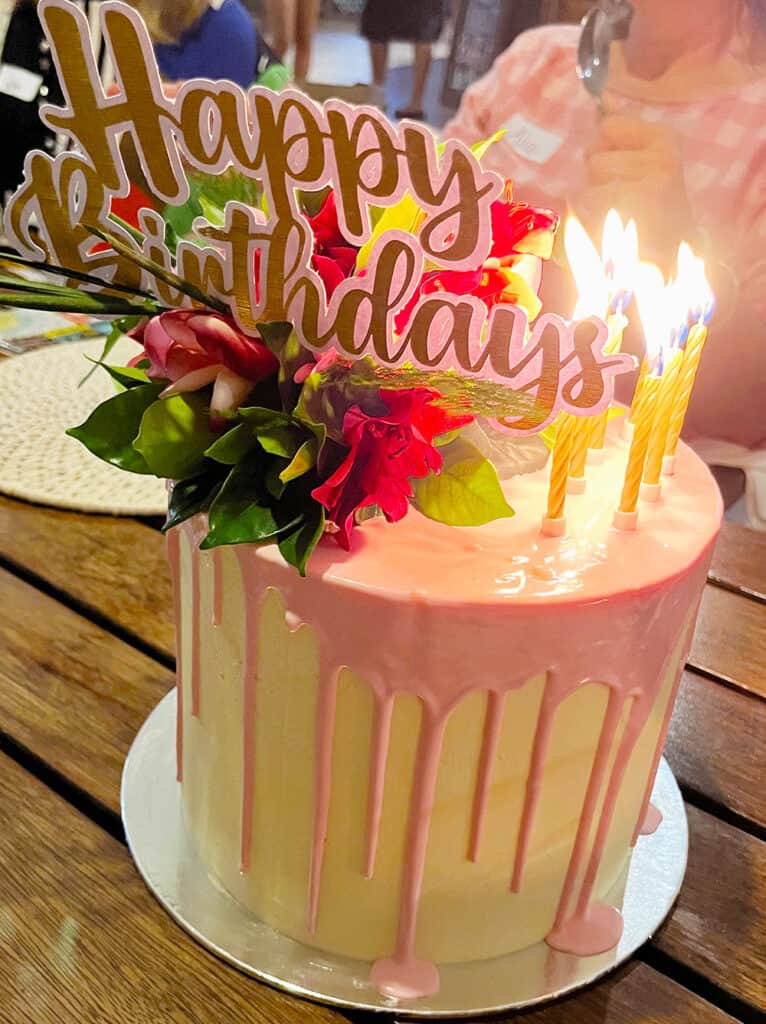 We stayed at Sunset Resort in the village of Arorangi, about a 10-minute drive into the main township of Avarua.
We had arrived mid afternoon so just spent the rest of the day checking out the resort (yes, I'd stay here again). Dinner was booked for 6.30pm (oh the tuna steak!) so we officially met up at 5.30 for a cocktail by the pool for a meet and greet first.
Note: they don't have Daylight Savings in the Cook Islands and the sun sets by 7pm.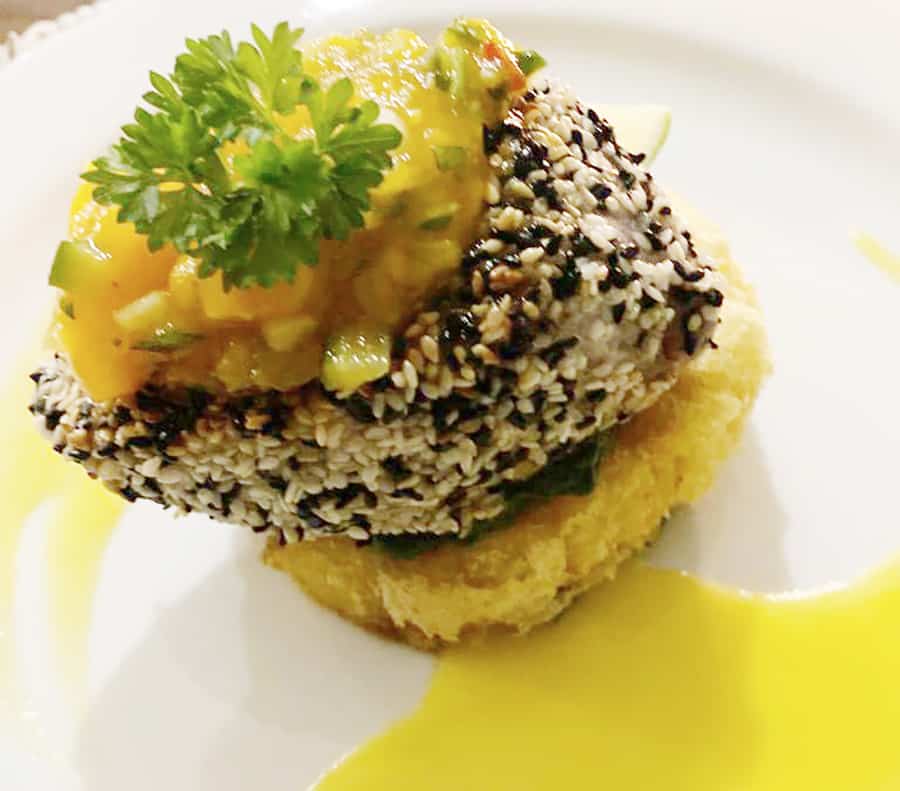 Day 2 Saturday
Morning: Punanga Nui Market 8.30am – 12.30pm
This market will be one of the highlights of your stay. It is located in the main town (Avarua) and only open on Saturdays – even when cruise ships come in on week days they don't open. You'll find they're just not that into commercialism here. The Cook Islands people are relaxed, friendly and love visitors.
Come hungry and bring cash (NZD). You'll find fresh fruit smoothies, coconuts, fruit. You can line up at the food trucks for various sizzled tastes and there are a few more permanent cafes here in little wooden huts serving brekky and lunches.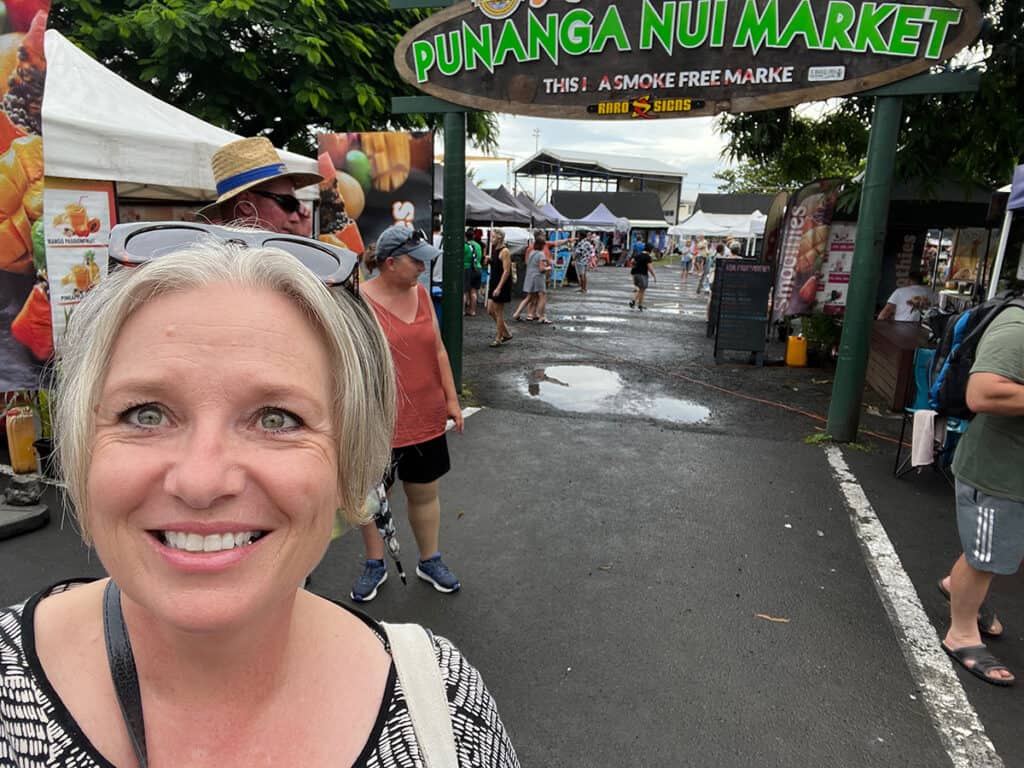 Bring spending money to buy colourful pareo (sarongs), sun dresses, T-shirts and beach wear. Handmade jewellery, shells and pearls. You'll also find ukelele for sale and enjoy some music from the guys who make them.
The rest of the day was swimming, sunning and reading by the pool – for some. The others picked up e-bikes.
Rent e-bikes
We used Tik-e-tours to rent bikes for five days. They were $45 per day and came with a helmet and padlock, plus the charger. They offer a fun cocktail tour by tuk tuk. You pay $65pp and are driven to three resorts near your hotel over three hours. Drinks are extra.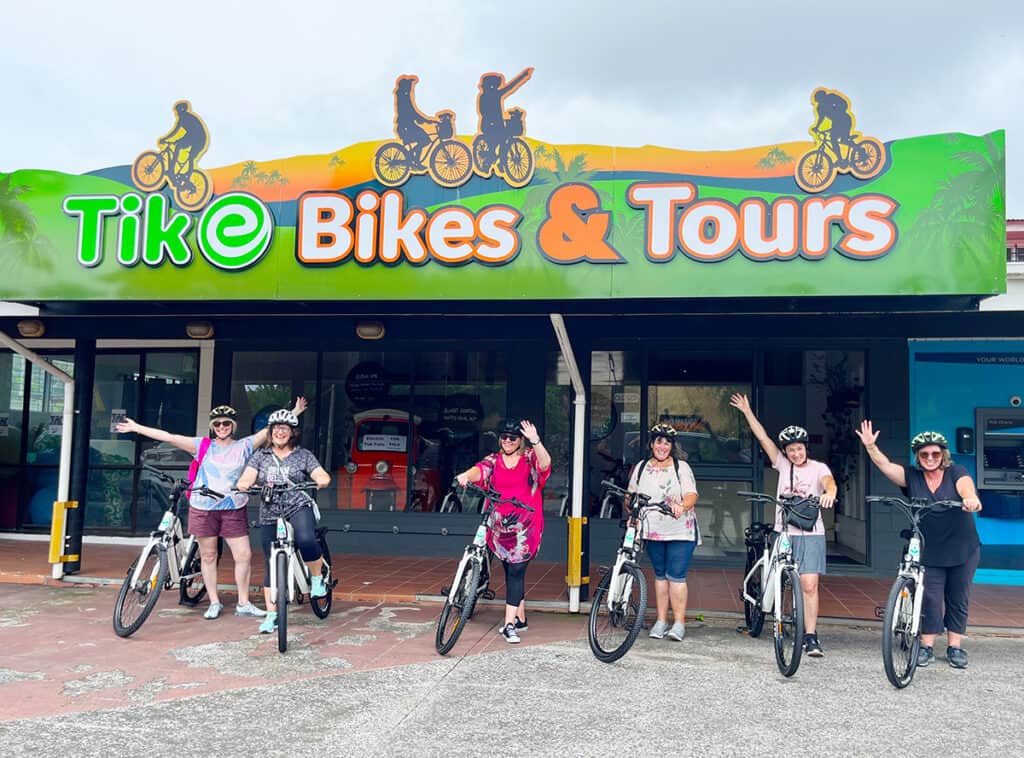 Late afternoon: Trader Jacks for dinner
As sunset is before 7, you'll want to be thinking about your final eating/drinking resting place by 5pm. Six at the latest if you don't want to be disappointed. We had booked a table at 6pm at Trader Jacks, because dropping by with 16 people isn't going to yield great results!
Trader Jacks is an institution in Rarotonga. There won't be a person who's ever visited Rarotonga who hasn't heard of it – and most have eaten here. They serve great food right on the water's edge.
Over the years Trader Jacks has been flooded out in various weather events, so these days (since they can no longer get insurance for these events) they remove all the glass doors and windows, roll the kitchen away to somewhere safer, and let the weather have its way. Then once mother nature has swept through, Jack's mates all come and put it back together.
Sadly Jack passed away in the last couple of years and his wife now has the place on the market. An awesome business opportunity for someone ready to embrace a new life in hospo Cook Islands style!
Day 3 Sunday
The Cook Island people are deeply religious and the best thing you can do is head to one of the many churches all around the island. The singing will make the hairs on your arms stand up and bring tears to your eyes.
Morning : go to church
We were staying in Ararongi and our nearest Christian church was CICC (Cook Islands Christian Church). The resort had a van come to pick up anyone who was going at about 9.45am, but as I had a car, we followed along and parked under a tree on the lawn alongside our fellow parishioners.
Families in their Sunday best filed into the large hall with its side doors wide open and ceiling fans on. The ladies wore hats, but the only request for us was to have our shoulders and knees covered. The altar was adorned in white lace cloths and beautiful ginger plants.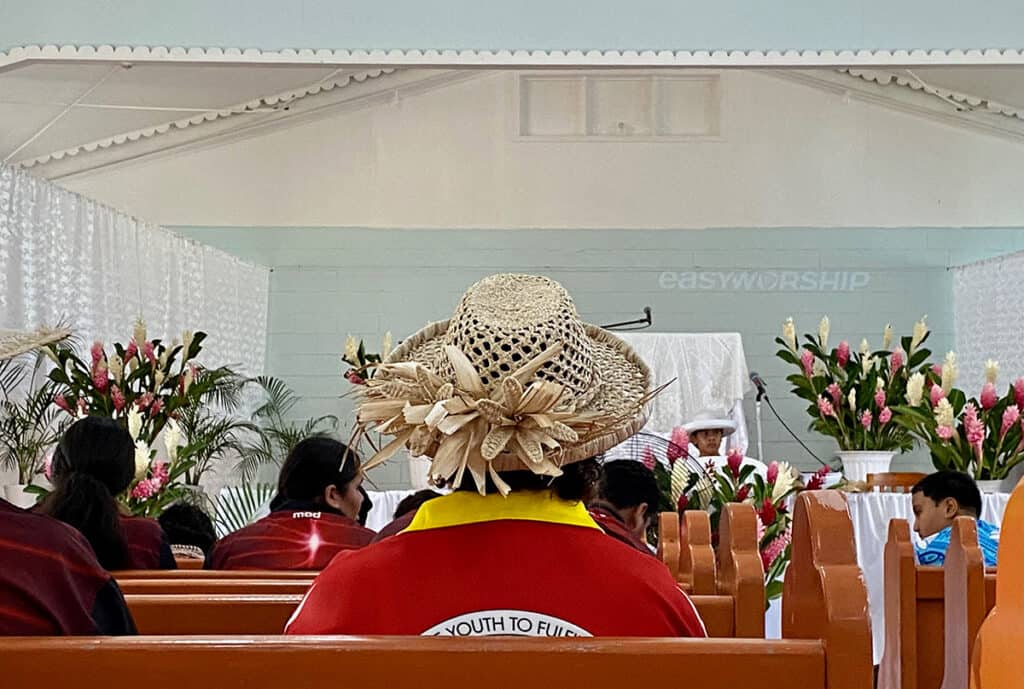 We were shown into a wooden pew about half way down the aisle, which seats four comfortably. Bring your flax fan you bought at the market as it's hot in here.
After a short welcome, in Cook Islands Maori, and a translation into English, the singing started. This is what I'd come for! Our mouths dropped open as the ladies began a song and the men joined in. It was loud and celebratory and no musical instruments at all.
Everything is pretty much closed in Rarotonga on Sundays. Even tours don't go out and in fact it's illegal to snorkel with the turtles (on a commercial tour) on Sundays, as they're very conscious about giving the sea life and reefs a break. The buses also don't run on Sundays and shops are closed.
Afternoon at Nautilus Resort & Spa
So I had arranged for us to spend the afternoon at the Nautilus Resort and Spa on Muri Beach. It's about 20 minutes away by car/bus from Sunset Resort, so I set off ahead of the group as a couple of my ladies had booked spa treatments.
They allowed us to use their pool for the afternoon, so we settled in with books, ordered cocktails, swam and had turns in the spa.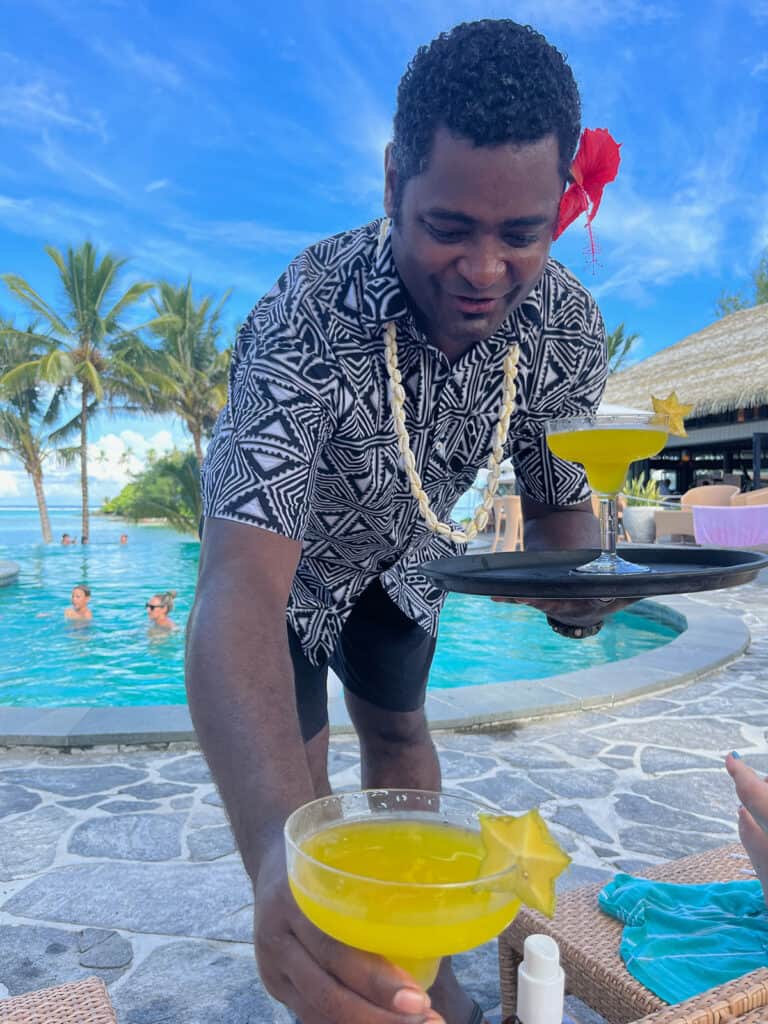 Dinner at Muri Night Market
On Tuesdays, Wednesdays, Thursdays and Sundays from 5pm, this open air market is filled with food trucks and pop up tents serving everything from BBQ skewers to fried rice, burgers, seafood, curry and fruit smoothies and ice creams.
Come early. Like before 5.30, lest the food you were salivating for is sold out.
It's located about 500m from the Nautilus, so our day ended with a stroll along the beach and a left turn at Tama's Lagoon Tours, up to the road side.
Tables and chairs are gathered in the middle, and there is some cover for potential rain. Expect to spend $20-$30.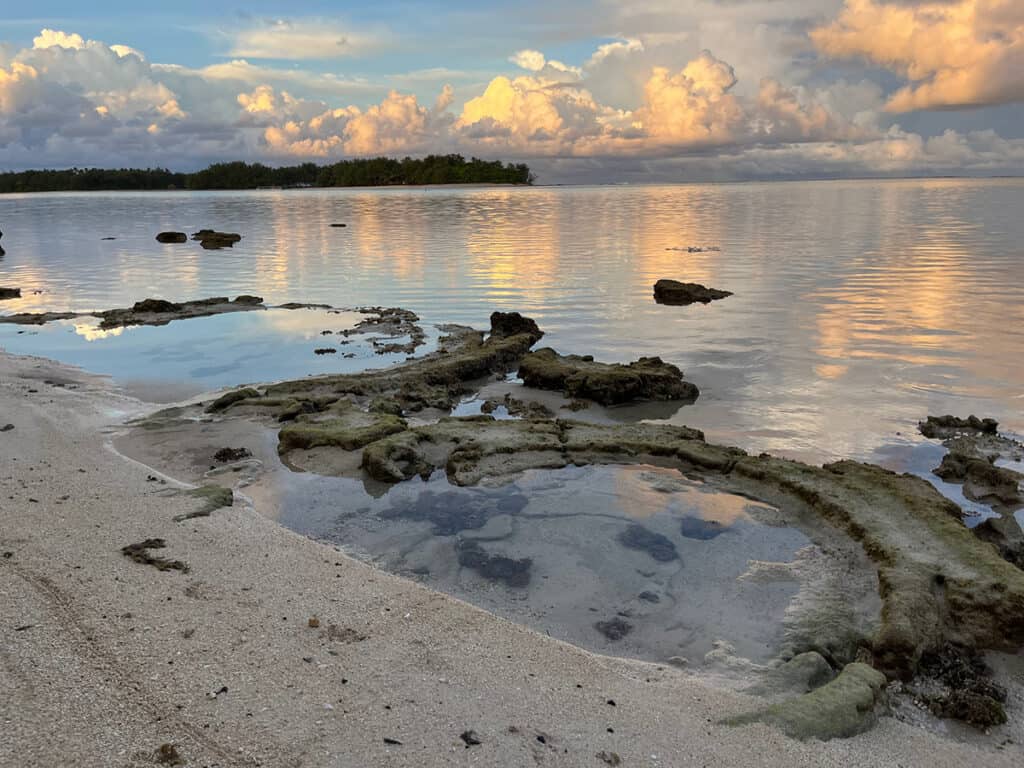 Day 4 Monday
Morning
Jump on your bikes and head off for some snorkelling. It's a good idea to bring your own kit if you have it, but you can find great snorkelling in front of the Rarotongan Beach Resort and they rent the gear from their activities desk.
If you have your own though, you can hop in and out wherever you like. In the other direction from our resort is Black Rock and that is also a good spot for seeing lots of fish.
Be very careful of rips and the reef. Do not get sucked out! You will see signs where beaches are particularly dangerous, but pretty much, as long as you stay in close and not head way out to the breaking waves (especially if you don't have a sea scooter), you'll be fine.
Tip: wear reef-safe sunscreen. Some places (like Hawaii) have banned sunscreens that are not reef safe as they damage the coral and effect sea life.
Lagoon cruise and lunch
For a fun few hours, take a glass-bottom boat cruise on Muri Lagoon with Captain Tama's Lagoon Cruizes. They have a couple of boats, lots of fun and you can snorkel and swim while you're out there. They also serve a BBQ lunch on the little island in the middle of the lagoon.
Most of my group did this tour and they all raved about it. There was singing and laughing and a sarong tying demonstration with one my guests as model!
Dinner at OTB, Manuia
OTB (On The Beach) Bar and Restaurant is the restaurant at Manuia Resort. It is literally on the beach and you should plan to get here for a sunset drink on the sand before taking your seat in the restaurant.
I had heard great things about OTB, but I'm not sure if it was our group size, or they were having an off night, but those who ordered the pork belly could barely saw their knives through it.
There is a $69 three-course meal deal and you can choose any dish you like from their menu. But you need to be hungry! It works out that one course will be free, based on the average price of mains and starters or desserts. Maybe just don't order pork belly!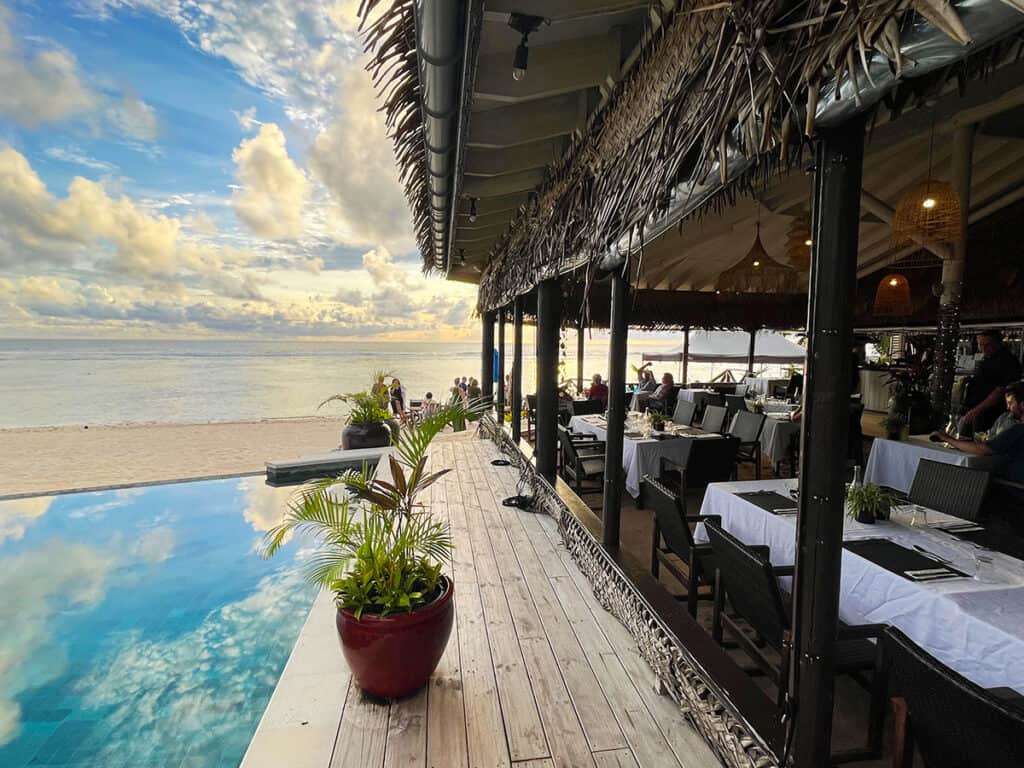 Day 5 Tuesday
I love to bring gifts when I travel to the Pacific, especially. But this time I wanted to make sure they were things that would be useful. So I made contact with the principal of a local school near our resort to see if they had any requests.
Annie is the principal at Arorangi School and she and her staff of 12 were super thrilled with our gifts of books, certificates, coloured paper, pens, pencils and even some clothing and small gifts like balls and stickers. In fact so thrilled were they, that they invited us to share morning tea of fresh home baking and sandwiches after we had a fabulous morning as the children sang some songs for us.
If you'd like to get in touch with a local school directly, I have a list of principals and gift ideas for Rarotonga in this post.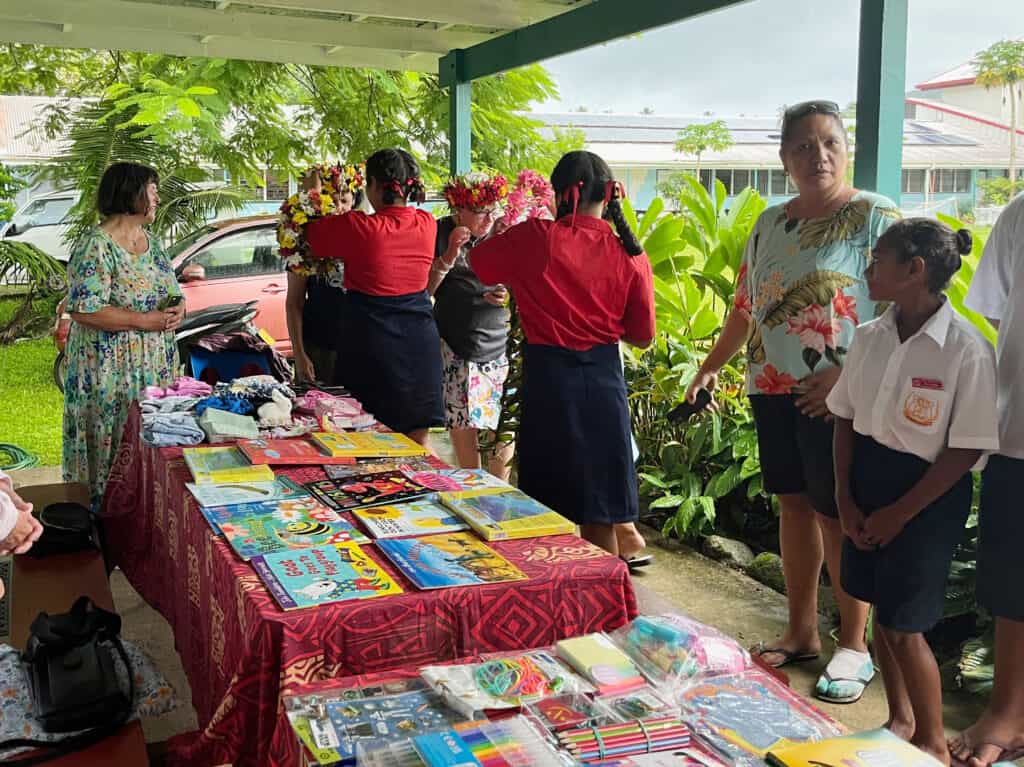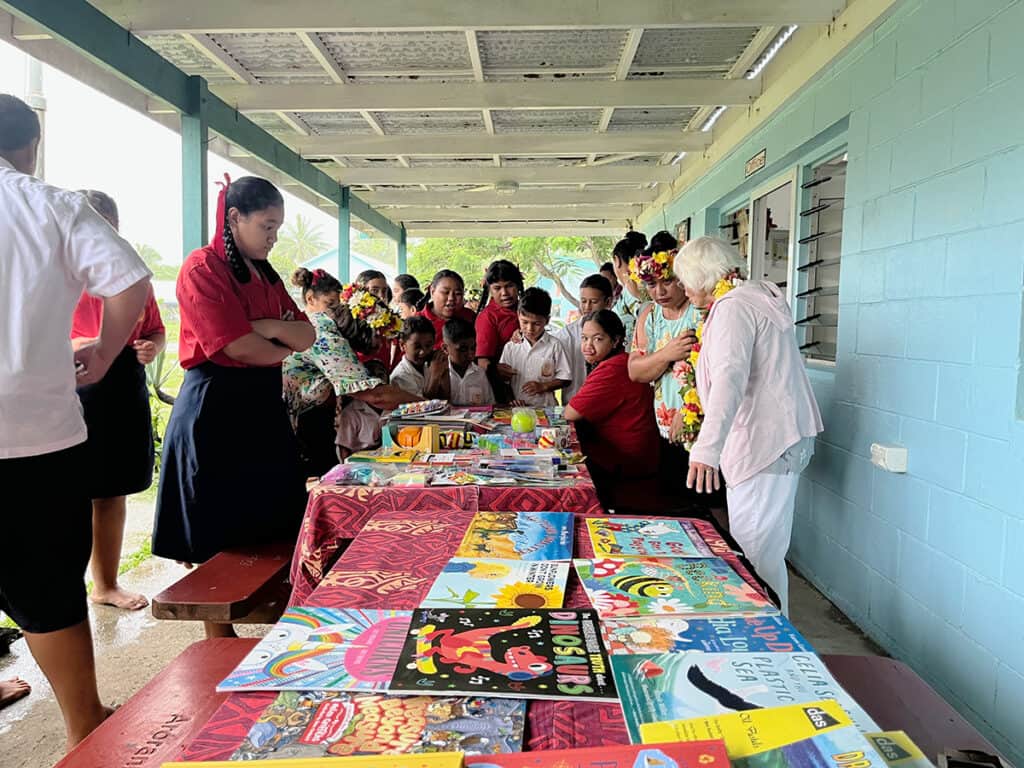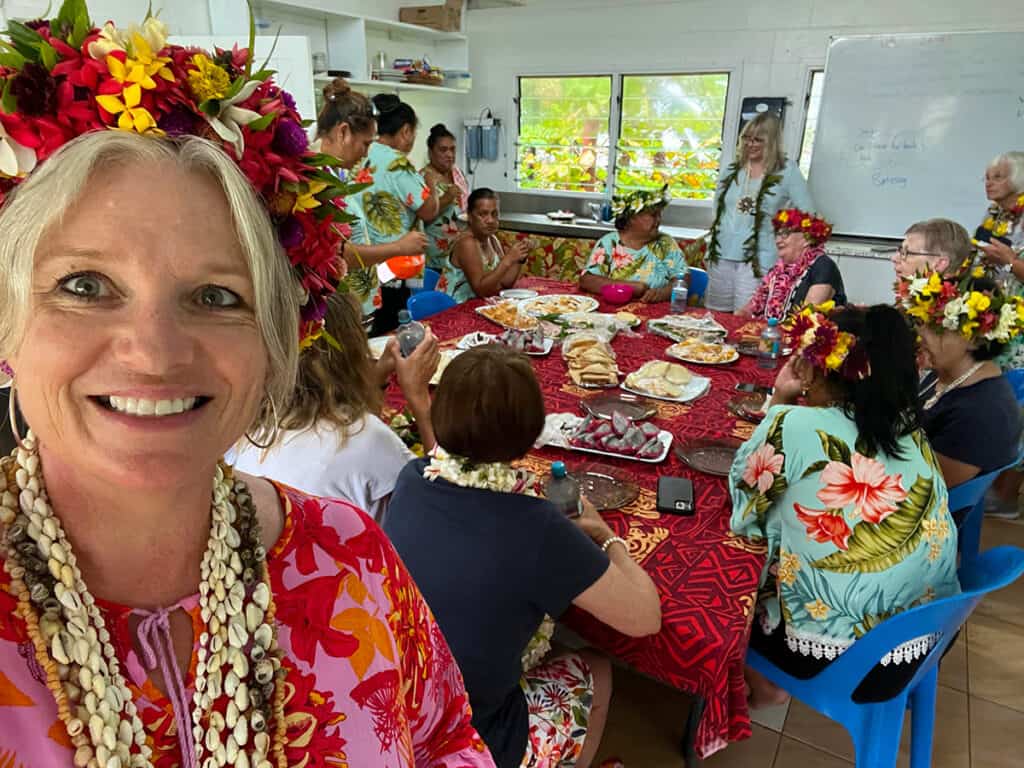 Te Vara Nui Cultural Show and Dinner
This was a great show! The weather wasn't being kind at Te Vara Nui Village, but all the diners sat in the open sided restaurant while the performers were on the stage in the middle of a lake filled with water lilies. There was fire dancing and hip wiggling and a passionate story of the chief sending his daughter off to be married.
The buffet dinner was really good too, and I don't usually have great expectations when it comes to buffet. But it was delicious, plentiful and I thoroughly recommend this evening event.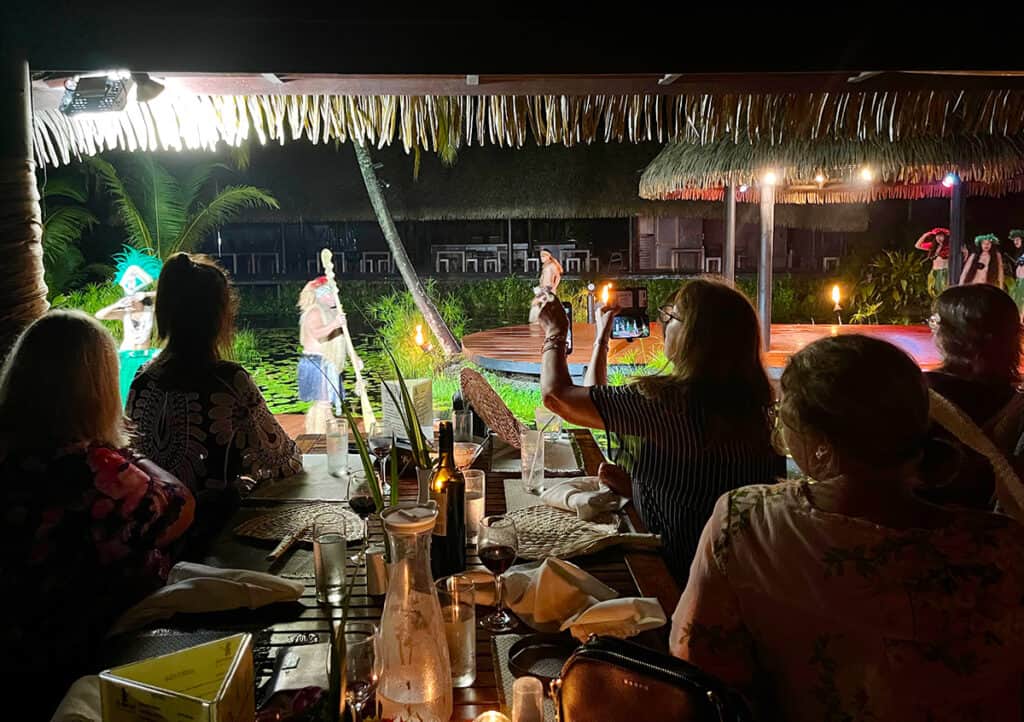 Day 6 Wednesday
Aitutaki Day Trip
If you haven't been to the island of Aitutaki, about a 45-minute flight away, then this organised day trip is a great way to get a quick taste. You'll be picked up from your hotel, flown to Aitutaki where you'll have a tour of the island and learn all about it. Then off you'll go on a large boat in the lagoon to do some snorkelling and visit some of the little islands within the lagoon.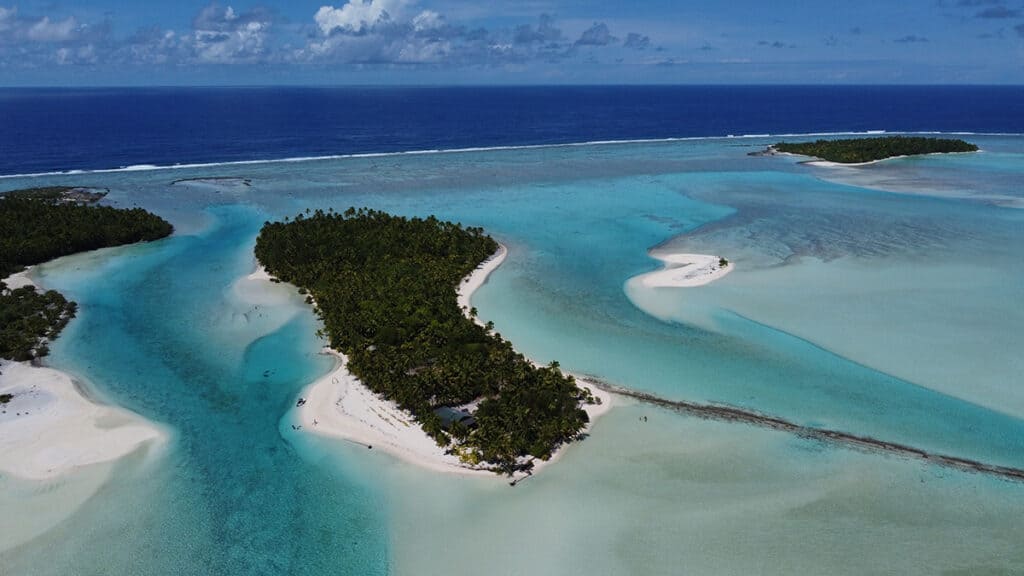 Bring your passport if you want it to be stamped at One Foot Island, but other than that you don't need to take anything to the airport at all. Then you'll have a delicious BBQ lunch with lots of fresh seafood and local delights and be back in Rarotonga about 5.30pm.
I stayed two nights last time I came to Rarotonga. You can read my Aitutaki post and see my pics here!
Deep Sea Fishing Trip
If you're not going to Aitutaki, how about a fishing trip beyond the reef? The good thing about deep sea fishing in Rarotonga is you don't have to go far to find yellow fin tuna, mahi mahi and wahoo. A couple of ladies on my tour did this, so I zoomed them down to the wharf for 8am where they were joined by two blokes and the skipper on a little tin boat.
Here's a tip, when you book ask how many people they have as that determines which size boat they take out. This one was their smallest and they had no cover from sun and no where to sit. For four hours! Mind you, when my cousin hauled in a 70kg tuna it was all worth it!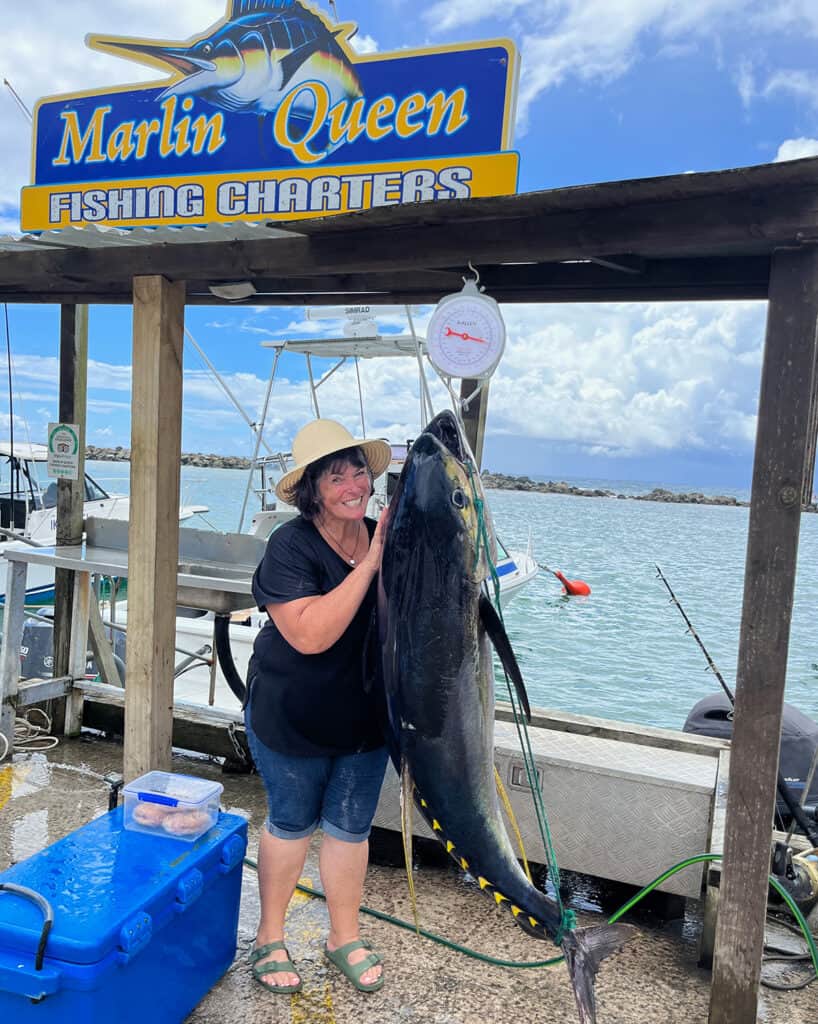 Another thing to know is the boat catches the fish. I mean that literally. You're not holding the rods at all, just trawling around until they zzzzzing! Then whosever turn it is starts winding in.
On this trip the mighty tuna and a wahoo were caught. The fish was cut up at the wharf and all four went home with some. Plus a restaurateur drove up and bought a quarter of it for that night from the boat owner.
We took ours back to the Sunset and chef cooked it up for us to have with a beer for a late lunch. Then we took the rest to another restaurant where they had time to sashimi it for our entire group.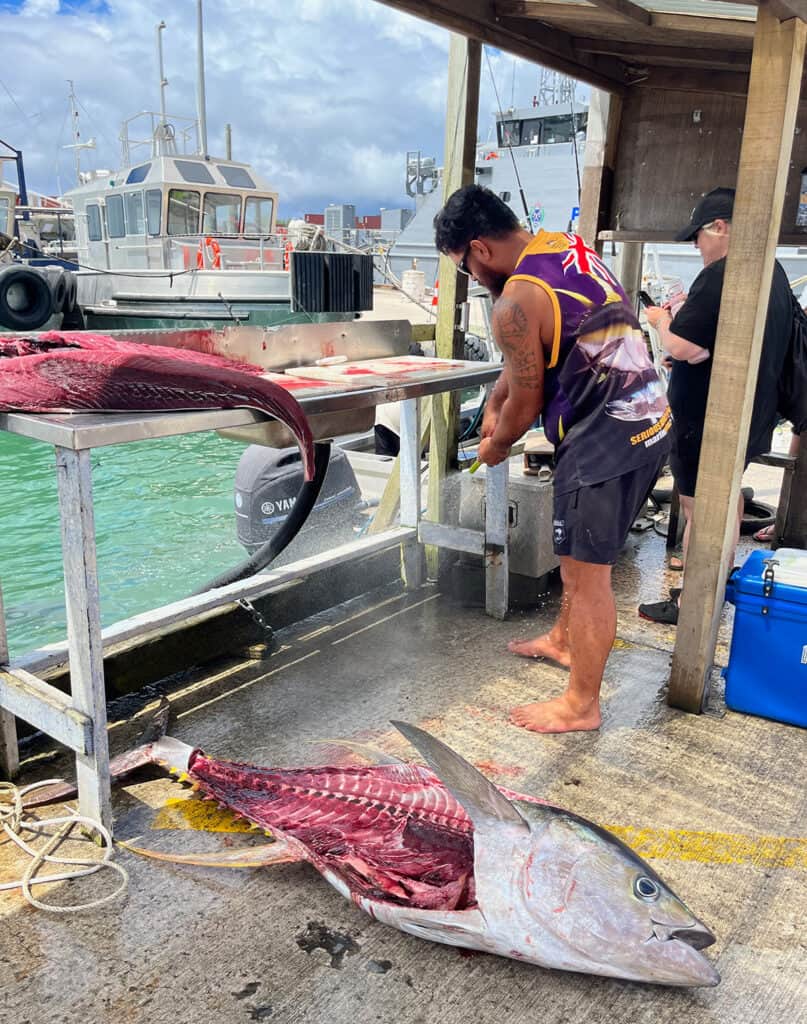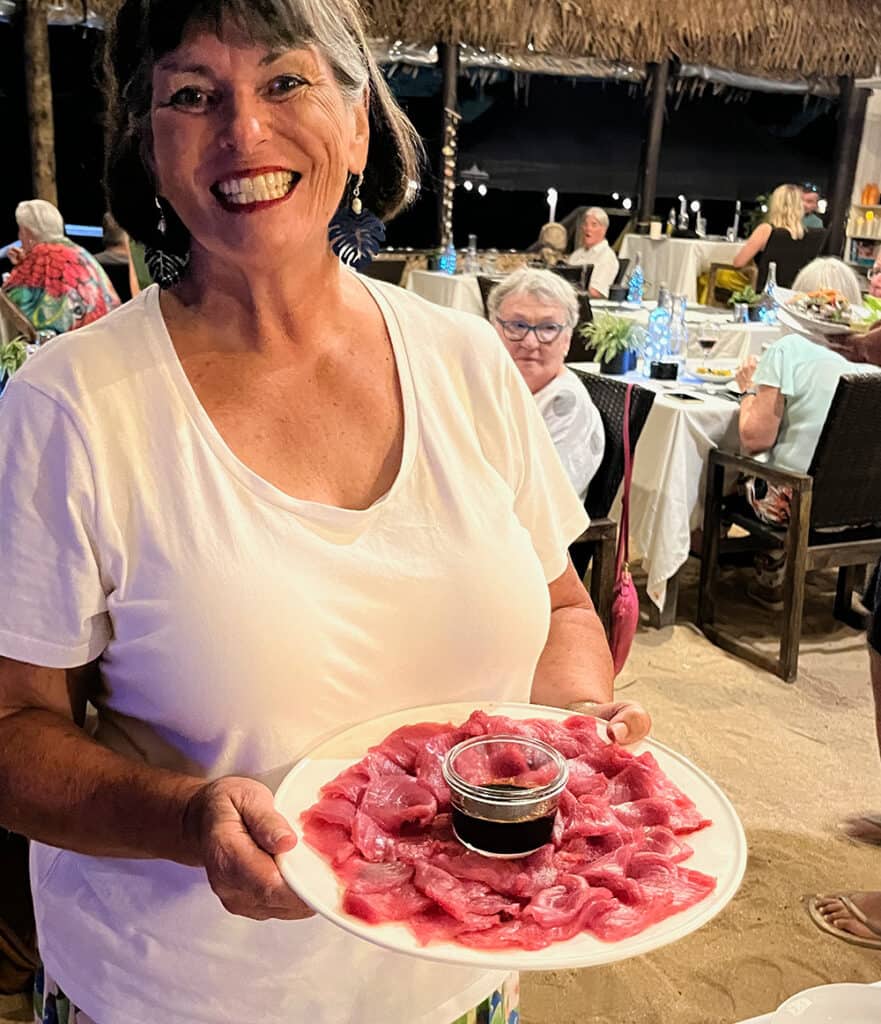 Go Sea Scootering with Turtles
Swimming with turtles is an amazing thing to do in the lagoon where they swim through the water in the channels that cut through from beach to the reef.
I swam with them with Charlotte Piho, an award-winning underwater photographer, who made me look like a mermaid!
Another great way to see them is with Ariki Adventures and going on a sea scooter tour. Their HQ is in Arorangi, near Sunset Resort, but you need to meet them around the island about 20 minutes drive away where they have the rights to take their tour groups into the sea.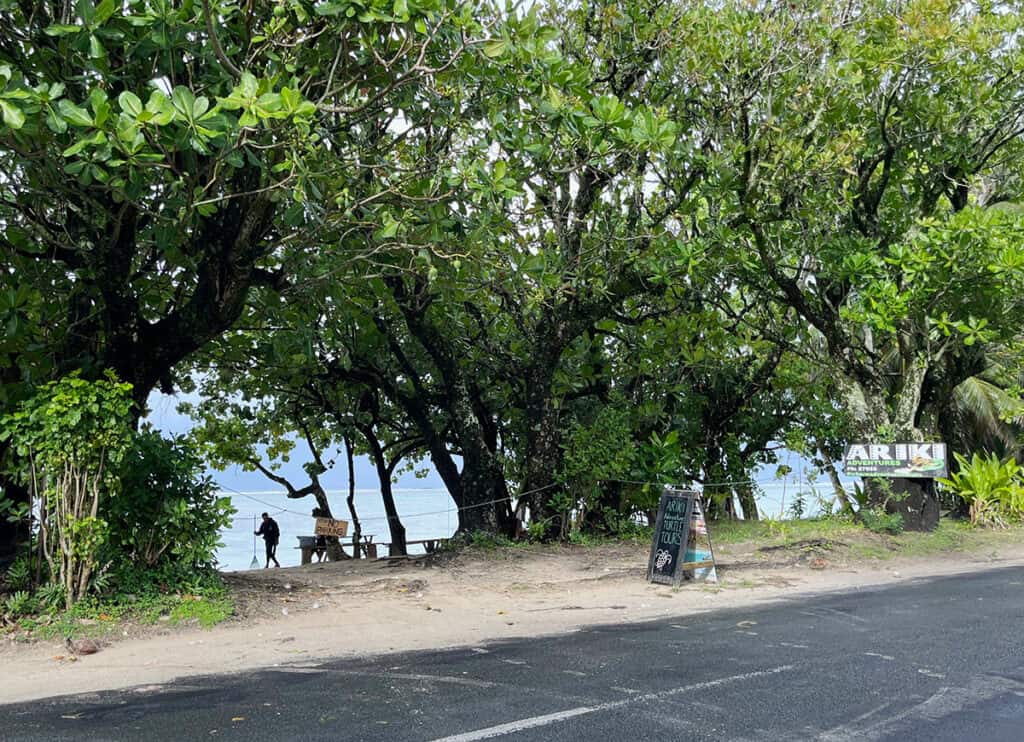 The sea scooters are handheld underwater fan machines which pull you through the water so all you need to do is put your mask and snorkel and fins and put your head under. The whole tour is 2 hours and you'll either need to drive or get a bus. (See below for public bus info).
Dinner at Kikau Hut
As luck would have it, this recommended restaurant was located about 30 metres from Sunset resort. Unluckily it was bucketing down so I drove those who came to dinner there in my hired Voxy.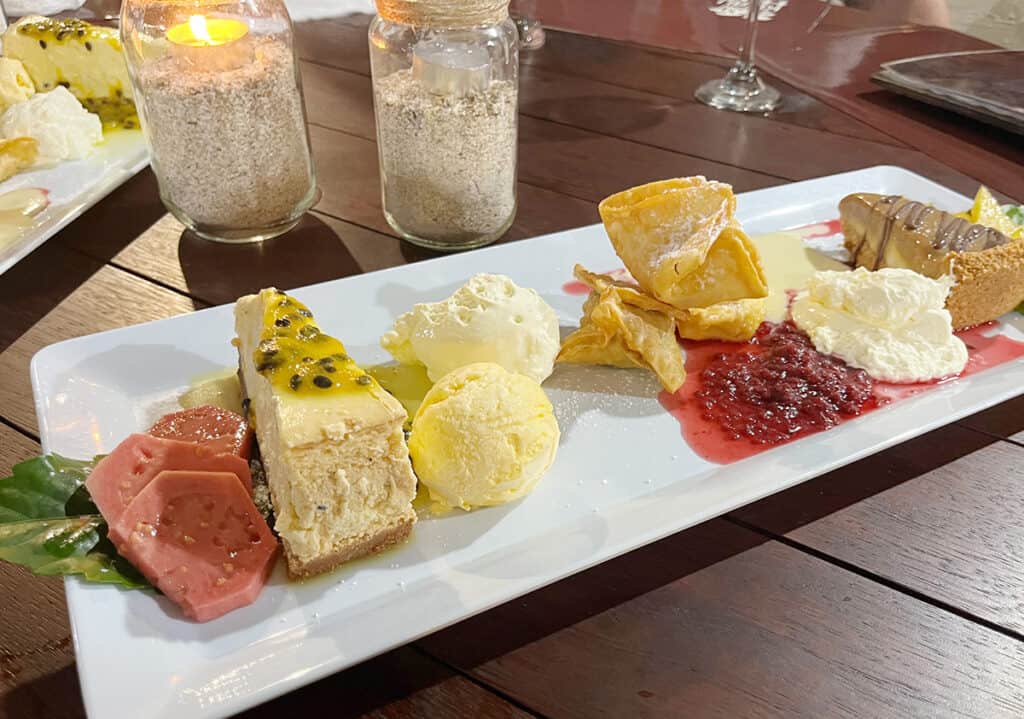 Day 7 Thursday
Today is our last day, so it was catch up or a repeat of our favourite things. Some went snorkelling. One e-biked around the entire island (32km circumference). Some swam in the resort pool, finished their books (and their duty free booze!) and others shot into town for some last minute shopping.
Breakfast at Beluga Cafe
This lovely cafe is voted #1 in Rarotonga and was only a little way from Sunset (a car drive, not a walk) in Arorangi village, and I'm thrilled to say Beluga Cafe does a fantastic eggs Benedict, flat whites, chia with fruit bowls and more.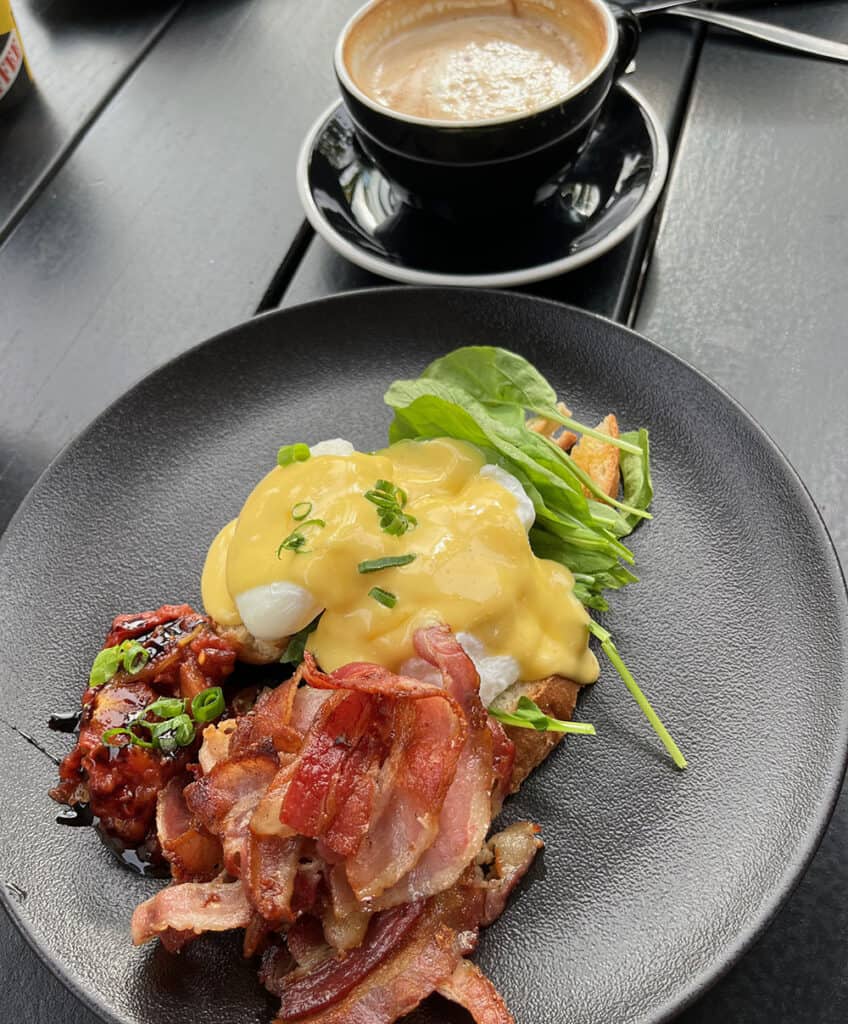 Dinner at Antipodes
This was our final dinner in Rarotonga and we saved the best till last! It was utterly outstanding and its reputation had preceded it, so I had booked in six months earlier. You need to book before you get here as they are only open Tuesday to Sunday and always fully booked.
Owned by chefs Jocelyn and Erika, who run the restaurant's two kitchens (one indoors and one out doing the grill), the meals they produce are delicious and exquisite. It's an adults' only restaurant with under 16's not allowed. I've never heard of this before.
The sunset views are amazing with terraced seating over two levels facing the views and more inside. If you're in Raro during whale season, this is the spot to watch them from too. It really is worth booking six months in advance for!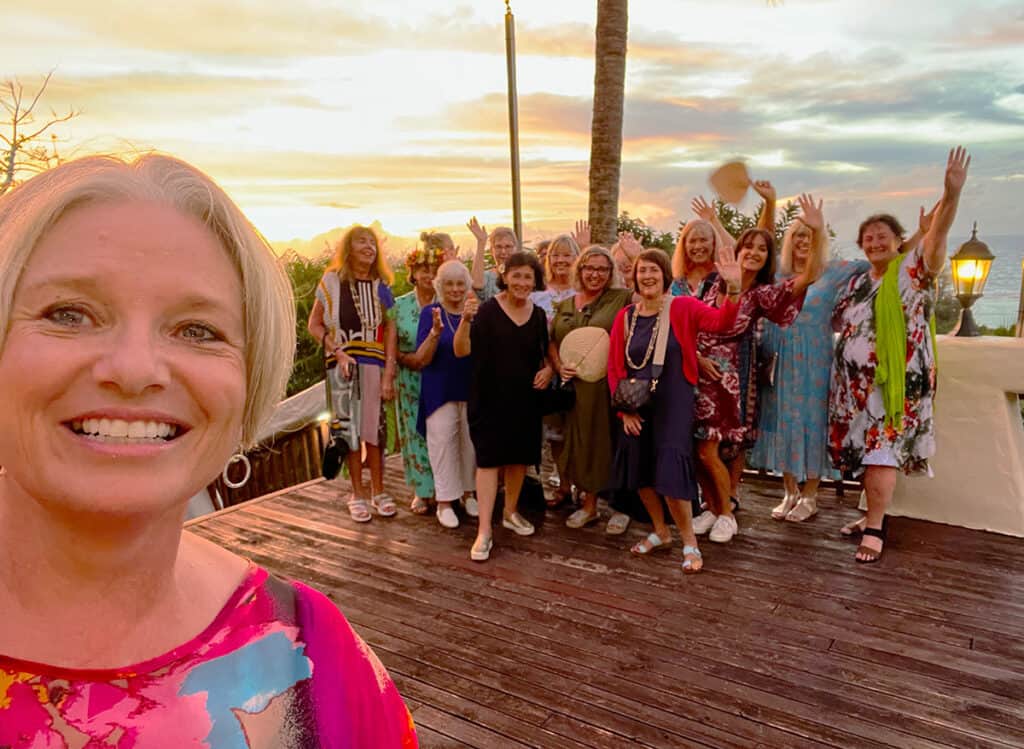 The ladies have been cheffing in Rarotonga since 2011 and bought this building, which was a former home, in 2017. In 2018 they opened what is now arguably the most popular restaurant in Rarotonga.
The Mediterranean food combined with the antipodean name confounded us, until Jocelyn explained that Antipodes is an ancient Greek word meaning 'opposite' such as North Pole v South Pole. New Zealand is antipode to Spain.
The Cook Islands is opposite northern Africa. Hence my Moroccan cream sauce I guess! (See pic below).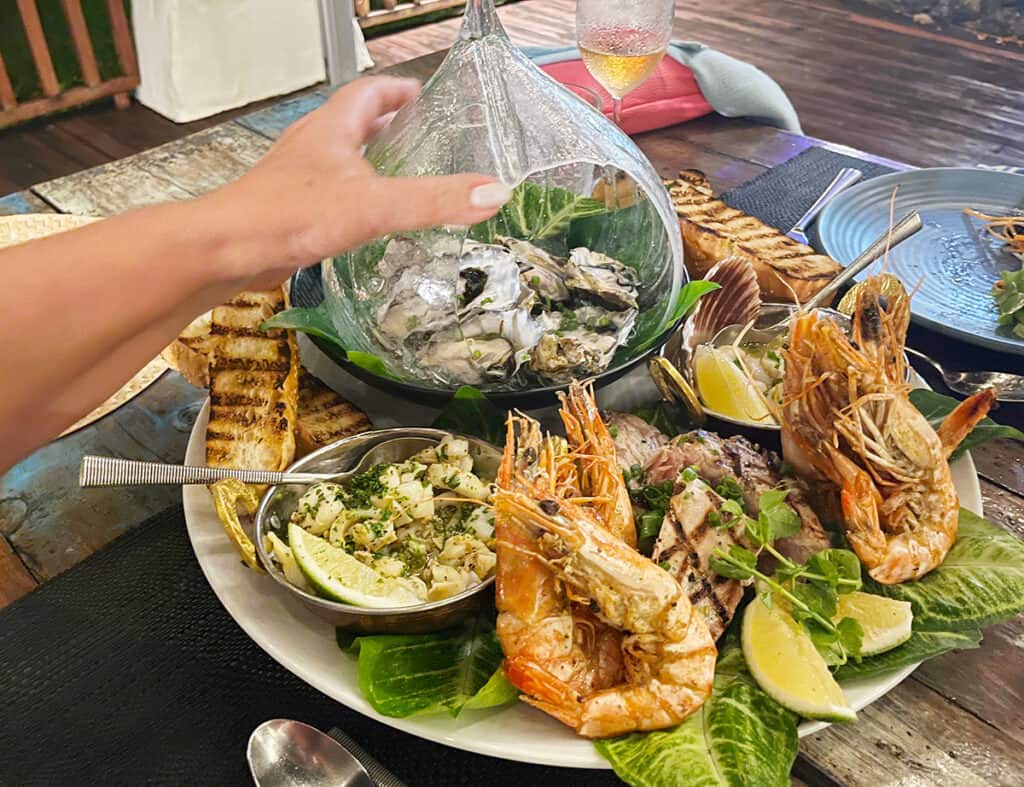 The incredible seafood platter for two (above) is $195 and was spectacular. There was one at each end of the table and yes, we asked how they made the ice "fridge" over the oysters.
They fill up a balloon with water, freeze it overnight and carve the middle out the next day. It slowly melted away in the balmy late summer evening.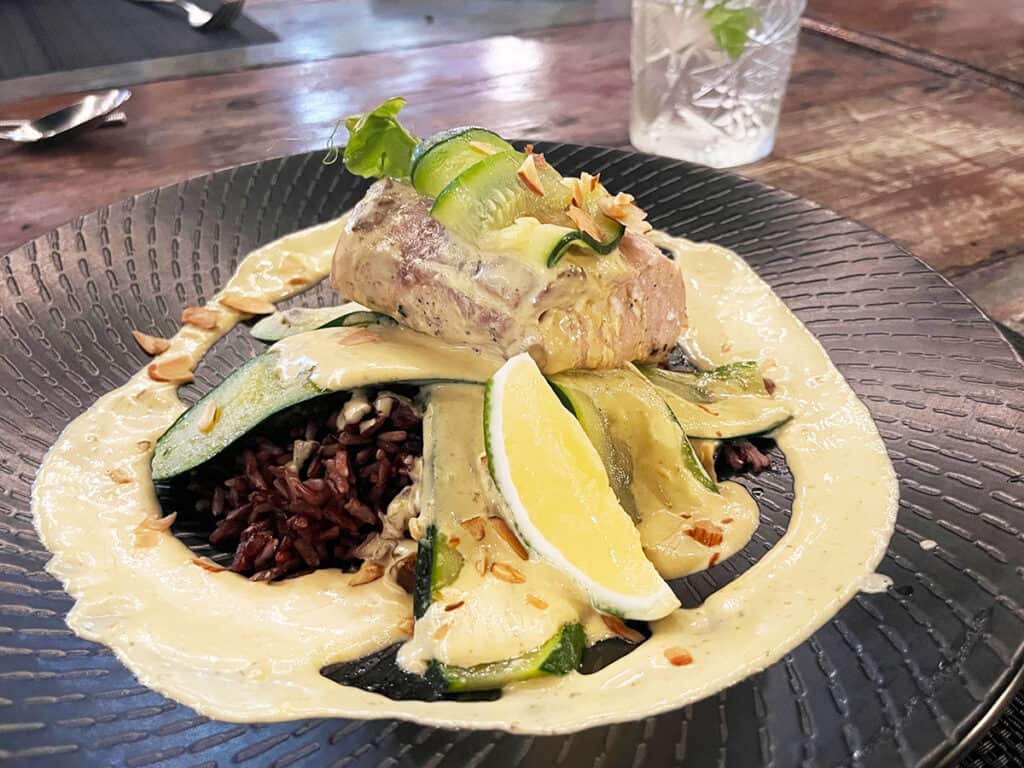 I had the grilled mahi mahi (above) and it was the best dish I've eaten in a long time. Outstanding. It was served on wild rice with dates, layered with courgette ribbons and drizzled in a Moroccan cream sauce. ($44).
The maple smoked duck salad was served with watercress, lettuce, dragonfruit and grapes, goats cheese, muscatel figs with a walnut crumb and pomegranate molasses. ($42)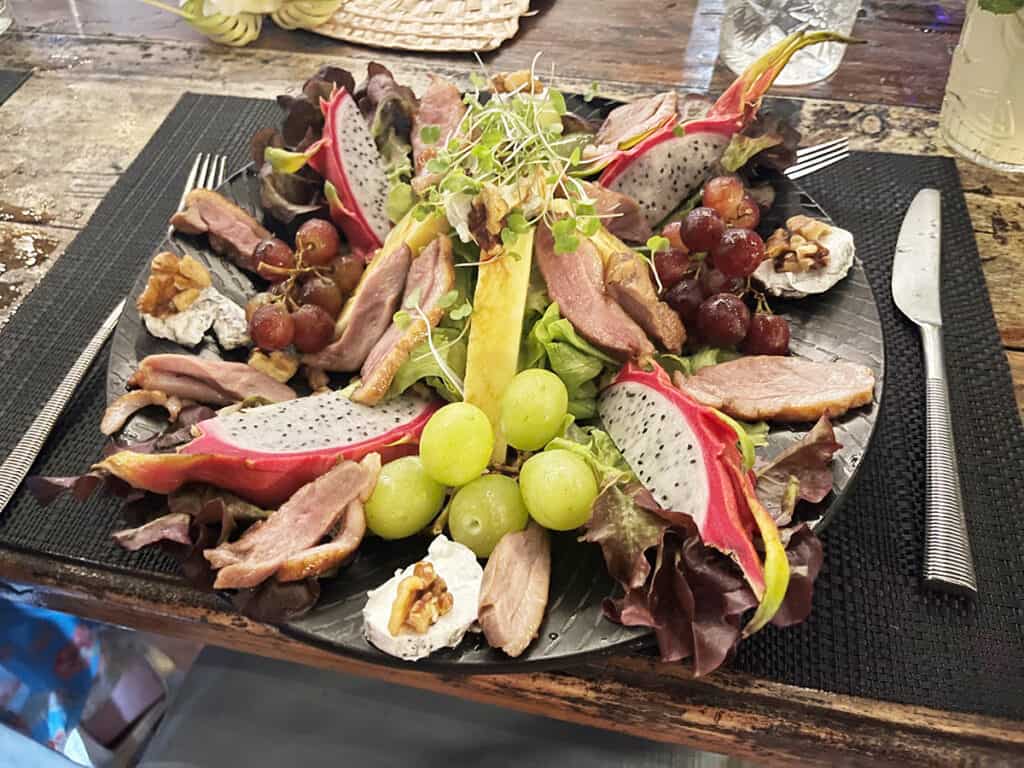 The char-grilled lamb salad was served with roast Mediterranean veges, grilled halloumi and basil pesto dressing. ($42)
Desserts were made to order and came with spun toffee nests over baklava. I didn't take photos of those sadly as they were up the other end of the table!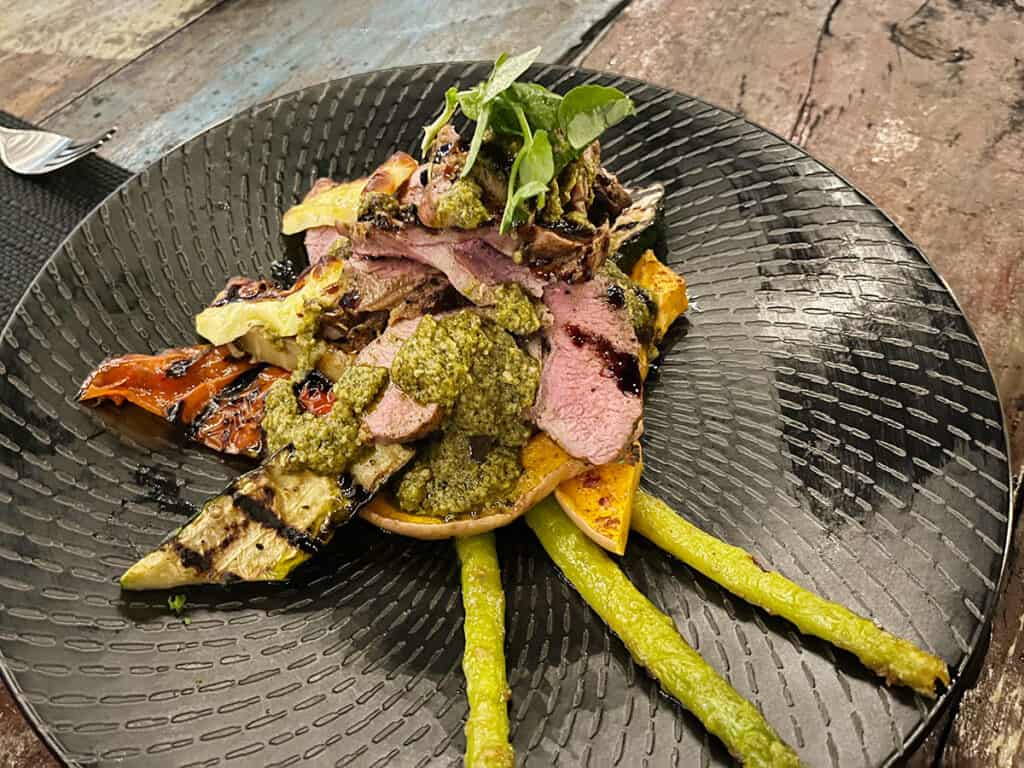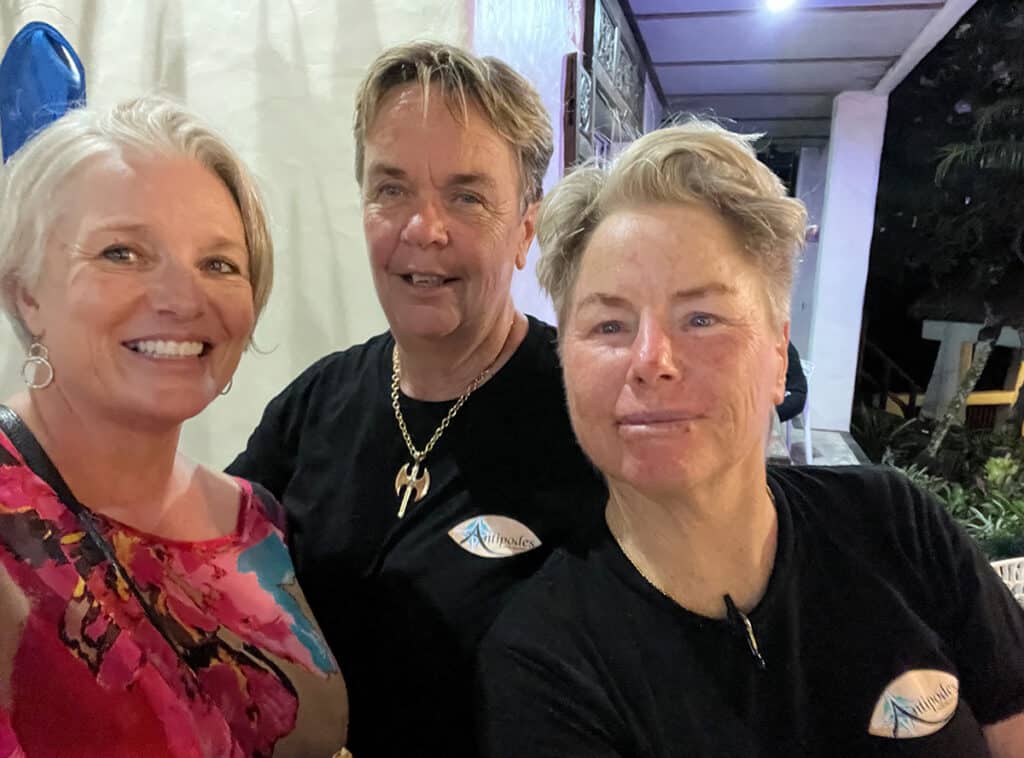 Where to have spa treatments in Rarotonga
In your spare time (or if you're not the active relaxer in your party) there are some lovely spas around the island.
We enjoyed Nautilus Resort, Rumours, Manea Room, Edgewater Resort. Please add any places you've tried and liked in the comments below.
Getting around Rarotonga
Rent a car. You will need to prebook before you arrive in Raro. The easiest thing to do is pick up your car from the airport when you arrive and drop it off when you leave. They are parked literally outside the arrival terminal, so you just pop into the office of your rental company (I used Polynesian Car Rental) to fill out the paperwork, pay and get the keys.
Rent e-bikes. We rented from Tik-e-Tours and picked up the bikes on Saturday at about 12.30, after we'd been to the market.
Take the public bus. There are two buses (in fact there might have been a third). They go either clockwise or anti-clockwise, so while you will always get to where you're going (there is only one road around the island), it'll take longer if you take the wrong bus! Cost is $8 per journey. Some paid $5, but we couldn't work out whether this was just because they said they were going to town, which was closer.
Take a taxi. If all of the above don't suit, there are taxis. It'll be about $80 to get around from one side to the other. $20 for a short trip to town.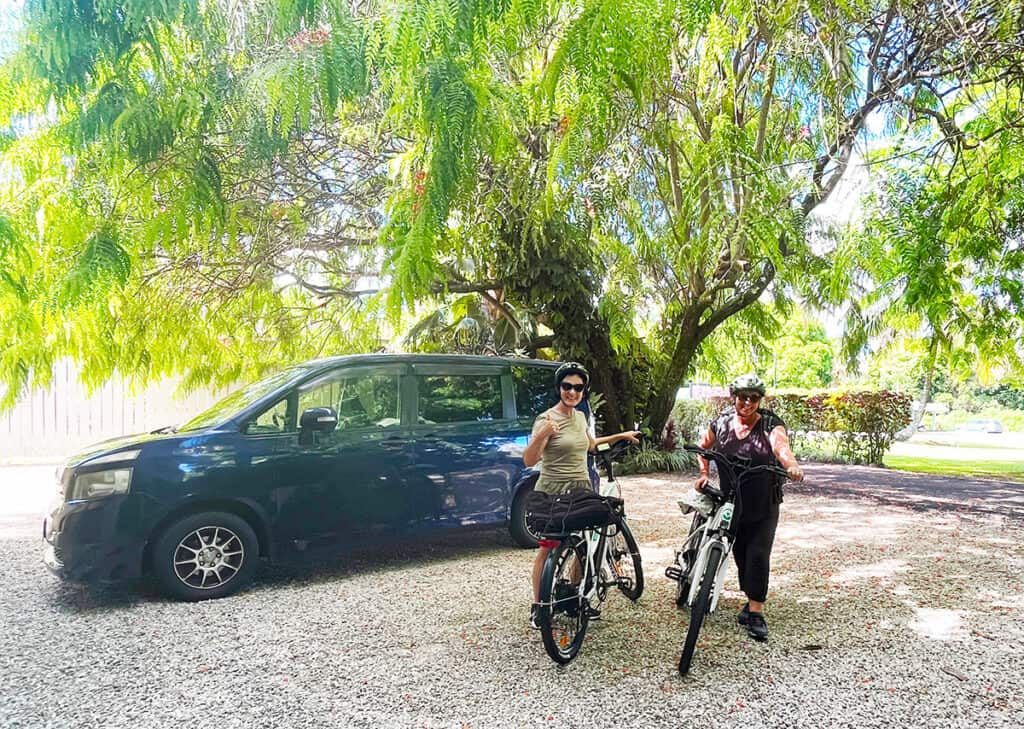 FAQs about Rarotonga
When is whale watching season? From July to October Humpback whales make the 4000km journey here to breed and leap and blow spouts in the deep waters around the reef. September is usually the best month. They can reach up to 19 metres.
When is the rainy season in Rarotonga? Usually it's the summer months of December to April, with January being statistically the wettest. These days though, it can be a bit all over the place! Note that it might be raining on one side of the island but not the other, and don't believe everything you see on the weather apps! They were mostly wrong when we were here and the weather was lovely 90% of the time.
What currency do they use in Rarotonga? The New Zealand dollar is the main currency and the one the ATM machines dispense. You may receive small change (up to $5) in their local currency with cool triangle and frilly round coins.
What's the Wifi like in Rarotonga? It's pretty slow most of the time. I never saw it more than 3G. If you are roaming you'll find some spots better than others. You can pick up a Wifi data plan from the airport and in town for about $50 for 5Gb.
If you're looking for a VPN so websites you visit don't detect you're out of your home country, try Nord VPN. I've used it in China and it was great. It enables you to access sites that are blocked in some countries but rerouting your browser through a country of your choice.
What is reef-safe sunscreen? It doesn't have chemicals that can cause coral bleaching or is harmful to sea life. I picked some up at my local Unichem Pharmacy, but you can also buy it online.
Final tip: bring ear plugs for the roosters that crow from about 3am! Little buggers. On saying that, not everyone in the resort heard them. They seemed to just hang out by our room
For more info visit CookIslands.Travel