To Alaska without the crowds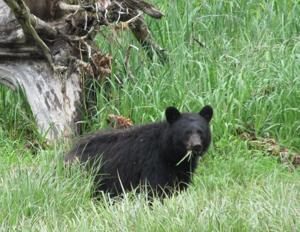 Share this article paywall-free.

Eileen Ogintz, Tribune Content Agency

The bear was too busy snacking on salmon to notice us.
We were kayaking — a safe distance away. What an experience! Our small UnCruise ship, known for Alaska wilderness experiences, enabled us to kayak and hike away from the crowds.
Another day, another trip, we were privileged to visit orphan bear cubs and injured bald eagles in Sitka at the Fortress of the Bear (these orphaned cubs would otherwise have been euthanized) and a short distance away at the Alaska Raptor Center. (While you are in Sitka, you won't want to miss the 18 amazing totem poles at the Sitka National Historical Park, first brought here in 1906. Take the mile-long Totem Trail through the temperate rainforest.)
We've fished successfully for halibut west of Homer in the Cook Inlet and less successfully for salmon on the Kenai River. We birdwatched, staying at a remote lodge only accessible by boat at Kenai Fjord National Park. (Alaska Wildland Adventures has been offering such opportunities to get into the wilderness since 1977.)
Perhaps the most iconic of our Alaska adventures was a stay deep inside Denali National Park a decade ago at family-owned Camp Denali, one of just a few lodges that provide guided hikes in the trailless park because when they were established they were outside the park boundaries; now they are inside the six-million acre park.
Friends toured in an RV; our kids camped. There are more than 400 RV parks and campgrounds to choose from. We've also happily toured Southeast Alaska on major cruise ships, meeting many multigenerational families along the way. The appeal: No packing and unpacking, no navigating from place to place, on board and shore activities to suit all ages and the chance for kids to learn along the way.
Princess Cruises, for example, has partnered with the Discovery Channel and Animal Planet to offer special family Discovery shore excursions.
According to Travel Alaska, 1.65 million tourists will visit this summer, more than half on 60 large and small cruise ships. It is a top destination for first-time cruisers with departures from San Francisco, Seattle and Vancouver. And there are options for all budgets. (There are also some Holland America cruises offering kids free deals.)
Alaska is also a top bucket list trip for many Americans, especially multigenerational families. Alaska is an easier – and more affordable – trip than many other bucket list destinations. It is appropriate for all ages, including those with mobility issues. And a trip is guaranteed to be one for the memory books.
There are 100,000 glaciers, more bears than people, the world's largest temperate rainforest, eagles, whales, soaring totem poles, salmon galore (just south of downtown Ketchikan, the Herring Cove area is home to a salmon hatchery and is a popular location for fishing and wildlife viewing) and fascinating gold rush history.
The narrow gauge White Pass and Yukon Route Railroad, celebrating its 125th anniversary this year, had made it much less dangerous to trek to the gold fields in the Klondike and today enables travelers to experience spectacular scenery, and learn a little history at the same time as the train travels along the historic route of the Klondike Gold Rush. You can also ride the train and then hike back.
The Alaska Railroad, meanwhile, is celebrating its centennial. Many cruise passengers, particularly on Holland America and Princess, opt for a cruise tour via train to Denali, staying in wilderness lodges at the edge of the park.
It's impossible to see all of Alaska on one trip. Denali National Park and Preserve itself, home to North America's tallest peak, is six million acres; The Tongass National Forest is nearly 17 million acres, encompassing nearly 90 percent of Southeast Alaska. There are more than 46,000 miles of tidal shoreline, 80 percent inaccessible by road and longer than the other 48 states' coastlines combined.
Small-ship cruises (just make sure they are age appropriate for your children) are expanding with access to lesser-visited destinations. (Families bringing kids ages 8 to 17 save $500 per child and there are family-oriented activities (face painting with glacial mud; tide pool treasure hunts among them).
Alaskan Dream Cruises debuts a new glacier-focused itinerary in 2024. Starting in Sitka, this eight-night "Ice of the Inside Passage" visits Prince of Wales Island, the Alaska Native community of Klawock and Dall Island, offering an up-close view of seven different glaciers along the way.
With so much to see, do and learn, a cruise — whether you choose a large ship or small expedition vessel is a terrific introduction to what Alaska has to offer. The key is to choose the right cruise line for your family — and your budget. There still are appealing deals for this season. However, if you want to gather extended family (and friends) for a special cruise celebration, it certainly isn't too early to plan for 2024. You'll get your pick of cabins, and working with a travel adviser who is a cruise expert can not only help you sort through the many options but also get you some extra perks on board too.
Just remember your rain gear!
(For more Taking the Kids, visit www.takingthekids.com and also follow TakingTheKids on Twitter, Facebook and Instagram where Eileen Ogintz welcomes your questions and comments. The Kid's Guide to Philadelphia and The Kid's Guide to Camping are the latest in a series of 14 books for kid travelers published by Eileen.)