Top 10 Fun Things do in Kauai with Kids!
Kauai holds a special place in our family's heart with its perfect blend of natural beauty and family-friendly activities. We've roamed its lush valleys, walked along its sun-kissed shores, and even wandered through its jungle trails. We have so many incredible memories
If you're looking for an authentic island experience filled with moments of wonder for the kiddos (and let's admit, some Insta-worthy photo ops for us parents!), then buckle up. I'm about to share our family's all-time favorite things to do in Kauai. Trust me, your young adventurers are in for a treat
17 Things To Do in Kauai with Kids

Koloa Zipline – Our FAVORITE Kauai with Kids Activity!
One of our favorite things to do in Kauai with kids is zipline. I am not typically the adrenaline junkie type and I totally freaked out the first time I saw my kids not only strapped on a zip line but doing it upside down. However, I too have grown to love the amazing feeling of soaring above some of the most beautiful scenery in the world. Kauai may very well be the most beautiful place on Earth so this one is at the tip-top of our list.
It has been years since we first did the Koloa Zipline and the kids still talk about it being one of their favorite experiences ever!
Before we booked, I had heard wonderful things about Koloa Zipline from personal friends. Judging by their 5-star Tripadvisor Rating I'm guessing we are in for a real treat! They offer snacks and juice after the 4th line, the guides are hilarious, and you see some amazing scenery where both Jurassic Park and Jurassic World were filmed. My kids got a kick out of that!! They also have the island's longest zip line (1/2 a mile long)!!
To book a tour and get the best prices I recommend Tripadvisor's website.
---
Aulii Luau
This is the only oceanfront luau in Kauai. It is 100% worth doing at least once, just take it from the website:
"Experience new and tempting tastes of Polynesia while you behold the hula dancers of award-winning Urahutia as they bring to life the storied past of old Hawaii. Thrill as the pahu drums throb to the pulse of the surf only yards away as the Aulii's Fire-Knife Dancers take the stage and electrify the night with their whirling torches, as you sip a delicious cocktail and savor the finale and say to yourself, "This is why I came to the Islands."
Check out more info here.
---
Kauai Backcountry Adventures offers a mountain tubing excursion that takes you through the old Lihue Plantation lands, tunnels, and flumes. It is a great activity if you have got kids age 5+.
The tour starts in a 4wd vehicle that takes you to the launch site. There you grab a tube and a headlamp and hop in the gently flowing waters. You will witness Kauai's spectacular, historical engineering feats as you float down the open canals, through several amazing tunnels and flumes engineered and hand-dug circa 1870. Pretty awesome right?
Book a tour here!
---
Waimea Canyon
Mark Twain called this canyon "the Grand Canyon of the Pacific" and although he never visited Hawaii many would agree with his statement. The canyon is the largest in the Pacific, at over 10 miles long, 1 mile wide, and 3500ft deep.
There are various trails from novice to experienced hikes. I like going on the more mellow hikes and packing a picnic lunch to enjoy with the kids.
Here are 5 easy options!
Waimea Canyon Lookout: This isn't so much a hike as it is a viewpoint. However, it provides a spectacular introduction to the canyon. Just a short walk from the parking lot, this lookout offers panoramic views of the gorge's vivid colors and intricate patterns.
Iliau Nature Loop: A short loop trail that offers views of the canyon and showcases native plants, including the Iliau plant which blooms beautifully in certain seasons. The trail is relatively flat and suitable for younger kids.

Length: 0.3 miles (0.5 km) round trip.

Cliff Trail Lookout: An extremely short trail that starts near the Pu'u Hinahina Lookout. It leads to an impressive viewpoint of the canyon. The trail itself is easy with only a slight incline.

Length: 0.1 miles (0.16 km) round trip.

Canyon Trail to Waipo'o Falls: This is a bit longer but is doable with older kids. It offers views of the canyon and leads to the top of Waipo'o Falls. Though you won't see the full waterfall from the top, the vantage point over the canyon is well worth the trek.

Length: About 2 miles (3.2 km) round trip.

Black Pipe Trail: This is an alternative trail that can be taken to access the Canyon Trail. It cuts through the forest and meets up with the Canyon Trail.

Length: 0.75 miles (1.2 km) round trip.
---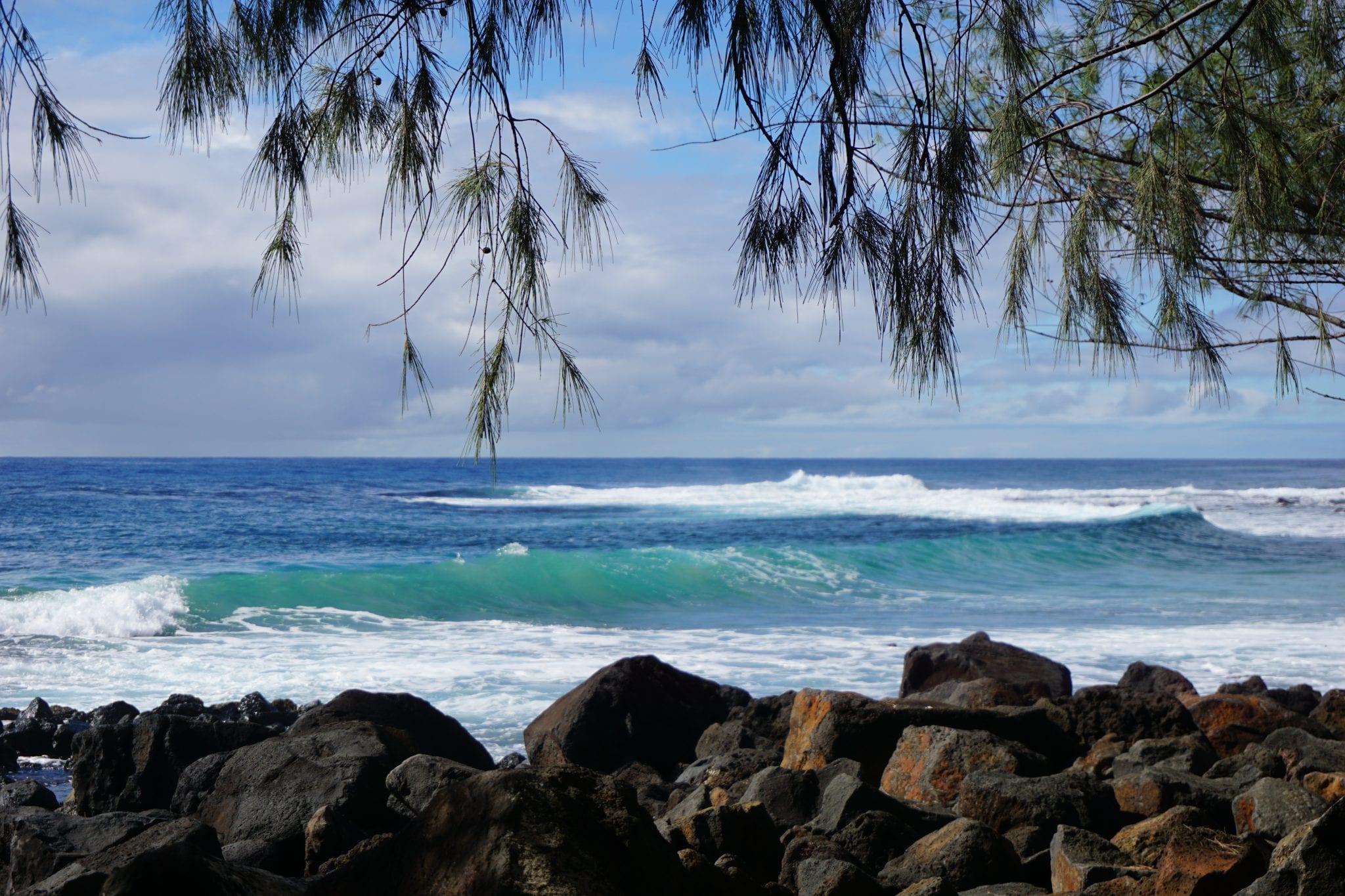 Hang Out at Poipu Beach Park
When we stayed at the Villas at Poipu Kai, we spent so much time at this beach park! The water is beautiful and warm. Plus, monk seals can be seen here and the snorkeling is great as well.
This beach is great for kids as there are clean bathrooms which is always fantastic news.
More info here!
---
Visit Kilauea Point National Wildlife Refuge
I love educating our kids while we are traveling to different destinations. Learning becomes so much more concrete when it is experienced versus read about in a book.
This refuge is said to be home to some endangered bird species and for the $5 admission fee, it definitely is worth a visit. Besides the endangered bird species, you might also catch glimpses of sea lions, spinner dolphins, and sea turtles too.
They have tours hourly and offer free binoculars to use which is one less thing for me to pack   It is located on the north shore and you can also tour the lighthouse while you are there. Get more info here!
---
Visit the Spouting Horn
Funny enough, one of our kids' favorite things to do in Kauai is the spouting horn. The spouting horn is a natural blowhole located on the south side of the island. The Poipu surf funnels into a natural lava tube here and releases a huge spout of water during large swells.
The hissing noise that occurs has been said to be the Kaikapu lizard who guards the coastline (according to ancient Hawaiian legend).
---
Visit Secret Beach
What is it about the word "Secret"? It immediately makes this beach irresistible to me. The Hawaiians call this beach- Kauapea and it is supposed to be less crowded (I assume due to the fact you have to hike down to the beach).
It is home to beautiful views and diverse tide pools.
Learn more about the "Secret Beach" here.
---
Makauwahi Cave Reserve
Did you know they have caves on Kauai? I didn't but it sounds super interesting. The cave is located near Poipu and is about a 1/2 mile hike. There are tours on Sundays, Wednesdays, and Fridays from 10 am to 2 pm for free. Although, I believe if you tip it goes towards their conservation efforts.
If you want to enter the cave you have to crawl through a small opening but it is worth the hassle. I know the kids would feel like they did something really cool if we have the chance to visit this site. Although, I'm not loving the fact that it is home to blind cave wolf spiders– that sounds a little freaky to me.
Learn more here.
---
Na Pali Coast State Park
Voted #1 of 51 things to do in Kapaa caught my radar. You can experience all that Na Pali has to offer by helicopter tour, hiking (although it isn't the easiest of trails), or hopping on a boat tour. I am leaning towards the latter.
Boating is always fun with kids. They are entertained, there is plenty to see and most of the time you get the chance to jump in and swim too!
Check out some tour options here.
---
Limahuli Garden & Preserve
Discover ancient Hawaii at Limahuli, a lush botanic haven showcasing native plants, terraced lo'i kalo (taro fields), and rich cultural heritage. It is truly breathtaking here, and is a serene retreat into Hawaii's conservation and traditional cultivation practices
---
Eat Amazing Food
If there's one thing you have got to do on your Kauai trip, it's eat!
Kauai's got it all – from on-point poke bowls to epic luau spreads and that must-try shave ice. Dive into local hits, straight-from-the-farm goodies, and some tropical munchies on this tasty island adventure.
---
Kauai Plantation Railway
The Kauai Plantation Railway is a fantastic choice for families with kids. Offering a blend of education and entertainment, this vintage train ride winds through lush landscapes and tropical fields, allowing kids to learn about Hawaiian agriculture, feed farm animals, and enjoy the island's beauty.
With its nostalgic charm and suitable duration, this is. amust for your Kauai itinerary.
---
Helicopter Tour
Experience Kauai's splendor from above! Helicopter tours reveal hidden waterfalls, the majestic Na Pali Coast, and Waimea Canyon's vastness. It's an unrivaled vantage point offering panoramic, heart-stopping views of the island's diverse landscapes.
---
Salt Pond Beach Park
A family-favorite, Salt Pond Beach Park boasts gentle waters, vibrant tide pools, and sunlit shores. Ideal for picnicking, snorkeling, or simply lounging, it captures the idyllic essence of Kauai's beachside charm.
---
Kauai Children's Discovery Museum
Nurture young minds at the Kauai Children's Discovery Museum. Interactive exhibits, hands-on learning experiences, and island-specific educational content make it a delightful playground for intellectual and creative growth.
---
Hike the Maha'ulepu Heritage Trail
Embark on the Maha'ulepu Heritage Trail, a coastal pathway unveiling stunning ocean vistas, unique geologic formations, and Kauai's ancient lore. A trek through history and nature, it's both a visual and educational delight.
---
What are your favorite things to do in Kauai with Kids?
Don't forget to pin for later- 17 Things To Do in Kauai with Kids [You Won't Want to Miss Out on!]
You may also like these great posts about Kauai-
*Disclosure- at times Global Munchkins receives discounted prices or services gratis for purpose of review. However, that does not influence our opinions. All thoughts expressed above are, as always, 100% my own.