Train strikes: When are the rail strikes this week?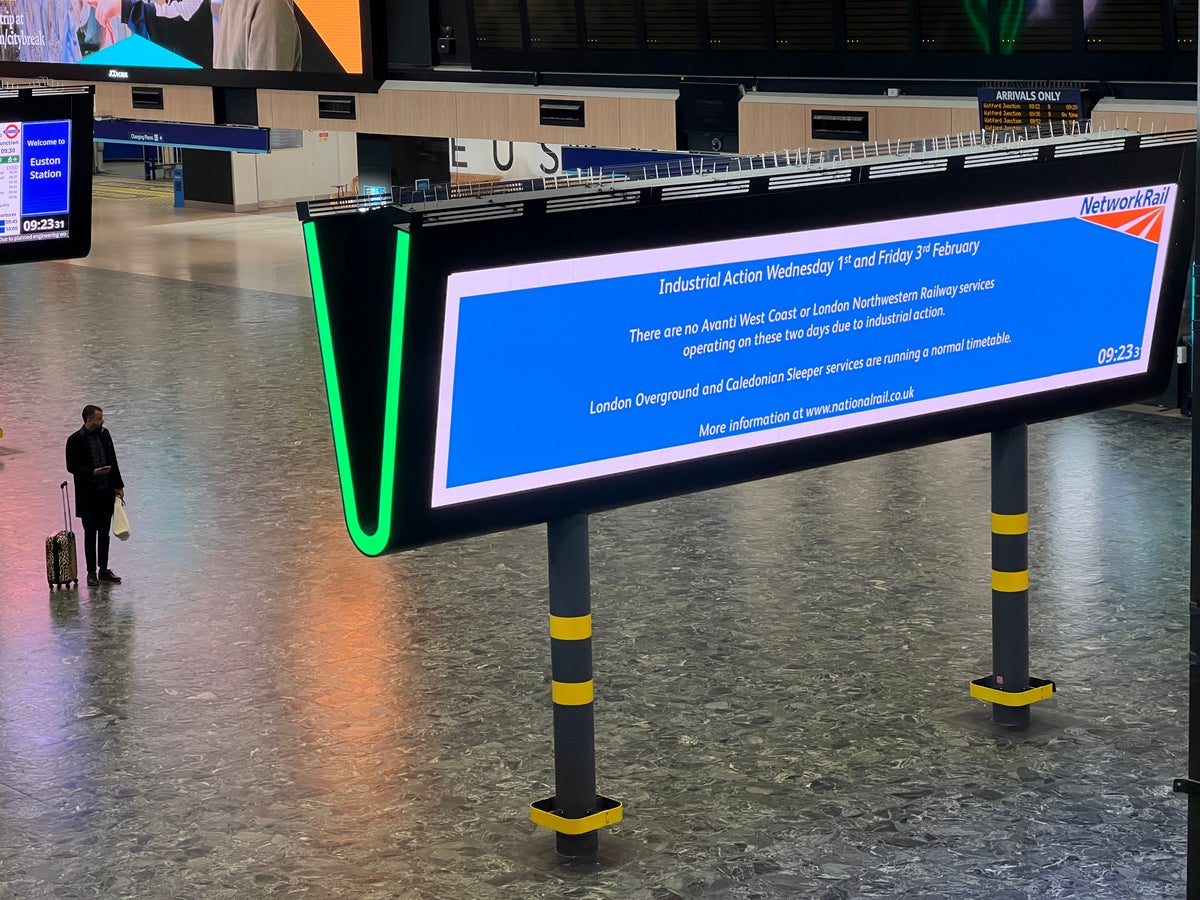 Members of the RMT union working for 14 train operators are staging more walk-outs in the current round of strikes.
Since June 2022, national rail strikes in a tangle of disputes about pay, job security and working arrangements have caused problems for tens of millions of train passengers.
Since then, stoppages causing massive disruption for passengers have been called frequently.
These are the key questions and answers.
Who is striking when?
The main rail union, the RMT, has instructed all its members working for 14 train operators to strike on Thursday 16 March, Saturday 18 March, Thursday 30 March and Saturday 1 April.
The train firms are those contracted by the Department for Transport. They include the leading intercity operators:
Avanti West Coast
CrossCountry
East Midlands Railway
Great Western Railway
LNER
TransPennine Express
All the London commuter operators will also be hit:
c2c
Greater Anglia
GTR (Gatwick Express, Great Northern, Southern, Thameslink)
Southeastern
South Western Railway
Operators focusing on the Midlands and north of England will be affected:
Chiltern Railways
Northern Trains
West Midlands Trains
A planned strike that also brought in workers at Network Rail has been shelved while a ballot of RMT members takes place.
What will the effect be?
Passengers can expect normal service on:
Caledonian Sleeper
Grand Central
Heathrow Express
Hull Trains
London Overground
Lumo
Merseyrail
ScotRail
Transport for Wales
Trains run by these companies are likely to be more crowded than normal on routes usually shared with train operators whose staff are striking, such as London-York-Newcastle-Edinburgh and Swansea-Cardiff-Newport.
The exact proportion of normal services will vary from one train operator to another. Figures published by the government for a strike on 4 January, show that Avanti West Coast, CrossCountry, East Midlands Railway and LNER operated between a quarter and a third of usual services.
On most commuter services in the London area, the figure was around one in five.
Worst performer was Northern, which operated only one in 20 of regular scheduled trains.
But the Rail Delivery Group (RDG), representing train operators, says that as many as half the normal trains could run – though hours are likely to be limited with many early and late services cancelled.
The RDG said: "It is expected that nationally between 40 and 50 per cent of train services will run, but there will be wide variations across the network, with no services at all in some areas.
"It is likely that evening services on some lines will be affected on the days before each strike. Morning services on those lines may also be disrupted on 17 and 19 March because much of the rolling stock will not be in the right depots."
Will Eurostar be affected?
No, but connections to and from the train operator's main hub at London St Pancras International will be difficult because union members working for all three domestic train operators (East Midlands Railway, Southeastern and Thameslink) serving the station will walk out.
Why are they taking industrial action?
Workers for the train operators have been offered a minimum pay rise of 5 per cent for 2022 and 4 per cent for this year (with additional increases for lower-paid staff) as a "best and final" offer.
But it is contingent on the union accepting a wide range of changes to working arrangements.
The RMT is demanding "an unconditional pay offer, a job security agreement and no detrimental changes being imposed on members terms, conditions and working practices".
The general secretary, Mick Lynch, said that after "an in-depth consultation of our 40,000 members" the overwhelming view was reject "these dreadful offers".
He said: "Our members cannot accept the ripping up of their terms and conditions or to have safety standards on the railway put into jeopardy under the guise of so-called modernisation.
"Our industrial campaign will continue for as long as it takes to get a negotiated settlement that meets our members' reasonable expectations on jobs, pay and working conditions."
The union says the RDG, representing train operators, invited negotiators to discussions on the current dispute "but on the condition that the planned strike action on 16 and 18 March is suspended"
The RMT declined the invitation but said it is "available for discussions …. on creating a resolution to the dispute through an improved offer".
What do the employers say?
They are furious that union members were not given the opportunity to vote on the offers and that the RMT is now demanding an unconditional pay rise.
Members of the white-collar TSSA union voted to accept a similar pay offer from train operators that stipulates significant changes to working practices.
Steve Montgomery, Chair of the Rail Delivery Group, said: "This latest round of strikes will be a further inconvenience to our customers, who have already experienced months of disruption, and cost our people even more money at a time they can least afford it.
"They will also be asking why the RMT leadership blocked the chance to resolve this dispute by refusing to give their members – many of whom would have benefited from a 13 per cent increase – a say on their own deal."
Could the strikes be called off?
Certainly not on the first two days, 16 and 18 March. The government, which will ultimately sanction and pay for the eventual settlement, and the union now appear to have dug in for a war of attrition.
The government knows public confidence is being eroded by the unreliability of trains. But the transport secretary, Mark Harper, says: "Modernising working practices must be part of reform."
On the current offers to members working for Network Rail and the train operators, he says: "Best and final means what it says." The railway, he says, is financially unsustainable.
Ministers believe cracks are appearing in the solidarity of the union, with rail workers unlikely to recoup the money they have so far lost during industrial action in the form of higher pay.
The RMT leadership, conversely, is betting that the membership will continue to obey the strike call, and that eventually the government will buckle and agree to a no-strings deal.
It is now a question of who backs down first. Caught in the middle: the long-suffering passenger.
I have a ticket booked for one of the strike days. What can I do?
The RDG says: "Passengers with Advance, Anytime or Off-Peak tickets for travel on 16 or 18 March can instead use their ticket on the day before the date on the ticket or up to and including Tuesday 21 March.
"They can also have their ticket refunded with no fee if the train that the ticket is booked for is cancelled, delayed or rescheduled.
"Tickets for travel on 30 March or 1 April can instead use their ticket on the day before the date on the ticket or up to and including Tuesday 4 April.
"Passengers with season tickets (flexi, monthly or longer), who do not travel, can claim 100 per cent compensation for the strike dates through Delay Repay. "
Have the train drivers settled, at least?
Far from it. Train drivers belonging to the Aslef union staged their eighth walk-out earlier this month in a similar dispute about pay with train operators who are contracted by the government.
They, too, are demanding a no-strings offer. But The Independent understands talks are proceeding positively through the auspices of the Rail Industry Recovery Group and that the sides are inching towards a deal.
This will involve a basic pay rise of 7 per cent or slightly more, with extra payments for accepting modernisation such as incorporating Sunday into the working week where this does not yet happen.
What's happening on the London Underground?
Members of Aslef and the RMT union working for London Underground are striking on 15 March, the day before the first of the next wave of national rails strike. The unions are in dispute with Transport for London (TfL) over jobs, changes to working arrangements and pensions.
Mick Lynch said: "Our members will never accept job losses, attacks on their pensions or changes to working conditions in order to pay for a funding cut which is the government's political decision.
"Tube workers provide an essential service to the capital, making sure the city can keep moving and work long hours in demanding roles.
"In return they deserve decent pensions, job security and good working conditions and RMT will fight and tooth nail to make sure that's what they get."
Nick Dent, TfL's Director of Customer Operations, said: "We have not proposed changes to anyone's pensions. We have been working with our trade unions to see how we can make London Underground a fairer and more sustainable place.
"We want to make London Underground a better place to work so we urge Aslef and the RMT to call off this damaging strike and continue working with us."
Almost all Tube services will be cancelled for the day. The only exceptions are likely to be a few far-flung and isolated parts of the Underground network, with the central area completely shut down.