What moms and grandmas really want for Mother's Day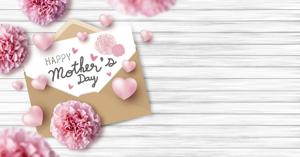 Share this article paywall-free.

Eileen Ogintz, Tribune Content Agency

Flowers are nice, so is a fancy brunch, a heartfelt card and a box of chocolates. But ask busy moms what they really want for Mother's Day, and they will tell you they'd prefer a little time for themselves – sleeping late, time for a leisurely bath or at the gym.
"Last Mother's Day I had a newborn and a toddler, and my husband got me a massage and a facial as a gift and it was wonderful," said Shari Foldes, who lives in Florida.
But for her mom, Marcia Foldes — and other grandparents like her who live far from their children and grandchildren— what they want most is the chance to spend time with the kids.
"Any time I can spend with my busy adult kids is great," said Marcia Foldes, who lives in St. Louis. "And that goes for the 'grands' too. Often when we're visiting Florida or Chicago, we babysit the kids so the parents can have a night out. It's fun for everyone and provides time to count our blessings."
"I do wish we could spend more time together," said Sue Tober, who lives in New Hampshire and has a granddaughter in New York. "It's always special but it doesn't happen often enough."
One easy solution: Take a page from Marcia Foldes' book and give grandmas the gift of togetherness at the same time gifting moms a little time for themselves.
It doesn't need to be Mother's Day weekend either — any convenient time works. Melissa Miller, who lives in Boise, Idaho, gifts her mom Pam Miller plane tickets to come from Houston to visit Melissa, her husband, and 2-year-old daughter.
In case you are wondering, a woman named Anna Jarvis started Mother's Day. On May 12, 1907, she held a memorial service for her mother, Anna Reeves Jarvis, at her Grafton, West Virginia, church as a way to honor the sacrifices mothers make for their children.
It became an official U.S. holiday in 1914, but Jarvis wasn't happy. She would denounce how commercial Mother's Day had become and spent a good many years trying to remove it from the calendar. Today, Americans spend $2.9 billion on Mother's Day flowers. That makes it the third most lucrative holiday for florists after Valentine's Day and Christmas Yahoo!Money reports.
All the more reason to reconsider Mother's Day gifts this year. For grandmas, orchestrate some time together with the grandkids — planting flowers or a visit to a botanical garden for the grandma who loves flowers. Perhaps a cookbook with recipes she could cook with the grandkids when they are together. For the grandma with older grandchildren, tickets for something they all would enjoy – a baseball game, a theater performance, a visit to a museum. Give grandma a chance to share a passion with her grandchildren. Perhaps a National Parks pass (a Senior Pass is just $20; $80 for a lifetime pass that will admit four adults and children under 16). Perhaps a cooking class designed for families.
For moms, think about how you can gift her time. "A little time to myself … oh, yes!" said Rachel Mastudino, the mom of two young children.
"Time for myself is definitely appreciated but hard to balance because I'm working," said Melissa Miller.
Certainly a spa day would be appreciated. So would the chance to have a girls' night out or a day to do what she'd like — play tennis, go rock climbing, gallery hop, vintage shop, enjoy a long lunch. If you have a vacation coming up, give Mom a gift card or IOU for "her" time wherever you are going. That's a luxury anyone can afford.
Perhaps a long weekend getaway with her best girlfriends — or her mom. Just choose a place that won't be teeming with kids – the 120-room beachfront S Hotel Jamaica in Montego Bay, Jamaica, for example, is adult-only and recently became an all-inclusive. I met several mom-daughter duos aboard the adults-only (18+) Virgin Voyages, Richard Branson's new cruise brand.
Through June 30, Kimpton Hotels is offering a "Thank You" to mom new hotel package that gives mom a bath cocktail (the latest cocktail trend), among the amenities.
You can also gift her something to use when she has this "me" time. I've become a fan of MBT shoes –terrifically cushioning and moisture wicking whether you opt for running shoes or slip-ons.
I'm also a fan of Royal Robbins, which offers versatile clothes designed for travel – quick-drying, some even treated to repel bugs and spots. (Their women's wrinkle-resistant and lightweight Spotless Evolution Pant ($95) have become my go-to travel pants.)
Consider Vera Bradley's crossbody bags that I love for travel, including the Featherweight Sling Backpack ($80) that is made from water-repellent nylon from recycled content. I love the side pocket for a water bottle and that it can also be used as a regular backpack. Another good bet for travel is their medium hipster crossbody bag ($85) made from water-repellent polyester, RFID protection for credit cards and plenty of inside card pockets.
Made in the mountains of Wicklow, Ireland, Glendalough Rose Gin ($34.99) was created as a way for Glendalough Distiller Rowdy Rooney to honor his own mother. Mother Rose loved tending to her rose garden. So, after her passing, Rowdy bottled her memory in the form of a light, floral and flavorful rose gin that utilizes real roses (some straight from her garden).
For wine lovers, gift a personalized wine opener (say Best Mom, for example).
The company was started by a mother-daughter duo, Mary and Sophie Leahy. Mary needed Sophie's help to open a bottle of wine because of arthritis and they couldn't find one that would meet their needs ($49.99 and with personalization, $58.99). Add a bottle of mom's favorite wine and a promise that she will have unfettered time to enjoy it!
For camping and RVing moms, I'd recommend a personalized coffee mug or wine tumbler from Yeti. The Rambler 10-ounce wine tumbler has a lid, comes in pretty colors (sea foam or Nordic purple among them) and is insulated so it will keep drinks cold — or hot ($25). There's also a 10-ounce stackable Lowball ($20) great for cocktails someone will make for mom or grandma!
So are you ready to gift something new this year? Happy Mother's Day!
(For more Taking the Kids, visit www.takingthekids.com and also follow TakingTheKids on Twitter, Facebook and Instagram where Eileen Ogintz welcomes your questions and comments. The Kid's Guide to Philadelphia and The Kid's Guide to Camping are the latest in a series of 14 books for kid travelers published by Eileen.)