Where are your summer adventures going to take you?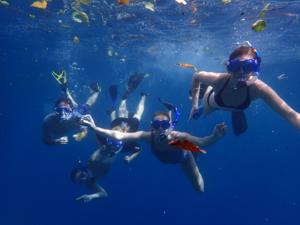 Share this article paywall-free.

Eileen Ogintz, Tribune Content Agency

Are you ready? Memorial Day weekend traditionally kicks off the summer vacation season. And, boy, do we all need one.
Yes, the economy is uncertain; gas prices continue to fluctuate and air travel delays add to travel stress, but AAA reports that 42.3 million Americans are expected to travel for Memorial Day. Just remember you can keep to your budget by opting for free experiences. There are festivals galore, hundreds of national and state parks and just in Colorado, Seven National Wildlife Refuges are free and open to the public for spotting everything from moose to bald eagles. Most museums have free nights. The newly expanded Denver Art Museum is always free for kids up to age 18.
According to the new Travel Sentiment Report from Longwoods International, 79 percent of American travelers said that traveling with friends and family brings them closer together, and 65 percent say they appreciate travel more after living through COVID-19 travel limitations and restrictions. Forty-two percent report vacations are one of the things they most look forward to.
Sometimes, planning for vacation, especially when the kids get involved in the planning, can be as much fun as the trip itself. And it doesn't matter if all you've got time and budget for is a long weekend camping or if you are planning a bucket-list trip, both can be equally memorable. Nor does it matter if you've got your summer getaway planned yet. There's still plenty of time and plenty of places to go.
With our partners at Family Travel Forum, we've just published 51 Great Ideas for Your Best Family Summer Vacation. Just make sure to plan smart and protect your investment with travel insurance. Travel insurance can pay for costly medical care and also help find a qualified doctor or hospital and even get you home, if needed. Travel insurance can even reimburse you for the costs incurred during lengthy travel delays and can pay to replace lost or stolen luggage. A top-flight travel insurance policy, such as the plans offered by Allianz, can offer protection against those unexpected events that may derail your trip.
Some families return year after year to the same place — Cape Cod, Massachusetts, for example; San Diego, California, especially popular with Arizonians, Colorado Mountain Towns (loved by Texans and Oklahomans) and, of course, Disney World or other favorite theme parks. (Orlando is among the top destinations for Memorial Day travelers, AAA says.)
But maybe you want to try someplace—and something new.
Consider new offerings from budget airlines. Smart travelers set price alerts on sites such as Hopper, Kayak and Google Flights when considering "big" trips to Europe and beyond. New low-cost offerings are also making it easier to snare a deal. Jet Blue, which is already flying from New York to London and Paris, has just announced flights to Amsterdam starting at the end of August. PLAY offers daily convenient flights from the East Coast (Boston, Baltimore/Washington, D.C., and New York) to more than 24 popular European destinations, having recently expanded its routes to now include Denmark and Germany! Norse Atlantic Airways has flights from Fort Lauderdale to Berlin, as well as affordable flights from London Gatwick to Los Angeles (from $540 round-trip), New York, San Francisco, Washington, D.C., and Boston.
Consider the Caribbean in summer. Many say summer in the Caribbean is "family season" because prices are lower, including for flights, and the ocean and pools are just as inviting. It is, however, hurricane season, which is why we recommend you always vacation with travel insurance. You also will find Caribbean cruise deals both from the West and East coasts.
You won't need passports for the U.S. Virgin Islands or Puerto Rico. Pursue outdoor adventures among 45 acres of unobstructed land along the Caribbean Ocean at Lovango Resort & Beach Club on St. John and enjoy treetop accommodations, such as their luxury treehouses and glamping tents. (Go for the free St. John Carnival (June 25 to July 4).
Try something adventurous. Backroads offers active family adventures for families based on their kids' ages, including the out-of-college crowd. UnCruise Adventures takes families on small ship expeditions from Southeast Alaska to Belize and Hawaii. Abercrombie & Kent recently expanded its portfolio in the Galápagos Islands with its preferred partner, Ecoventura, a leader in sustainable travel, with small yachts.
This is expected to be a stellar year for white water rafting as a result of all the snow last winter. Check out the family trips from OARS or ROW. Think backpacking without any of the work!
Support sustainable tourism. The Fort Myers area is home to more than 100 barrier and offshore islands. This Gulf Coast region is perfect for a drivable getaway — or a short flight — where the entire family can play on the beach, kayak, paddleboard through mangroves and more. We can help them forget Hurricane Ian (September 2022) now that they're ready to welcome back visitors. Ft. Myers has plenty of accommodations with 20 percent off, Third Night Free and other summer discount offers. Sites of natural beauty are reopening too. On the hard-hit barrier island of Sanibel, the J.N. "Ding" Darling National Wildlife Refuge has seen an incredible amount of wildlife resilience.
If you'd like to take the kids or grandkids abroad, one of this summer's best offers is the Family Cruise program from the France-based river cruise line CroisiEurope. They are offering special pricing for adults and adult kids throughout summer 2023 on river cruises in Portugal, Spain, Germany and more. Cabin, all meals, some beverages, onboard entertainment and activities are included in rates which begin at $1,785 (USD). The best of the Family Cruise program perks is that children up to 16 years old travel free or at reduced rates.
(For more Taking the Kids, visit www.takingthekids.com and also follow TakingTheKids on Twitter, Facebook and Instagram where Eileen Ogintz welcomes your questions and comments. The Kid's Guide to Philadelphia and The Kid's Guide to Camping are the latest in a series of 14 books for kid travelers published by Eileen.)