Why airfares seem so expensive
Inflation has rattled nearly every aspect of Americans' finances, including vacation budgets. But one major travel cost isn't just lower than it was last year — it's even lower than pre-pandemic.
Considering that booming demand — alongside other factors like high jet fuel costs — led to record-high airfares last summer, it's not surprising to see prices normalize. Not only have air travel costs come back down to earth from 2022's highs, they're even lower than pre-pandemic prices.
According to BLS data, June 2023 airfares are down 1.33% from what they were in 2019, when airfares were already trending lower. Relative to what prices were a decade ago, they're even cheaper.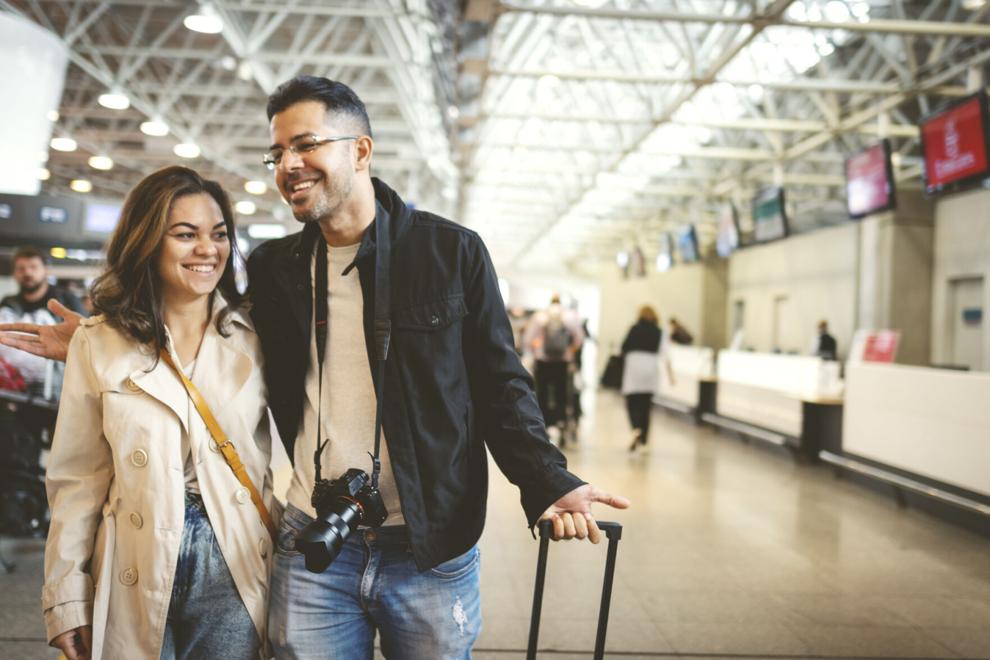 Pandemic aside, airfares have been trending cheaper
Before the pandemic, airfares had steadily been trending downward since 2014, save for a small bump in 2019. In 2020, prices dropped sharply with the onset of the pandemic, with June 2020 airfares averaging 27% lower than June 2019 airfares.
But as travel returned, so did higher prices. June 2021 airfares spiked 25% over the prior year, and airfares rose 34% more between June 2021 and June 2022.
If you take a long-term view, those increases aren't necessarily as big as they seem. In fact, in June 2022, airfares averaged just 0.4% more than in 2014.
Here's a look at how airfares have changed relative to prices in 2014, using June prices from BLS inflation data: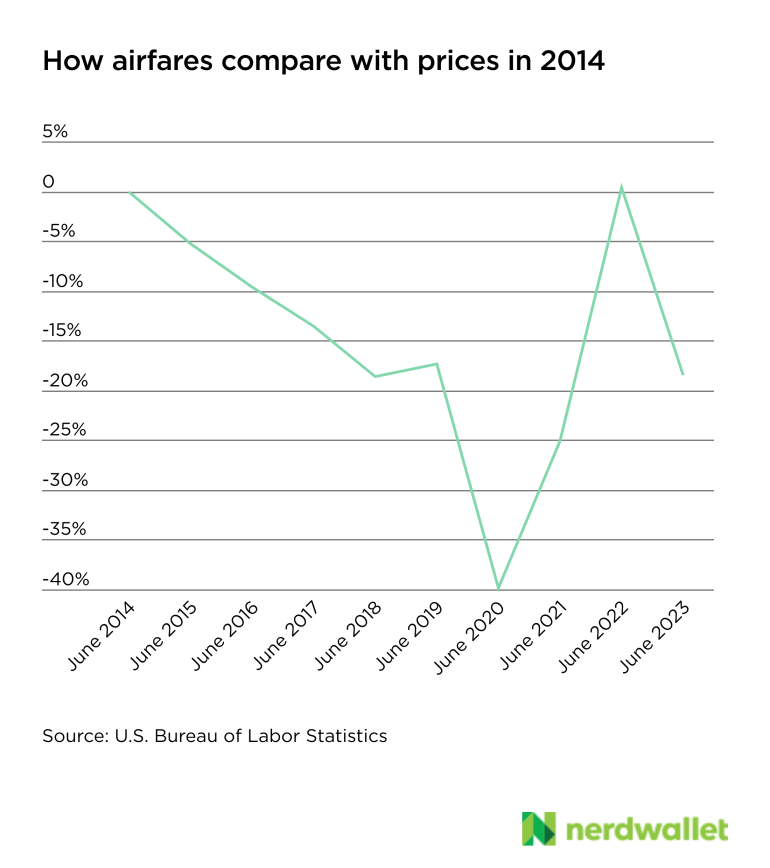 In 2023, airfares are 19% lower than a decade ago.
Compare that with something like the cost of milk, which is up 9% over that same period, according to BLS data. Hotel prices are up 28%. Admission to movies, theaters and concerts is up 33%.
If airfares are lower, why do they feel so high?
Over the past decade, prices for most items have increased. But if airfares are down 19%, why do they feel so expensive?
For starters, not every route is necessarily cheaper. Data from travel booking app Hopper indicates airfares to Europe this summer are averaging nearly $1,200 per ticket, the highest prices in the past six years. That's perhaps a response to people who might usually book a low-cost domestic flight finally taking extravagant bucket list trips.
And given recent major flight cancellations on airlines including United and Southwest, more travelers might opt for more expensive direct flights to reduce the risk of flight disruptions.
Hayley Berg, Hopper's lead economist, has her own theories as to why people feel like airfares are higher, including recency bias, shorter booking windows and unbundling.
Recency bias
Berg pointed to how many people traveled for this summer's major holidays.
For example, Fourth of July weekend set records for U.S. air travel, with more than 2.884 million people passing through Transportation Security Administration checkpoints on the Friday before July 4, according to TSA checkpoint data. That topped the previous record of 2.882 million people flying on the Sunday after Thanksgiving 2019.
"A lot of times, we anchor the cost of travel to our most recent trips," Berg says. "For many, that meant July Fourth and Memorial Day. It's always expensive to travel on those weekends."
Shorter booking windows
Airfares typically get more expensive the closer they're booked to departure, and Berg says people are booking trips later than usual — perhaps a holdover from those pandemic times when people intentionally booked last minute given the extreme uncertainty.
"Now, people are searching for travel three weeks later than they did pre-pandemic, and they're subsequently booking later," she says. "If I'm booking a trip today that I intend to take two weeks from now, it's going to be expensive because it's always more expensive to book at the last minute."
Unbundling
Then there's unbundling, where airlines advertise lower fares, often in the form of basic economy seats that offer few frills. But low base fares typically entail upcharges in the form of ancillary fees to check bags or to guarantee a window seat or early boarding.
"On the whole, unbundling is a good thing because you're not paying a premium for things you may not necessarily want," Berg says. "I don't care if I'm in the middle seat if it means I save $100."
Berg acknowledges that it can be painful when you search for a flight that has a low advertised price but doesn't turn out to be that cheap.
"It feels like death by a thousand cuts when you add in all those fees," she says.
15 US airports getting major renovations—and tips for navigating them
15 US airports getting major renovations—and tips for navigating them
Los Angeles International Airport (LAX)
John F. Kennedy International Airport (JFK)
LaGuardia Airport (LGA)
Dallas Fort Worth International Airport (DFW)
Orlando International Airport (MCO)
Kansas City International Airport (MCI)
Boston Logan International Airport (BOS)
Chicago O'Hare International Airport (ORD)
Denver International Airport (DEN)
San Diego International Airport (SAN)
Baltimore/Washington International Thurgood Marshall Airport (BWI)
Hollywood Burbank Airport (BUR)
Seattle-Tacoma International Airport (SEA)
Salt Lake City International Airport (SLC)
Portland International Airport (PDX)
The article Airfares Are Back to Normal — So Why Do They Feel So High? originally appeared on NerdWallet.